Hello there my lovely readers!
So New Years Eve has creeped up on us already! I'd originally planned on keeping it a quiet one this year however last minute spur of the moment plans have been thrown together & I'm looking forward to getting my glad rags on & seeing 2016 in with good food & friends! As usual I couldn't resist rustling up some nail art to go with the celebrations, so decided to go for some 'distressed' foil nails.
Now this mani didn't turn out how I wanted, hence the strategically used word 'distressed' haha! Believe me I have MANY mani fails! This is the first time I've used the transfer of nail foil with glue technique, however I'm rolling with it anyhoos as its a concept I love & will be practicing more of for sure! I was inspired by the amazing Lucys Stash who used this technique HERE. The idea is basically applying glue to certain parts of the nail where you want the foil to be, then using special mylar nail foils, transfer on to the nail!
The glue used is one that was recommended by Lucy, Best Glue Ever. I purchased mine from Amazon a while back but I just googled it & apparently there is a shortage due to the raw materials used to manufacture being unavailable! There's a bottle on Amazon going for £40! Mad! However the makers, ScraPerfect are hoping to have stock available again early 2016. I picked up the nail foils from Ebay yonks ago but I believe you can also get them from Born Pretty Store who also sell special nail foil glue too just for this purpose which will make a perfect alternative to the Best Glue Ever. (get 10% off using my code TRUW10)
To get the best finish with this technique its better to use a dark base so that the foils can really dazzle on top, here I've applied two coats of Essence Galactic Black which is a black with silver macro glitter.
I wanted to have a different colour foil firework on each nail so I cut up a square piece from 5 different foils ready for me to use.
Using a thin brush & a piece of plastic/paper/whatever you like to dispense your glue on, dip your brush into a bit of glue & then apply on to the nail in the areas you want the foil. I went for a sort of firework type of pattern, needless to say it came out successfully on only some nails more so than others....O_O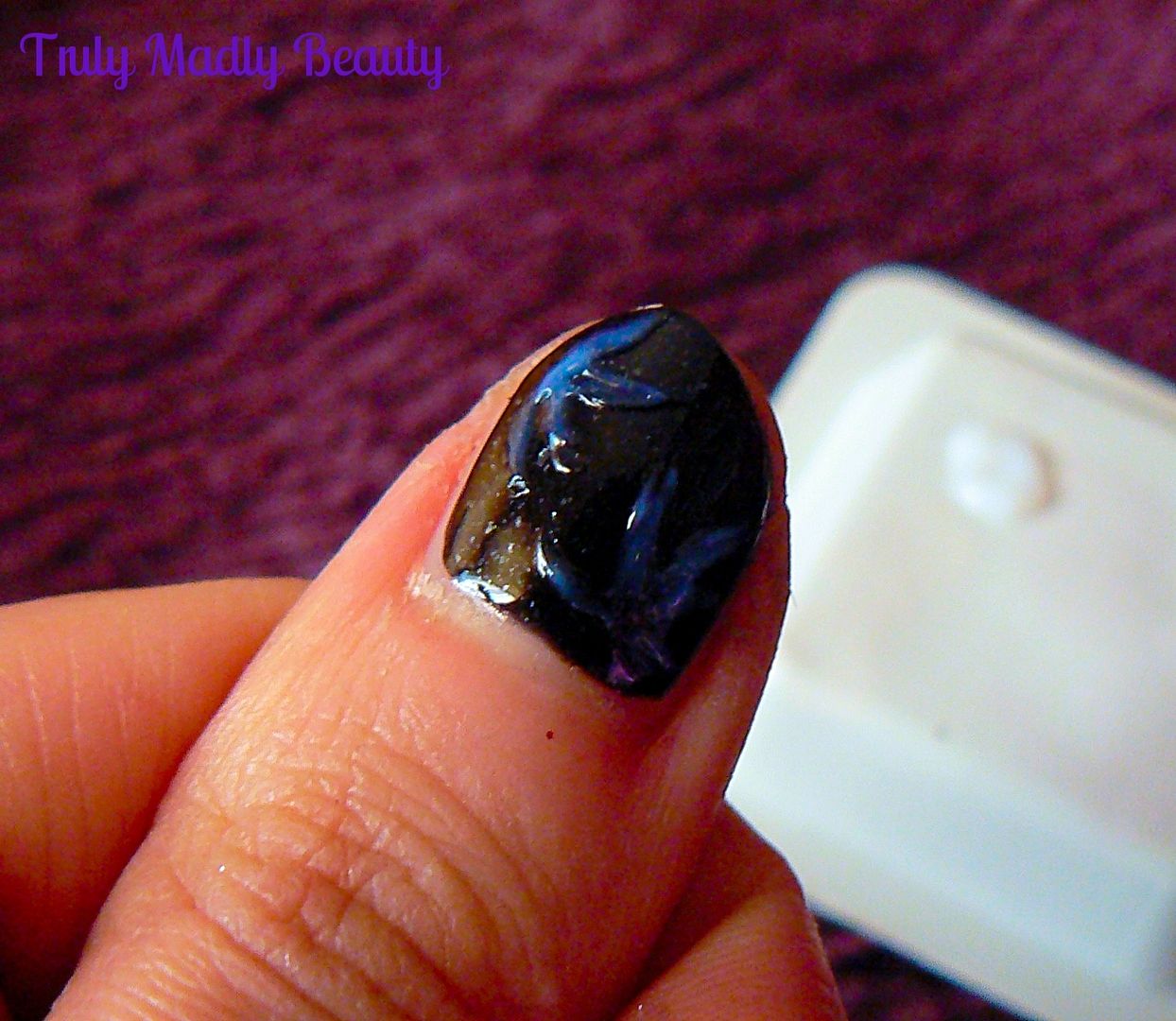 Wait for the glue to COMPLETELY dry, this will be easy to tell as the glue will dry clear, though this is probably where things went a bit tits up for moi as I was just too impatient!
Then grab your piece of foil, the mylar foil has two sides, matte on one side & the coloured foil on the other. Its the matte side you need to dab on the nail. Using light tapping motions, its easier if you wrap the piece of foil around you finger when doing this, dab the foil on to the nail until it has transferred on to the glue.
Do this on every nail using your different colours until you've done all ten, I decided to mix it up with both blue & silver on the ring finger. I'm really happy with how my thumb came out, the others...not so much ha! But you get the idea of it.
Finish it all with a nice thick coat of glossy topcoat! As you can see I still need a helluva lot more practice & playing around with this, think I may give Lucy's Flame Effect nails a whirl with the foil just on the tips!
Thanks for reading lovelies & wishing you all a Happy New Year! See you in 2016!
Lotsa love to ya!