Hey there lovely readers!
Happy weekend & hello October too! Cue inevitable overdose on all the pumpkin & Halloween things! I confess I do love this time of year with the Autumnal vibes at an all time high. Still attempting to defeat this nasty flu, I'm just thankful that I've gotten it out of the way before the besties wedding next week! I don't think she would've appreciated me hacking away in between her vows...When I'm feeling a tad down in the dumps, one of my favourite remedies is whacking something cheerful & fun on my nails to lift the spirits & these Winnie The Pooh nails did the task rather nicely! :)
Hehe what do you think? Who doesn't have a soft spot for that adorable wee bear? Inspiration for this came via my main go to for when it comes to looking for nail-spiration these days...Pinterest! The moment I saw this it made me smile. I believe the original design was a CutePolish creation & I couldn't wait to re-create!
To start I went for some sparkly red french mani tips. I'm really loving wearing different coloured tips these days, remember the Rose Gold tips from my Vintage Afternoon Tea nails? White is SO yesterday dolls, jazz up your french mani with a rainbow of colours! :)
As usual I used hole punch reinforcements to help create a neat curved French tip. Once I had my stickers in place I applied some Nails Inc St James, a lovely red crème, before peeling away the stickers whilst polish is still wet. Any smudges can easily be rectified with a brush & some acetone to get a nice clean smile line.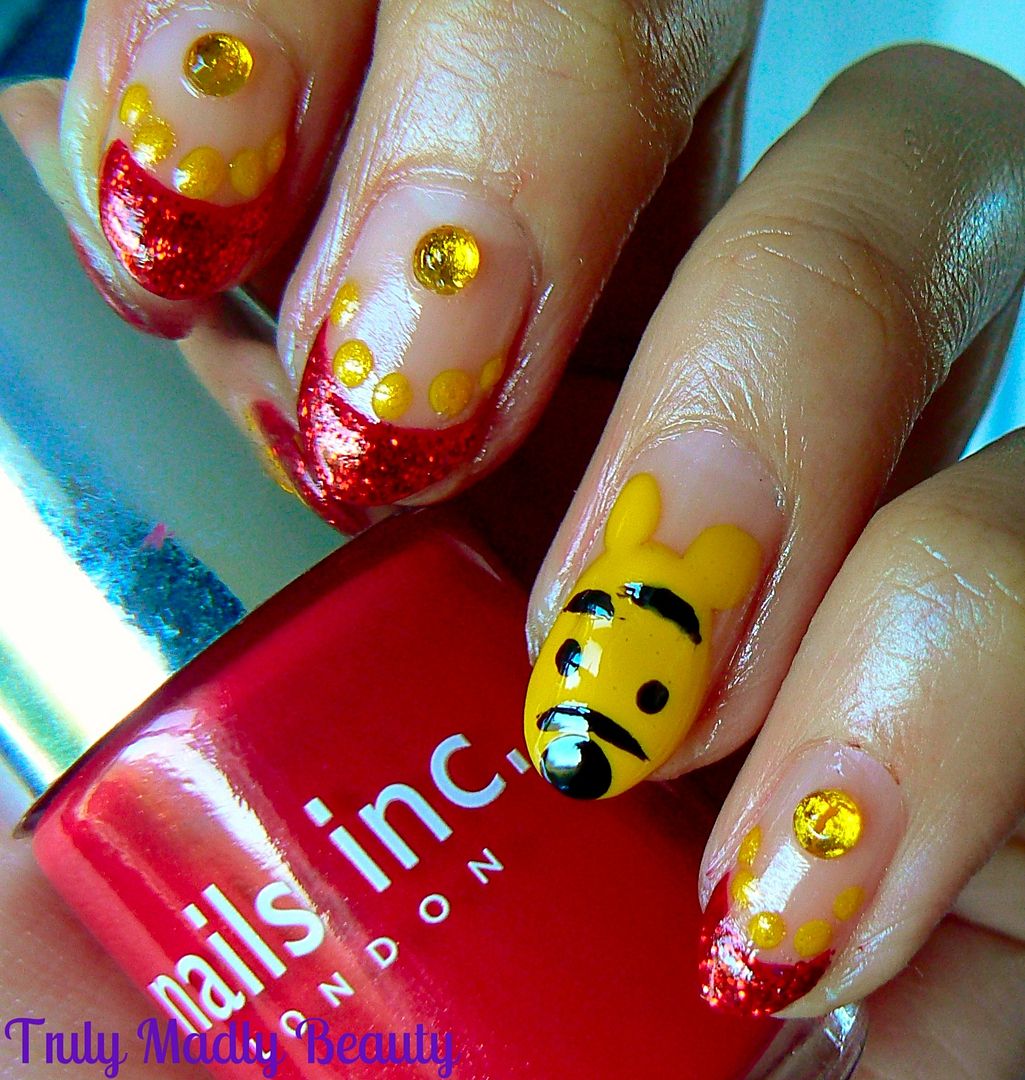 You know I can't resist a bit of sparkle so I went over the red with some pretty red glitter, again using Nails Inc, this time a spot of Trafalgar Square, which I applied with a thin brush.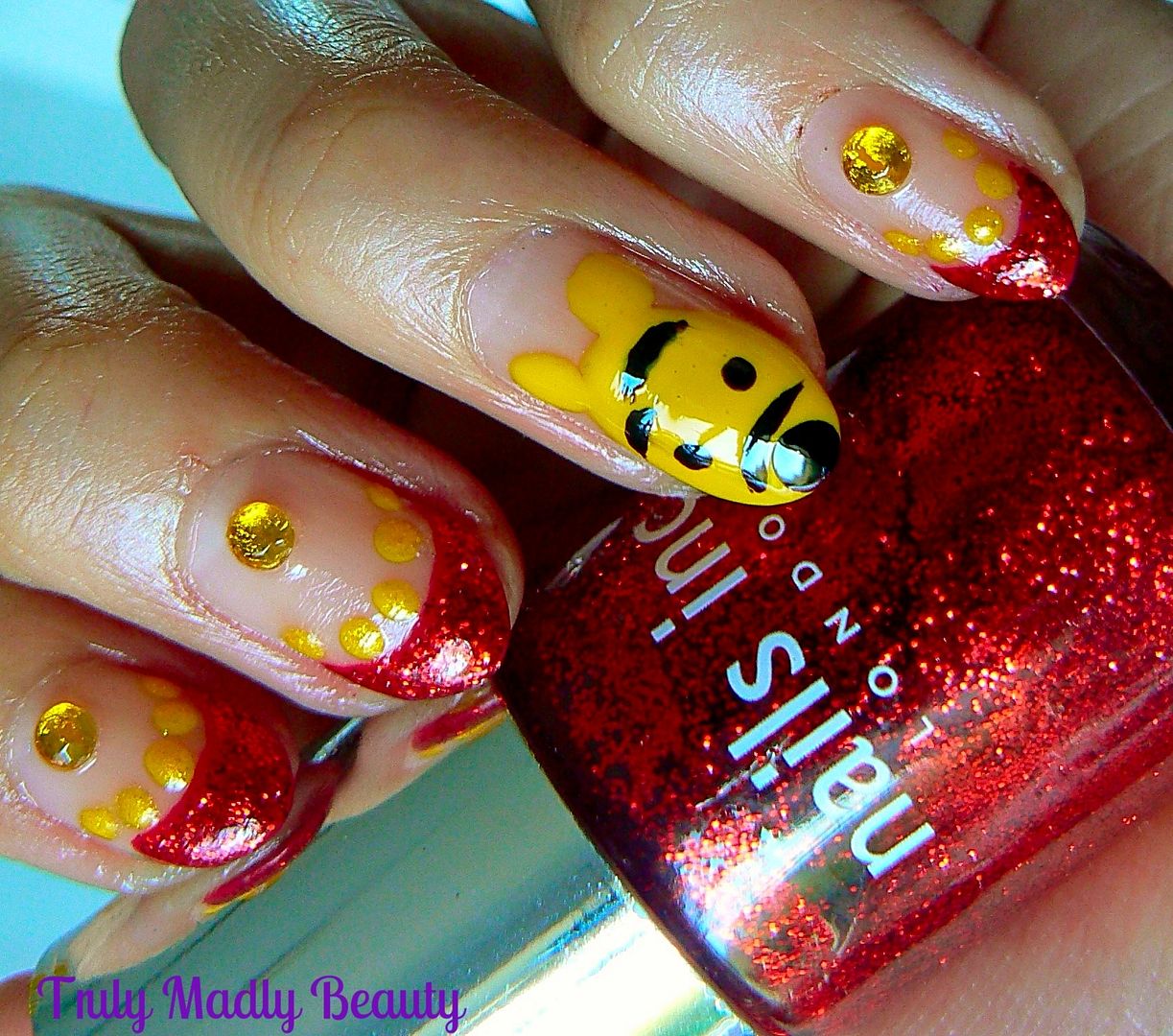 For my accent nail I used Barry M Yellow to freehand Pooh bear. Simply draw a roundish shape for the head, dot on a couple of ears, then using some black polish, dot on a wee button nose, eyes & eyebrows with a thin brush! My Winnie's eyebrows came out a tad thicker & more confused looking than I'd wanted but hey big bushy Cara Delevingne-esque eyebrows are like...so in right now aren't they?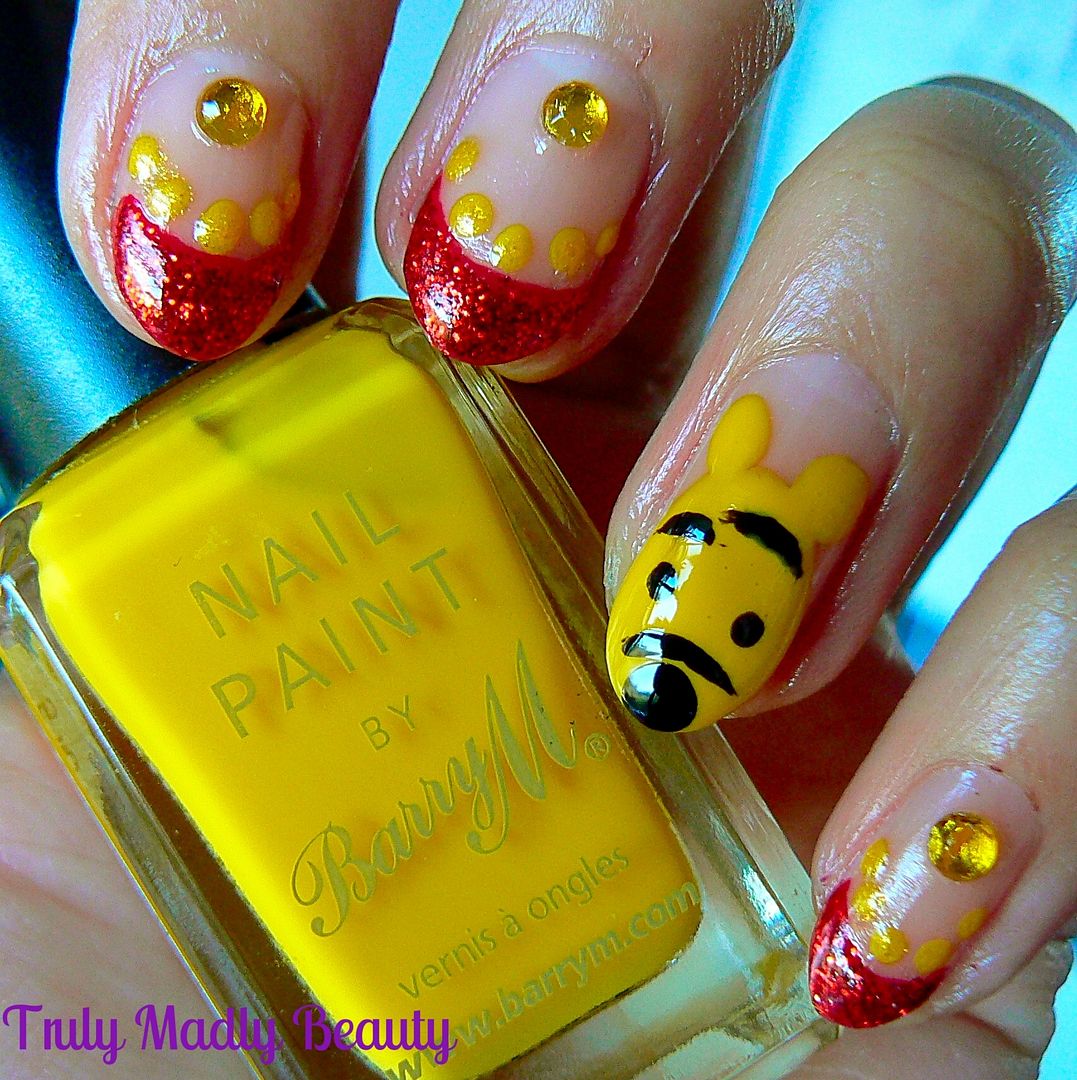 For a bit of extra detail I added some yellow dots just underneath my sparkly red french tips using a dotting tool, adding a bit of sparkly yellow glitter on top to make them stand out.
For a final bit of bling I added some golden honey yellow rhinetones to each nail, because Winnie he likes the sweet nectar, before sealing everything with my trusty CND Air Dry Topcoat. Done!
Thanks as always for reading. Hope you liked the Winnie the Pooh nails dolls! :)
Lotsa love to ya!