Hello there my lovely readers!
Taking a wee reprieve from Halloween today lovelies. You may recall the Colour Block Nails I did a few posts back for the #PartyPolished competition online fashion retailer Bonprix are currently running with Barry M Cosmetics. The rules of the competition are simple, to create a manicure using one of Bonprix dresses as inspiration! I fell in love with pretty much all of their dresses so I couldn't resist coming up with another nail art design, this time using the Luxe Sequin Shift Dress as inspiration because well...SPARKLES!
You know I love my sparkles, so I was looking forward to getting the glitter out & satisfying my inner magpie. Using the lovely shimmering floral design of the dress this is what I came up with...
I've always been a gloss top coat girl through & through, preferring a shiny finish to my manicures, which with the help of my beloved CND Air Dry topcoat, I manage to achieve. However lately I've really gotten a feel for matte finishes with their sleek & sophisticated look. I also really wanted the sparkles to stand out in this mani so I decided to apply a matte black base to start.
Here I've just used two coats of W7 black to which I applied one coat of Rimmel Matte topcoat. Matte black may be my new favourite thing, it reminds me of a chalkboard & has me itching to do some neon nail art on top...idea for next time...
For the floral pattern I grabbed I Love Nail Polish's Admire Me. This polish is just SO stunning in real life, I Love Nail Polish really know how to do holographic well! Heck they know how to do ALL polish well & my wishlist is never-ending! Using a thin brush I free-handed a random floral like design with a few petals & additional swirls onto each nail.
Next for the GLITTAH! I dug out these two ace Chit Chat glitters in turquoise blue & indigo purple which I picked up in Poundland...yes Poundland! :) Using the brush I dabbed a bit of each on to each petal till I was satisfied with the amount of sparkle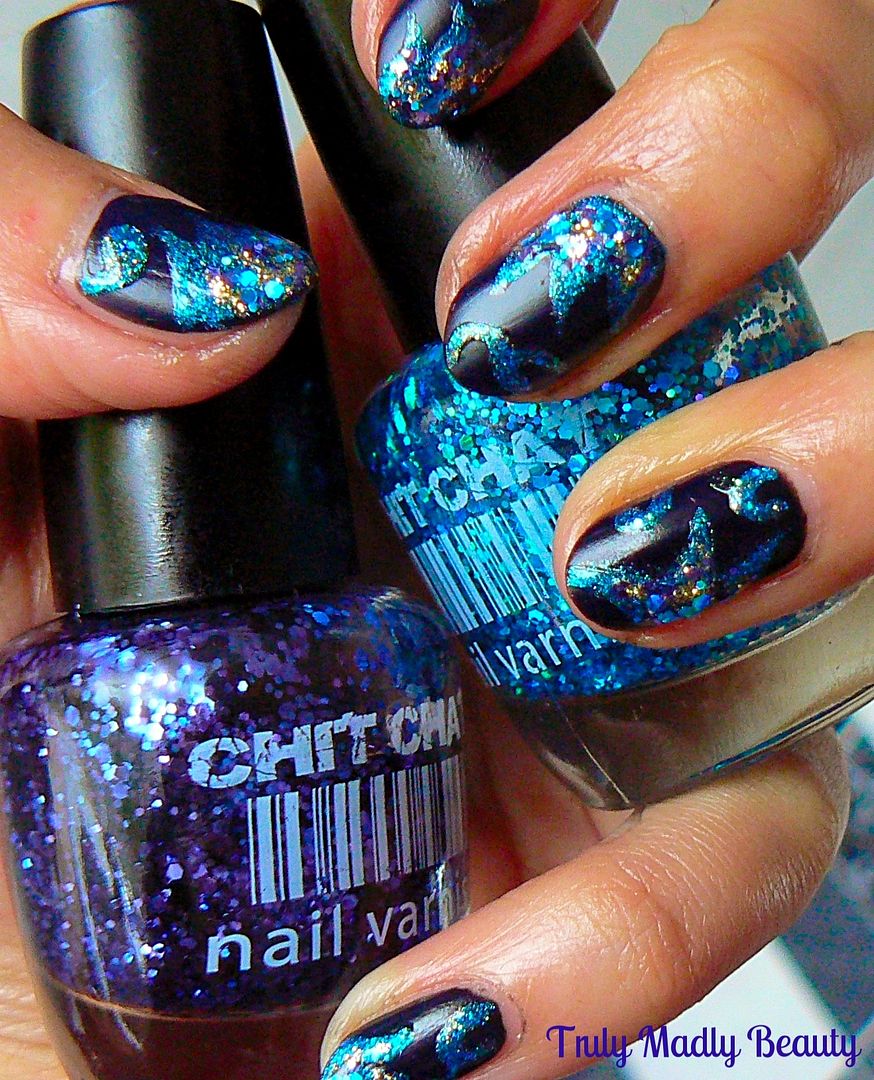 For a final hit of glitter I dotted on a few pieces of large hexagonal gold glitter on to the petals.
As I wanted the floral design to stand out I skipped topcoat & kept that lovely matte base, as the glitter is suspended in clear polish it almost gives an interesting wet on matte look!
Hope you liked the mani dolls! Thanks as always for reading!
Lotsa love to ya!