Hello there lovely readers!
Making steady progress with the Halloween manis so far with Toxic Slime & Tombstones as well as some Dripping Blood Effect nails! Because I've found myself enduring a lot of working weekends these past months, finding the time to blog & do nail art has been a wee bit hard but nothing can keep me from my passion!
Today I have some spooky Jack O' Lantern nails to share with you using these gorgeous Orly polishes that HQ Hair kindly sent my way, in case you weren't familiar HQ Hair are an online retailer with lots of hair & beauty treats to tempt you. My radar happened to peek some nicely priced Real Technique makeup brushes on there...These Orly shades just scream Halloween & that vibrant orange was simply calling for me to create some pumpkins :)
I started with applying one coat of Orly Goth, an intense black with the interesting addition of shimmering silver glitter suspended within. As I knew I would be applying a few different polishes I went for just one coat of Goth here. The formula was fab as has always been my experience with Orly polishes & I love the rubber caps making the grip nice & steady.
Then to start creating my pumpkins, I first free-handed the pumpkin shape using white polish, this creates a canvas for the orange to go on top, if applied straight on to the black the colour will not come out so strong. To create the shape simply apply two curved lines in the middle before filling out the rest of the nail in a roundish apple like shape, not forgetting to add a wee little stalk on top.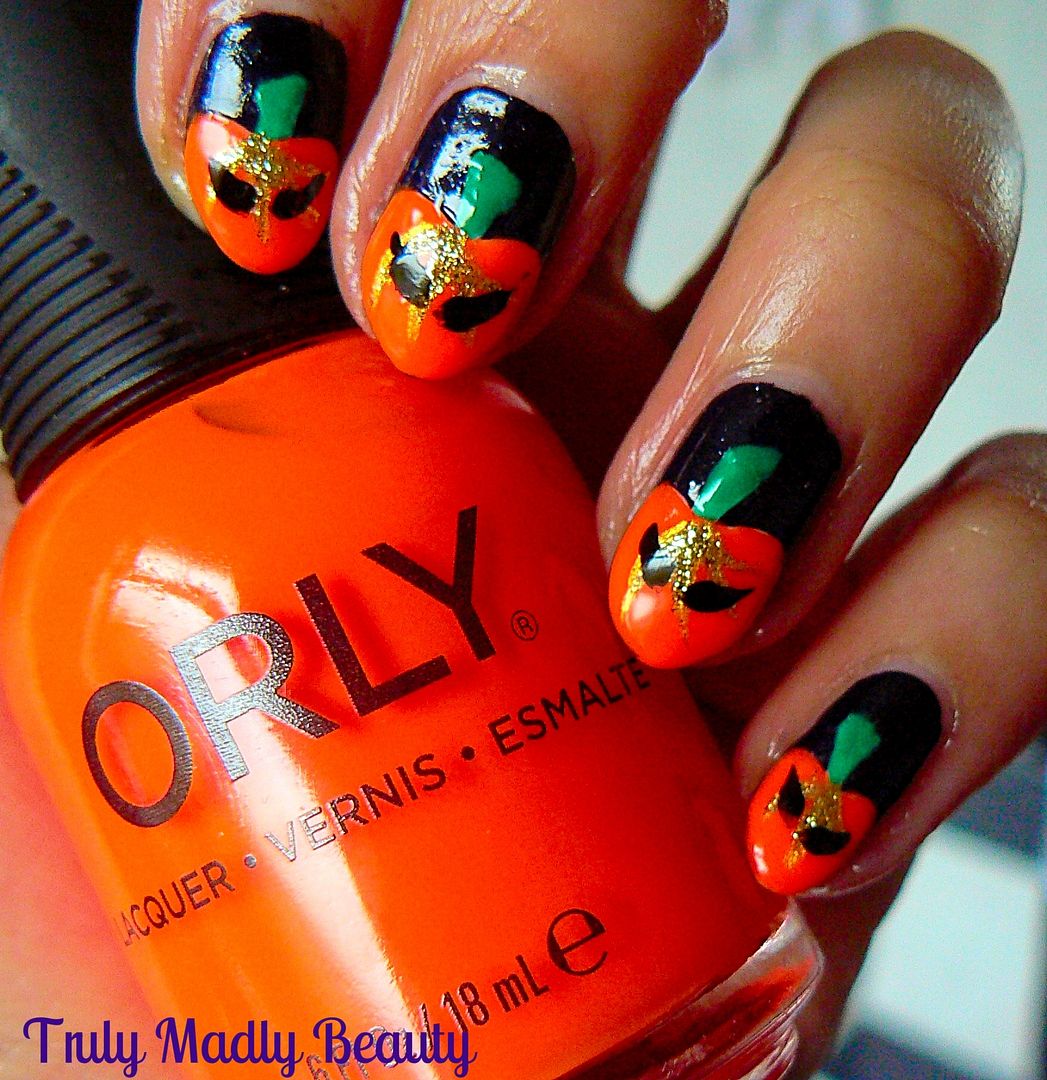 Next goes on the orange, Orly Orange Punch, which is definitely a shade that would get noticed! And the white base really helps bring out that beautiful vibrant colour. Once I'd gone over all my pumpkins with Orange Punch I then added some Models Own Green Tea on top of the stalks.
I wanted to add a bit more detail to my pumpkins so added a few curved lines coming out from the stalk using Models Own Gold nail art pen before going over with some sparkly gold glitter.
Then to make my Autumnal pumpkins in to Halloween suitable Jack O Lanterns I just drew on some evil eyes to create my bad boys before before finishing with topcoat! Feel free to add a creepy smile too but after I added one, my Jacks just ended up looking a bit constipated so I decided to skip that detail...
Hope you liked this Halloween manicure lovelies! Thanks for reading as always!
Lotsa love to ya!