Hello there lovely readers!
So the Halloween nails series continues...so far this year we've had Toxic Slime & Tombstones, Dripping Blood Tips & some Spooky Jack O Lanterns. I actually wasn't sure if I was going to blog this manicure as I couldn't decide if I liked the result or not but hey ho, here we go with it anyways! Here's something a little different with some cartoon style Stitched Hearts...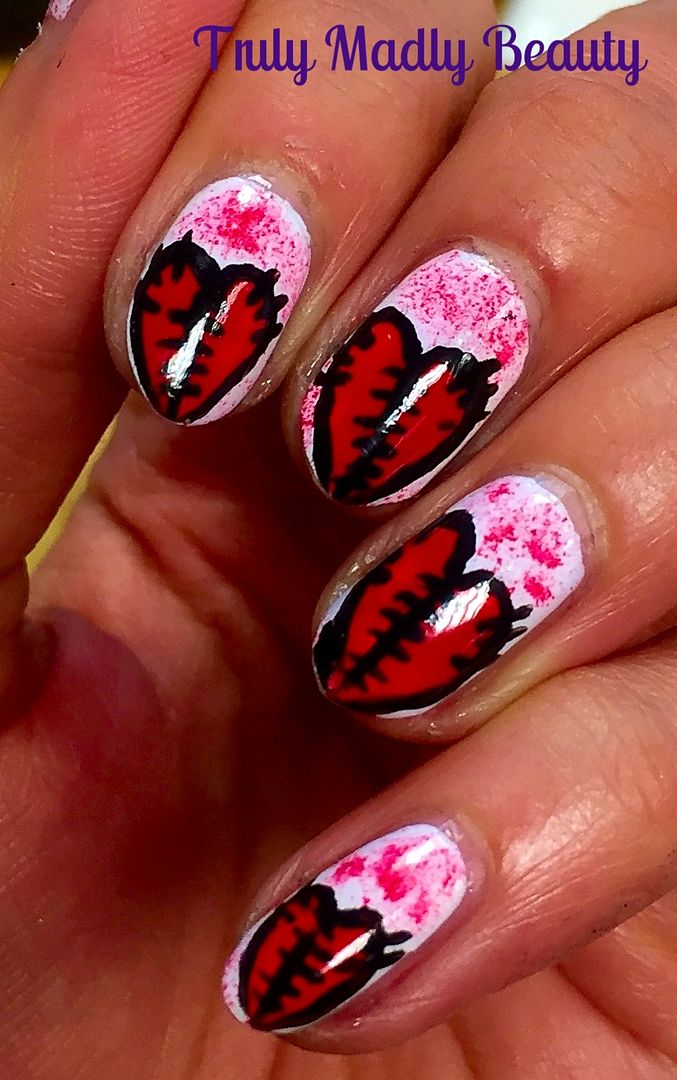 Random is my middle name & I guess this is definitely that! I was inspired by an image I recalled spotting on Pinterest yonks ago! I guess this could double as a rather dark Valentines mani too haha!
To create the design start with a white base, here I've applied one coat of Models Own White Light Hypergel.
Then use a red polish & thin nail art brush to free-hand a heart shape starting from the middle & ending at the tips. I've used Rimmel Double Decker Red. Draw the outline of your heart first before filling in.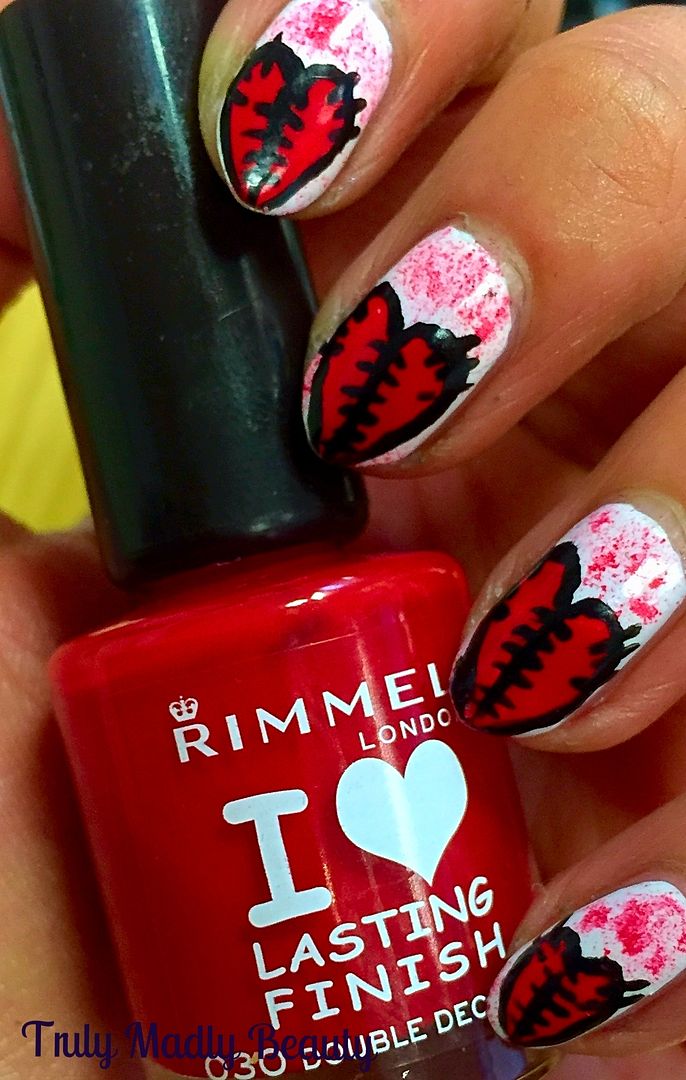 Next outline the hearts with black, you can use a nail art pen for this but I just used some black polish & a thin nail art brush.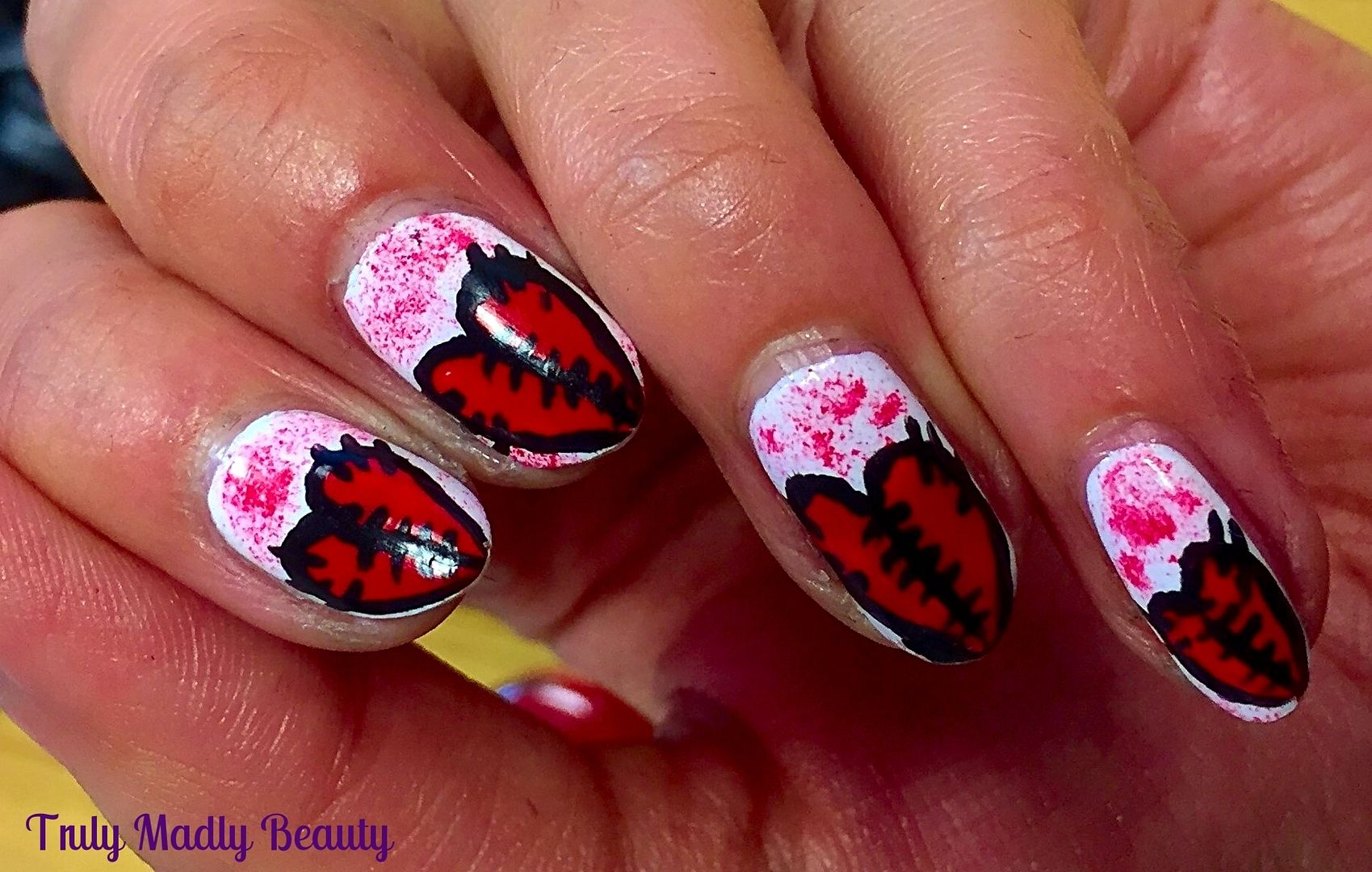 For the stitches, draw a thin black line down the centre of the hearts using your black polish & then add on your little stitches all the way along the line, adding a few stitches to the curved edges of your hearts too.
As an additional detail I grabbed my red polish again & sponged on some splatters of red blood on to the white parts of the nail. A little tip - I used one of those eye shadow sponge brushes that you get in palettes which are almost always never used or thrown out! Well now you know what you can use them for ;)
Finish it all off with topcoat & you're done! I hope you're enjoying the Halloween nails, let me know if you have any requests! Thanks as always for reading!
Lotsa love to ya!