Hey there my lovely readers!
If you caught my last post where I reviewed the Mitty Burns Peel Off Tape Barriers for easy nail art clean up, you'll remember how we left things...with a neon gradient nail base of yellow & green that was begging for some nail art action...
Well I had me some plans for this base & in particular with this colour combo especially. I recently went on a little London adventure with my dearest chum which saw us popping by the Apollo Theatre to finally watch the award winning show Wicked which (no pun intended) we absolutely loved. Honestly we must've been the last humans on earth NOT to have seen it & I'm glad to finally tick it off my list.
You know I love to find nail art inspiration in ALL things so as soon as I got home I was itching to do me some Wicked inspired nails! So to start things off I did a neon green to yellow gradient base as the colours combined are reminiscent of the show, bringing to mind witchy potions vibes as well as reminding me of Elphaba aka The Wicked Witch of The West of course!
Once I had my witchy base I again kept Elphaba in mind & created these Wicked Witch of The West Hat nails using her recognizable accessory as inspiration.
And if you want to have a go at creating this design too then keep reading for a step by step pictorial!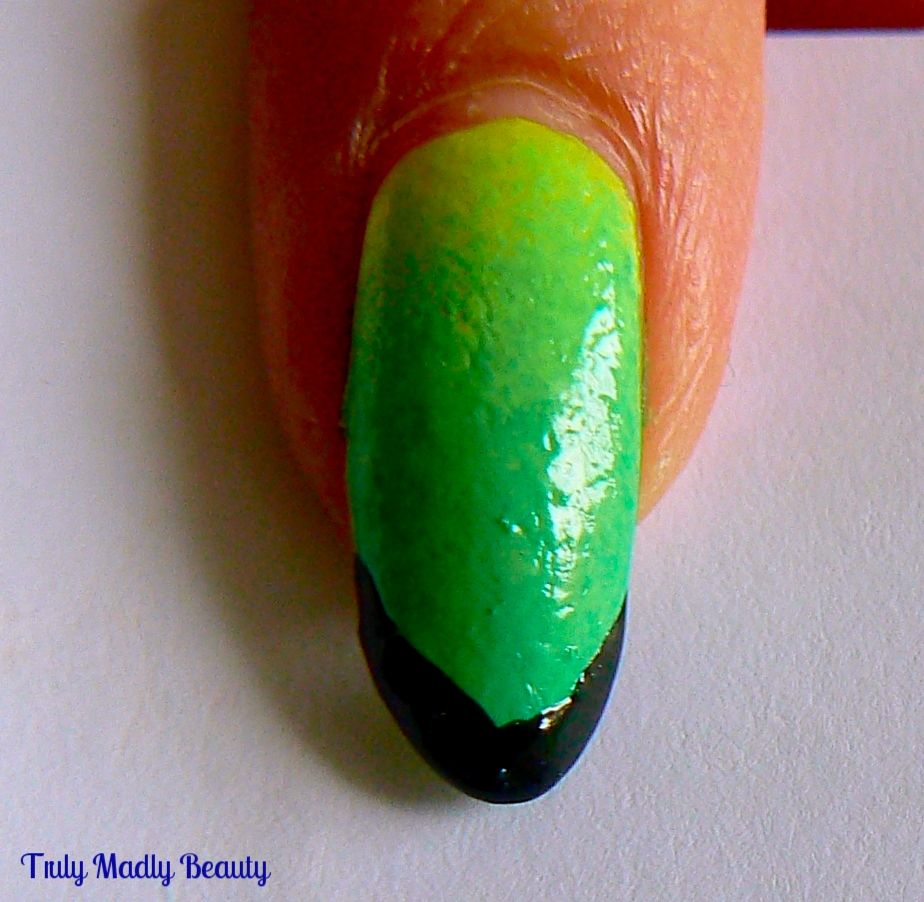 Start with applying black polish on the tips of your nails, a bit like a french manicure but you don't have to worry about doing a perfect smile line, this will be the brim of your witches hat.
Then using a fine nail art brush, apply a triangular like shape above the brim that curves over at the tip. Then fill in with black polish & you have your witches hat!
Next for some extra detail, I thought of the Wicked Witch of The West iconic stockings so added on some ribbon around the hat to match using white polish then dotting on some red along it.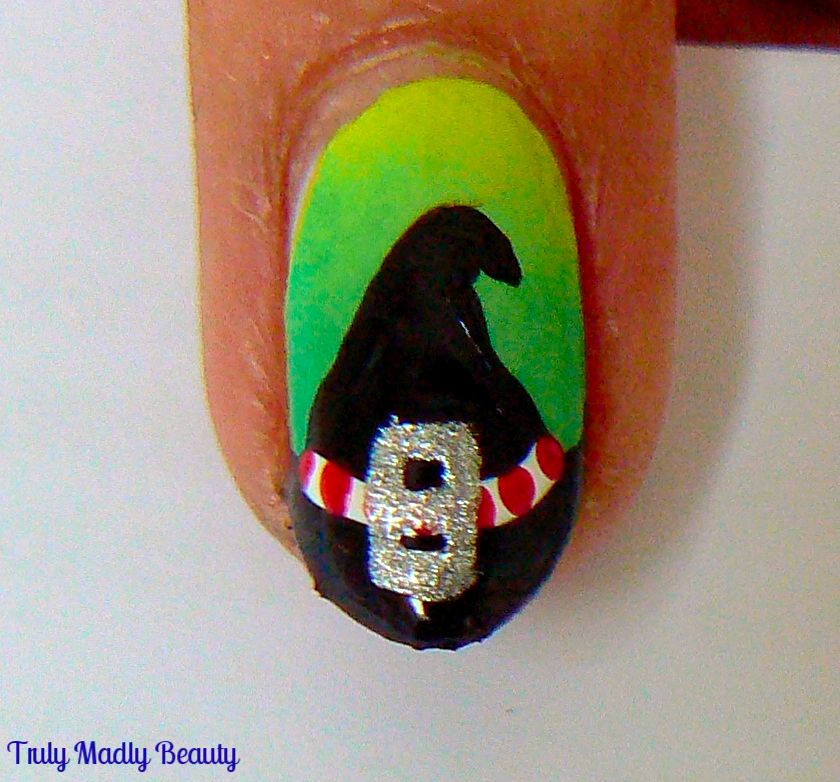 Then finished off with a silver buckle to complete.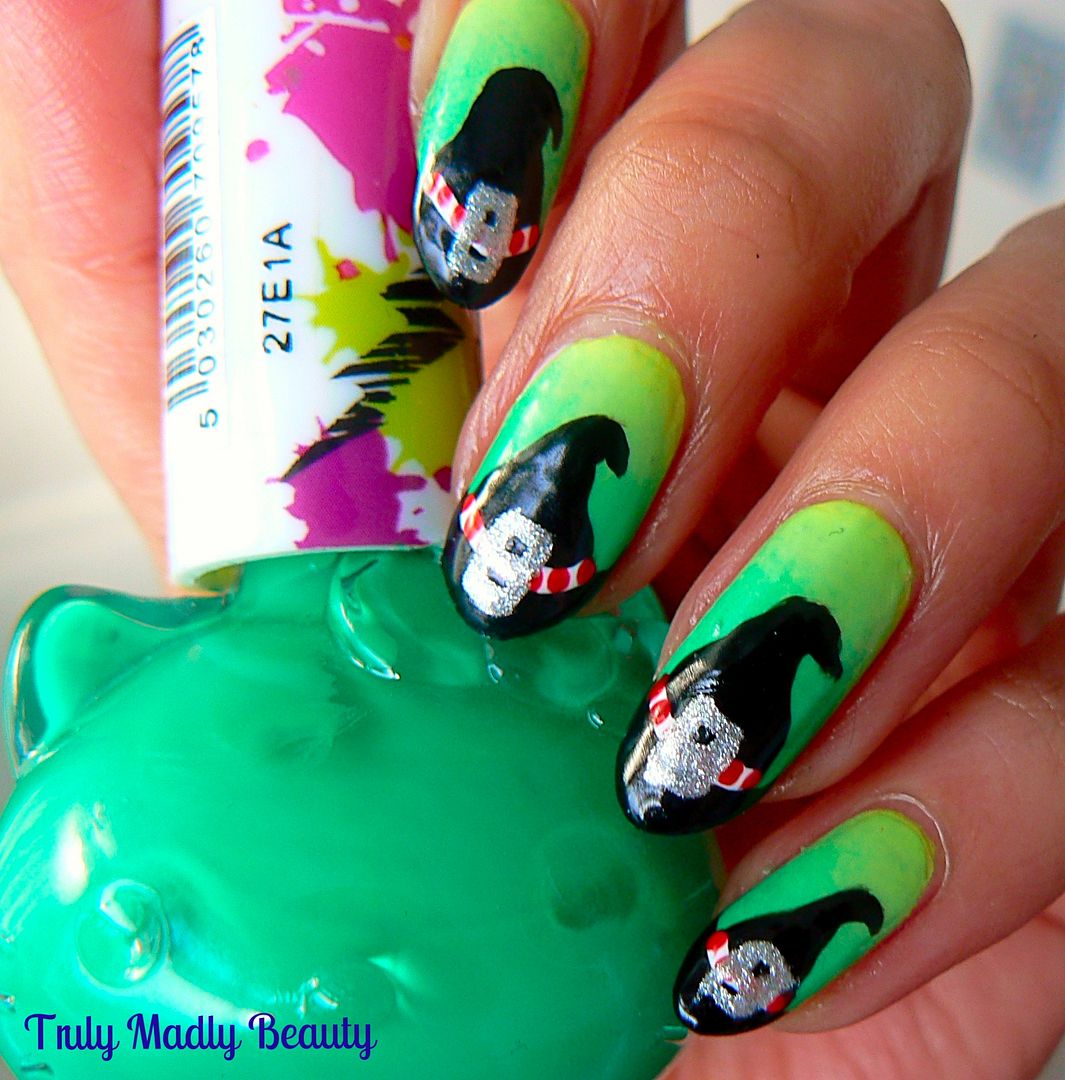 And thats it! Not forgetting your topcoat & you have your Wicked Nails ready to cast spells.
I think I definitely need to go see some more theatre for nail art inspo ;) Have you seen Wicked? Whats your favorite show? Thanks as always for reading!