Hi there lovely readers!
When it comes to doing nail art, no one likes a lot of mess. And yup there are a number of techniques that can cause just that, thus putting many people off doing them. Sad times. However nail art has come a long way & now there are lots of ways to make the whole process so much easier with minimal stress & easy cleanup! Happy times!
I'm sure you've heard of the method of using liquid latex as a skin barrier when doing messy nail art such as sponging, stamping, water marbling etc. If not then go have a peek at my post touching on that HERE.
Using liquid latex really has been a game changer for sure, waving goodbye to the days of having to wrap cellotape around your cuticles, praise the gods!
One little product that caught my eye were these peel off mani tape barriers from Mitty Burns that basically work in the same way except, not only are they latex free which is fab news for those who have skin allergies but also no fiddly bottle or brushes required, or waiting around for the barrier to dry, you simply peel the tape from the sheet, wrap it around the skin, then peel off in one go after you've done you nail art! Nifty!
Each sheet comes with 10 peel off stickers in a plethora of pretty colours, which definitely makes it more fun to use no? I opted for some vibrant purple toned tape & you can get them in packs of 3 for £6.49 so unless my math skills were a hell of a lot worse than I'd thought, that gives you 30 altogether, enough for three manicures. However these are apparently reusable too so you could get more usage!
As you can see the peel off tape is a U like shape which makes fitting it around your nail super easy. Of course I needed a suitable mess inducing technique to try these babies out on so out came the sponges for some gradient action!
After applying my base of white in preparation for sponging, I waited for the polish to dry completely before applying my tape. Using a pair of tweezers for easier handling, I lifted the tape from the sheet & placed it on the skin around the nail, if it looks a bit askew then you can easily go in with your fingers to help lift & place it securely so that all areas of skin are covered like so.
Do the same for all 10 fingers & you're ready to go in with your sponging straight away as you don't need to wait around for the tape to dry. Here I've used these two neons, a bright yellow creme from Claire's & this adorable Hello Kitty green, isn't the bottle just adorable? There's actually a reason for these colour choices as together they made the perfect base for the nail art I will be showing you in my next post as I didn't want to overload you in this one! I'm super excited for it so do stay tuned for that!
Anyhoos, applying my two colours on to my sponge, I went in to create my gradient, dabbing with the sponge until I was happy with the finish, usually twice is enough. Unfortunately the sponge I had was clearly kinda old as some fluff got rather attached to the nail & decided it would like to part from said sponge & make a new home right there thank you very much, le sigh. But thankfully thats a little glitch that can be fixed easily with a thick topcoat!
As you can see, the polish likes to spread its wings & cover more than the nail, which I may have exaggerated slightly for the sake of this experiment, but thats were Mitty Burns Peel Off Tape has your back! Once you've completed your sponging or whatever nail art you're doing, simply lift up the edge of the tape, again I used my tweezers, & the tape should peel right off & away taking with it the stray polish in one fell swoop!
What you're left with is a lovely neat gradient & if you do see a stray bit of polish on the skin then this can easily be dealt with by using acetone & a small clean up brush. After I had peeled off the tape it did kind of curl in within itself, so I'd definitely not reuse the same one again. However this isn't a big deal as you're still left with two more strips to use.
Overall though I absolutely LOVE these peel off stickers, I think their such a nifty & useful little tool, heck I'm all for anything that will make the task of nail art clean up much easier so I will definitely be snapping up some more of these, which can be found online via their website HERE as well as from a UK stockist HERE.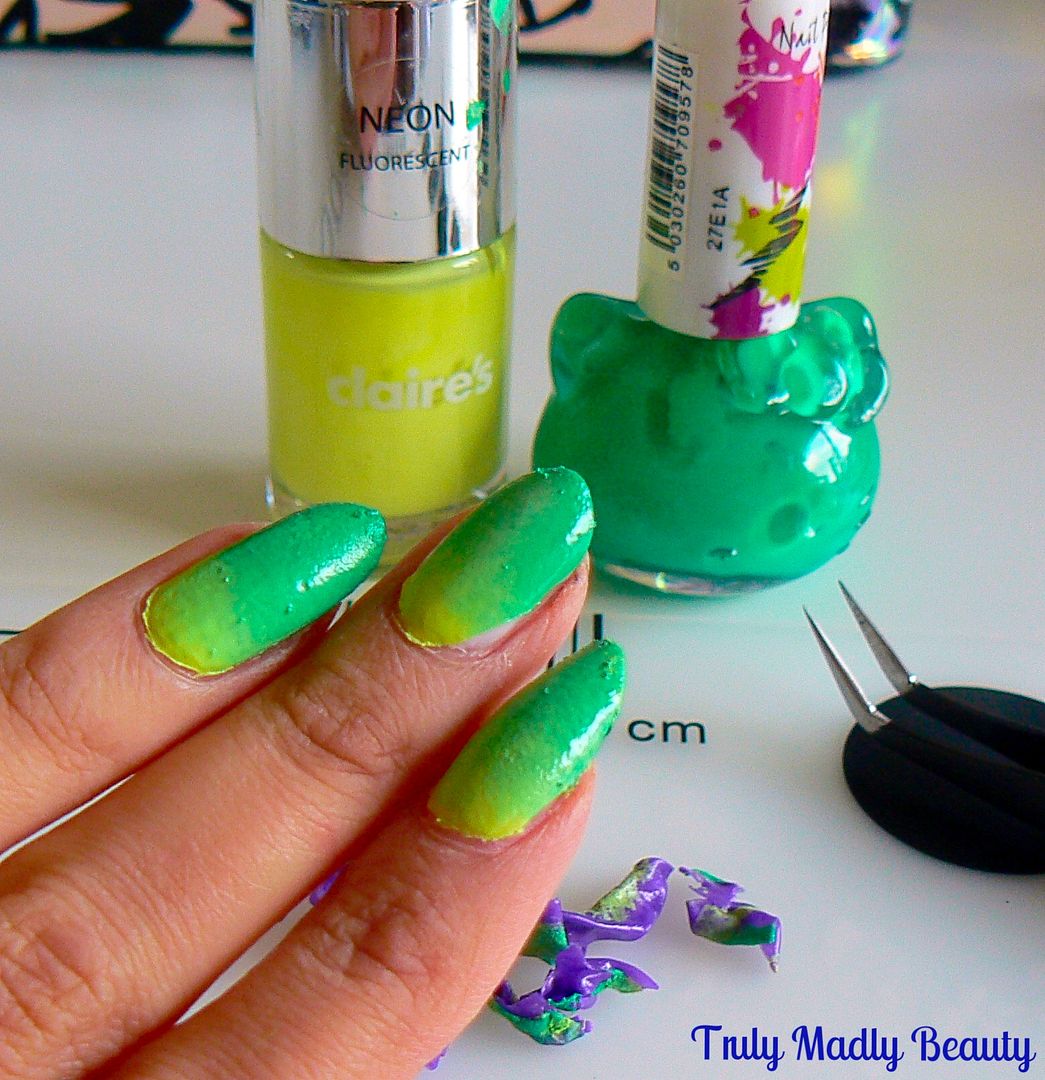 Thanks as always for reading, stay tuned for the fun nail art I will be doing with this mani base!
Lotsa love to ya!