Hello there lovely readers!
As today's nail art has distinct red, white and blue vibes going on I think its obvious what occasion is inspiration is here ;) Every year I like to throw together a mani to mark my American cousins over on the other side of the pond's Independence Day celebrations. Any excuse to get my nail art on!
I was muchos happy with my Fourth of July nails last year which featured blue dripping glitter & a step by step tutorial so go have a peek at those HERE. I loved them so much & didn't think I could top them...maybe it was a mistake to go in with that attitude as I really wasn't happy with how these ones for this year came out but meh you win some, you lose some & I'm gonna roll with this FAIL of immense proportions!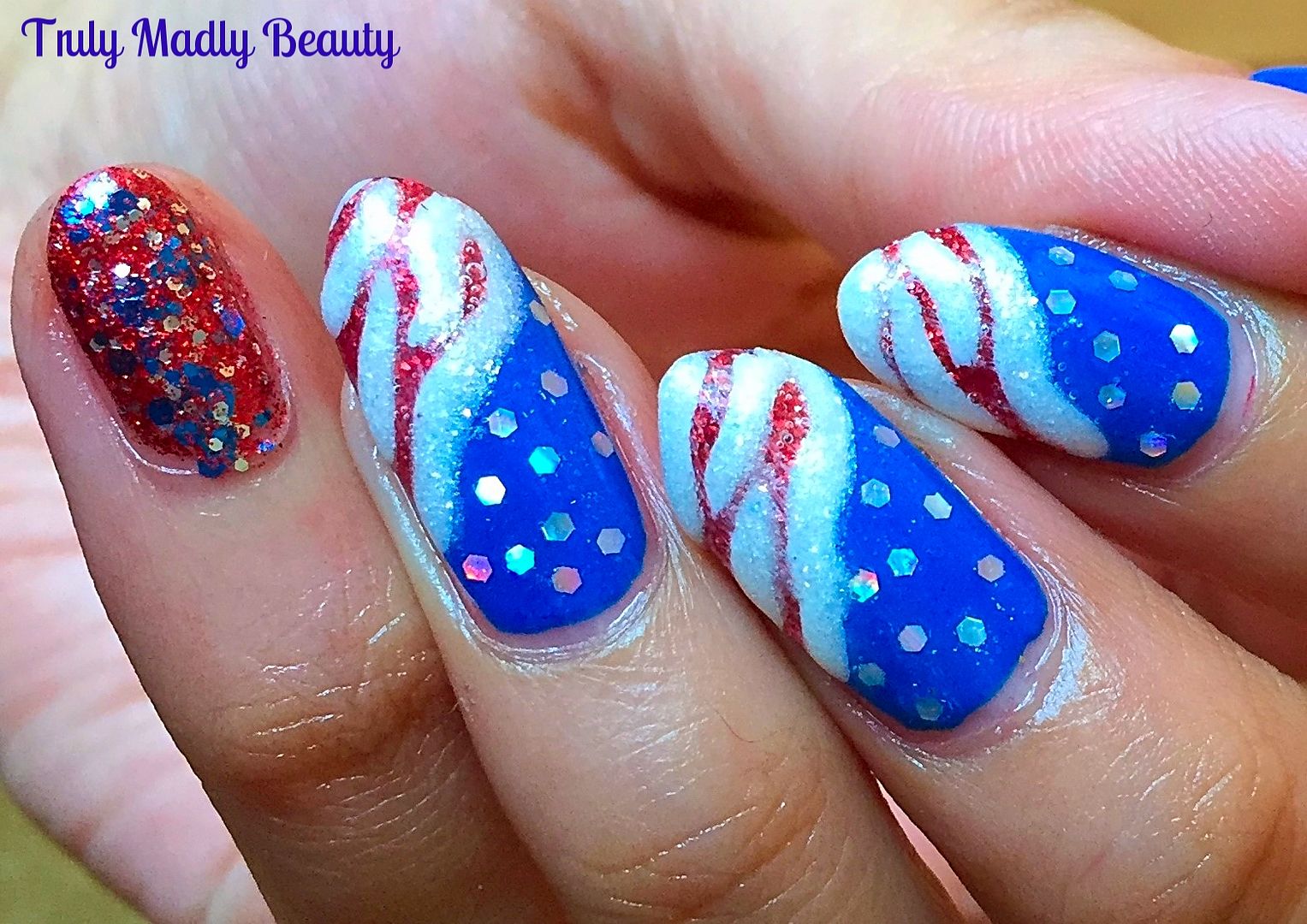 First issue came with the white polish I used, it was an old one from a french mani set I had to use as I found myself without a white polish at my parents house...epic fail. Needless to say it was rubbish & is now on its way to the local dump along with the trash never to see the light of another day. Note to self:- buy a white polish that ISN'T the formula of tip-ex to keep at the folks for emergency nail art situations (or White Out seeing as things are states side today) O_o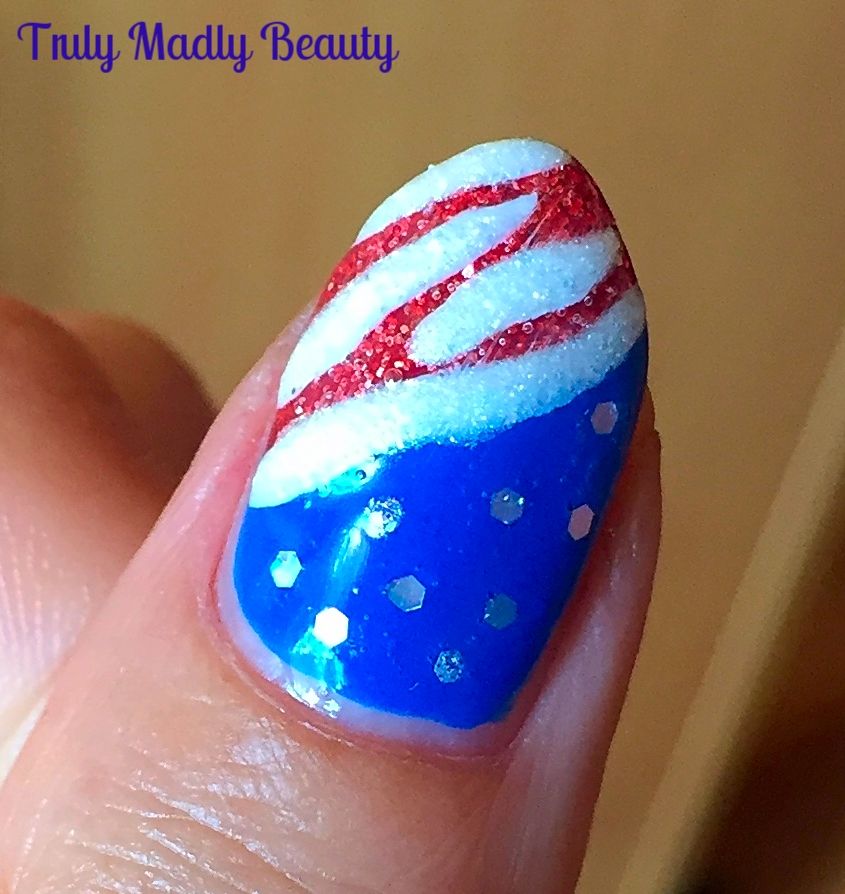 Anyway abysmal white polish aside the rest of the mani almost managed to be executed without any further disasters, if you don't count the fact that there's about 7642 layers going on here so it took a lifetime & then some to dry...
I started things off with my blue shade of choice, today the winner being Miss Beauty London in Electric which I picked up from none other than PoundWorld. Yup you heard me, just one squid for this gem of a polish which is pretty darn awesome.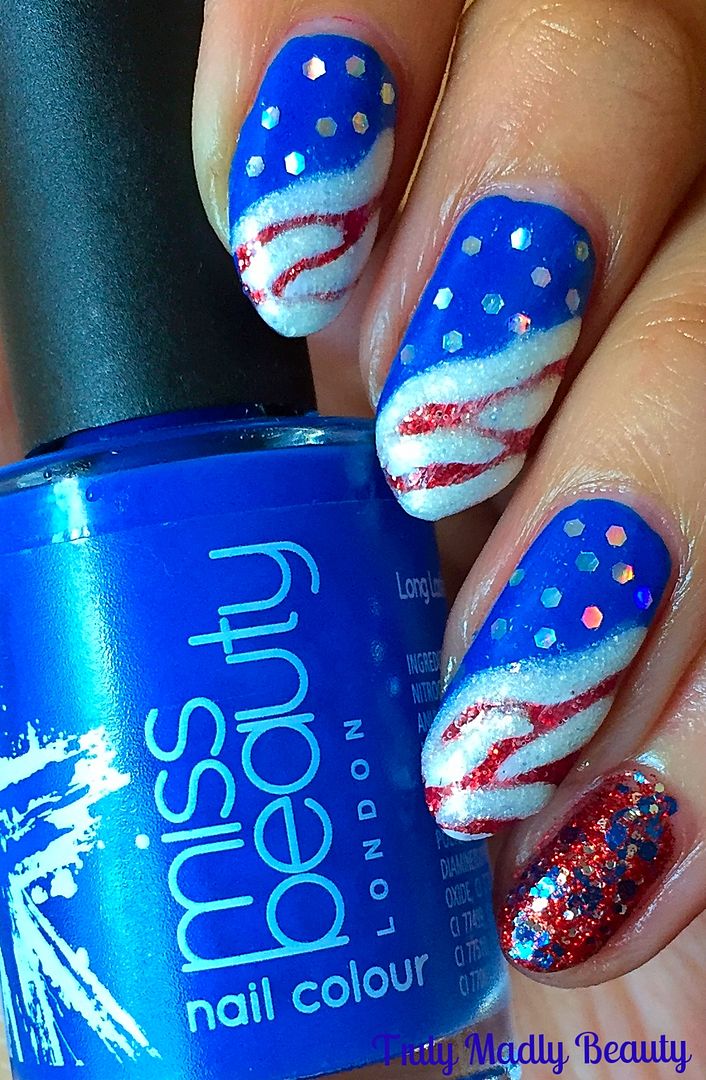 I applied two coats of this blue creme as my base though to be honest I could've gotten away with one but I'm a stickler for habit. I would pay for this later though when it came to final drying time...*ominous music*
I then used a red polish, St James from Nails Inc, to add on the red half of the design, using the brush to make the edge a wave rather than straight as I felt it gave a more flag like look to it.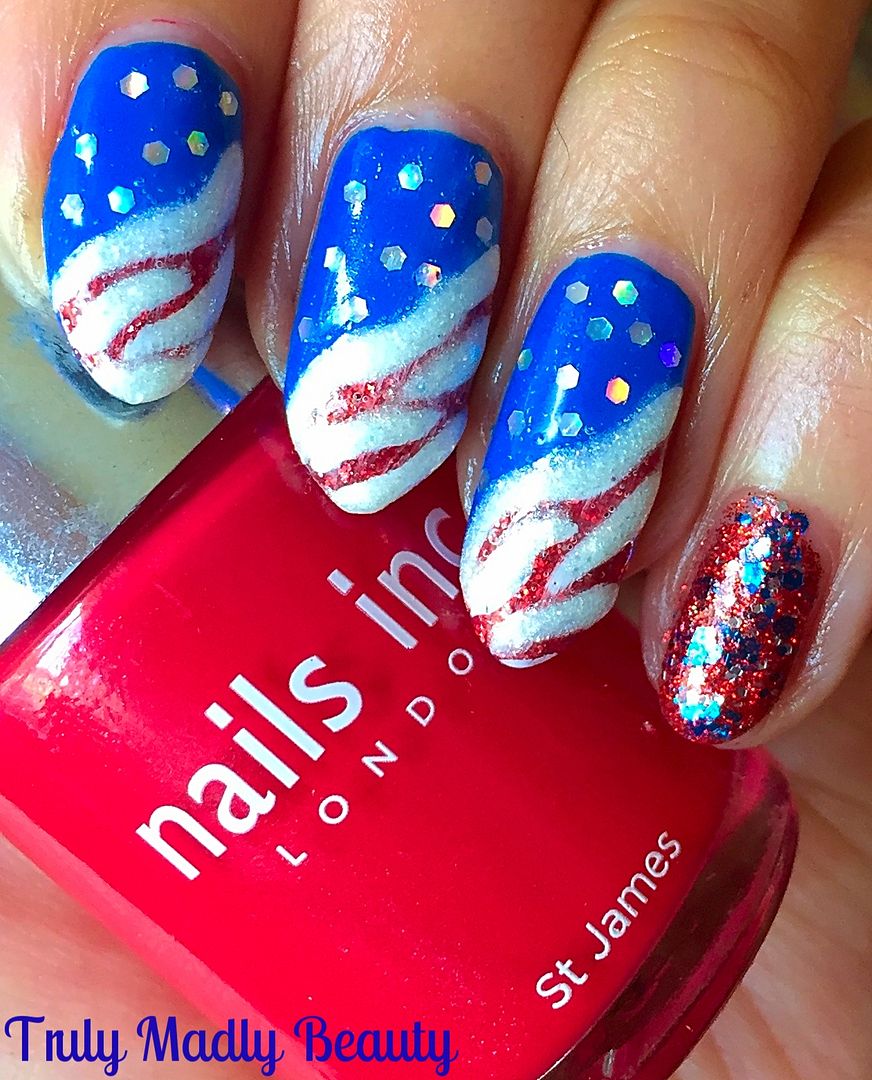 Wanting that red to really stand out I went over it with a coating of red glitter polish. Another offering from Nails Inc, this time Trafalgar Square & yup yet another layer of polish going on there...I should've given up at this point really...but hey, I'm a determined sod.
Now for that evil white polish which shall not be named, Using a thin nail art brush I applied this god awful stuff (or attempted to anyway) as wavy lines in an almost zebra print like style along the red part of the design only.
As the white came out so terribly I tried to rectify things by applying Barry M textured polish in Lady on top of it, this gave the mani a bit of sparkle & also made the lines kind of 3D like which is kinda cool I guess so perhaps all was not lost...I will NOT be defeated....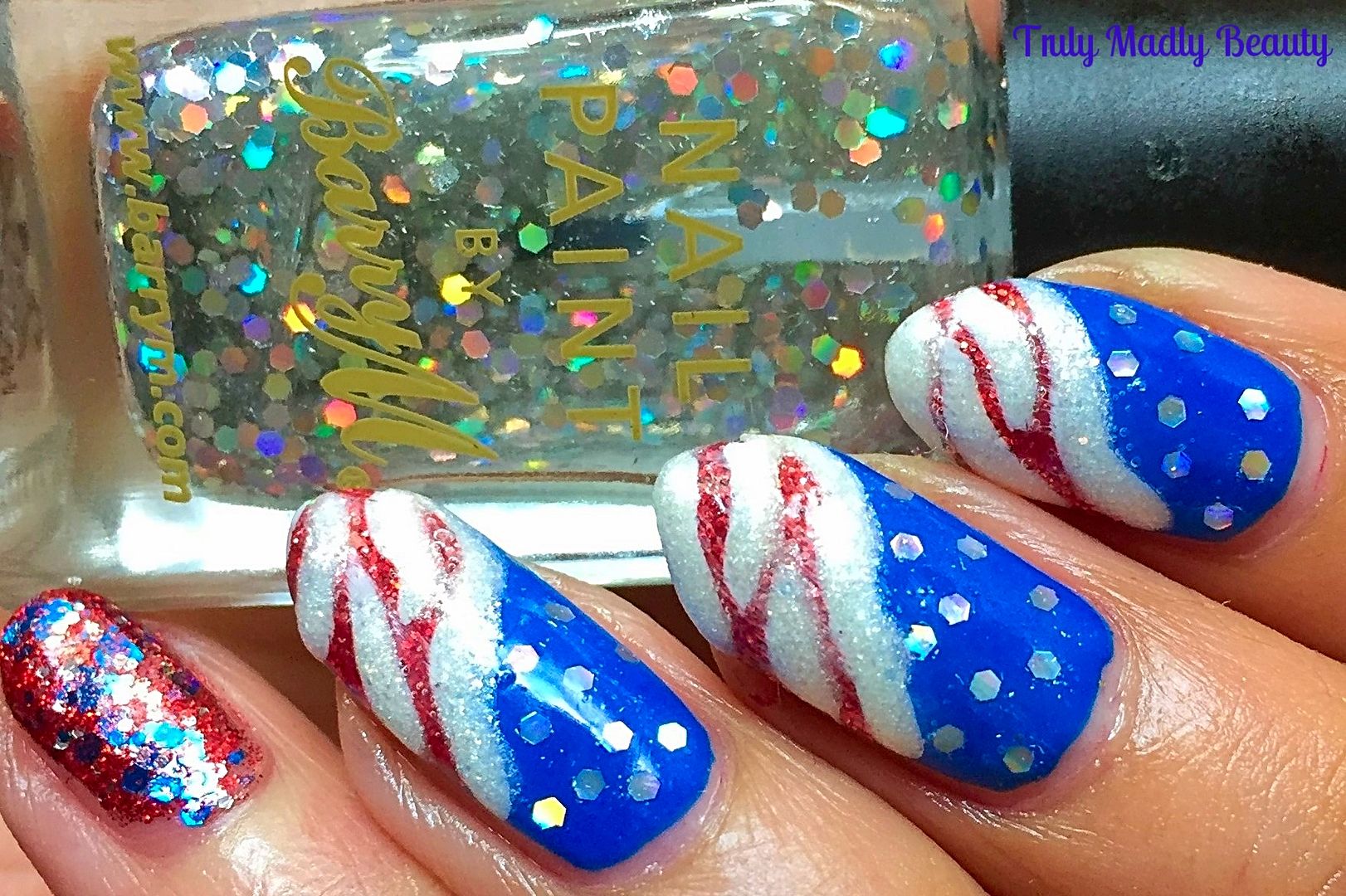 And then for my star aspect of the design I used the large holographic sequins from Barry M Hologram polish & applied them onto the blue using a toothpick to place.
Finally I applied this perfect glitter for the occasion by Julep called America on the little finger that is still recovering from its tragic accident & which completed this mani suitably with its red, blue & silver patriotic glitter sparkle.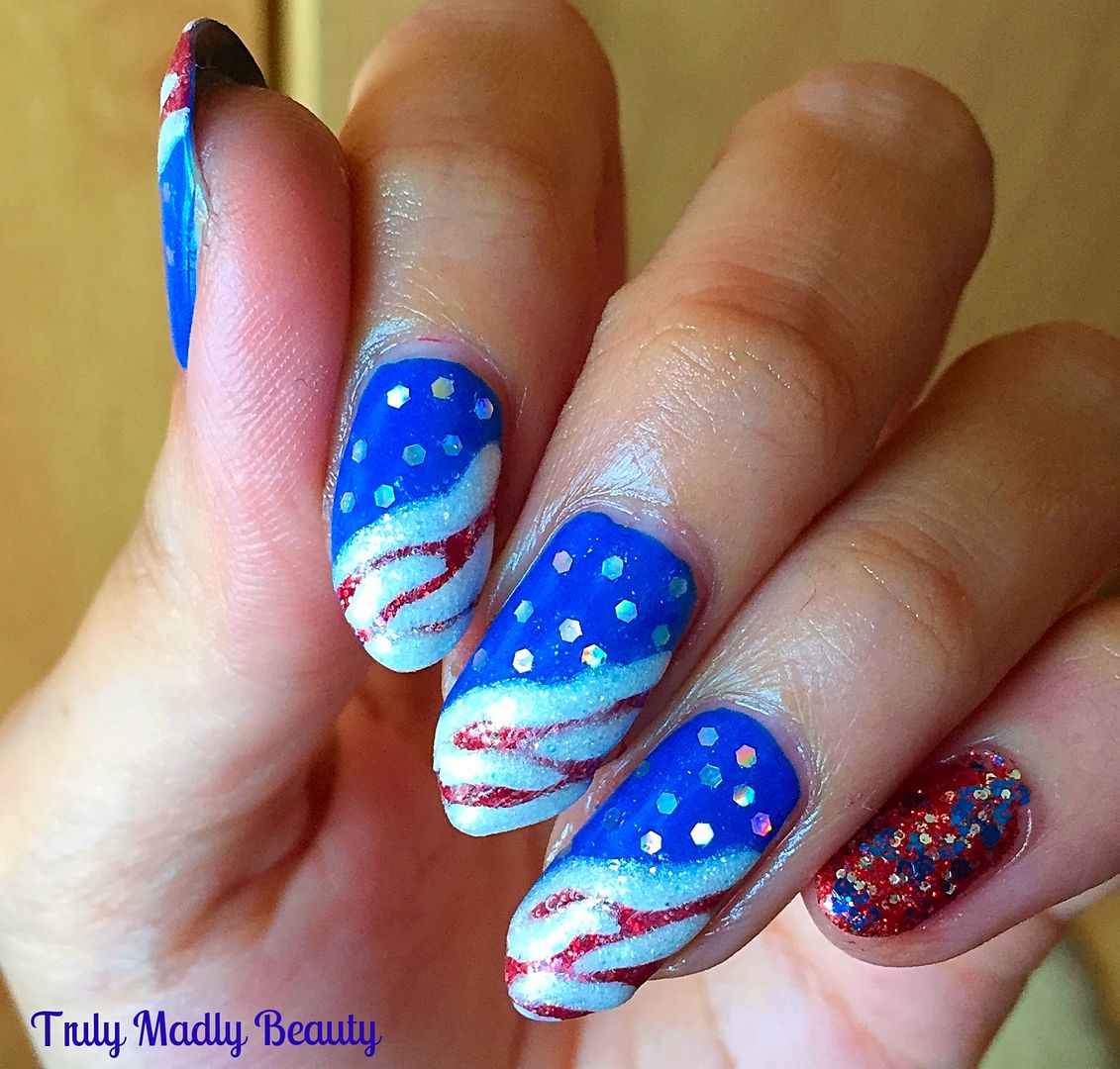 I finished with applying top coat twice as for some reason I keep on using Orly Glossier Topcoat which yes may leave a glossy finish but oh my god takes about 30 years to dry. I could swear I'd developed a grey hair by the time it was touch dry. But losing my patience I applied a coat of No7 Speed Dry which is incredible & finally managed to dry the damn thing & I figured since I already had about 64 layers already, one more wasn't gonna kill me...
Excuse me now while I go pass out...*collapses* Well that was fun...I think maybe next year I'll recreate the Drip Fourth of July Nails again haha! Have a fab day if you're celebrating my american beauties!
Lotsa love to ya!