Hey there lovely readers!
Cherry Blossoms have to be one of my favourite blooms with their pretty, feminine & elegant presence. Not only do I adore the florals themselves when they come out in all their glory every year but I am a sucker for anything cherry blossom print & especially (surprise surprise) nail art!
I've done a couple of different takes on the design, which you can see HERE & HERE. This time I was in the mood for some soft pastel tones & gradient nails as its been a while since I've done me some good ol sponging & this was the outcome!
To create gradient nails one uses the sponging technique, a method involving painting two or more polish shades on to a sponge which you then dab onto the nail, using a side to side & up/down motions to develop a gradient of the colours blending into each other.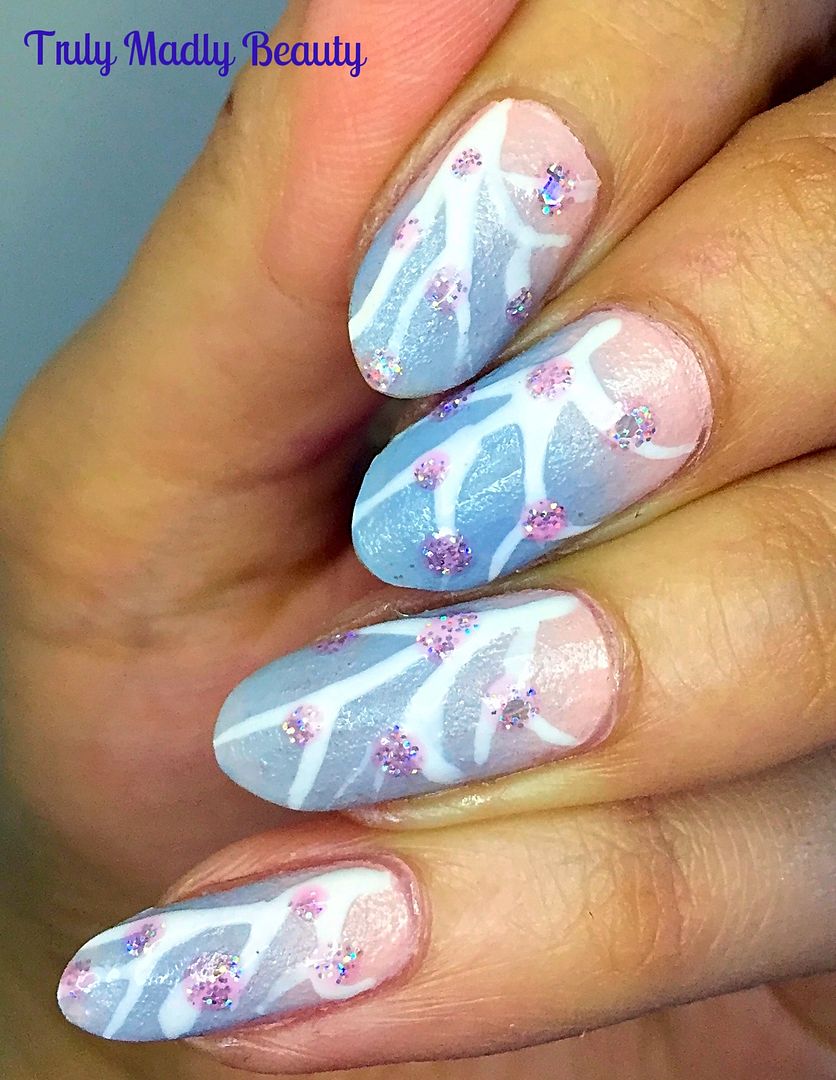 I've done a post which briefly touches on how to do this technique HERE which FYI also shows how to use Masking Fluid as a skin protection barrier for easy nail art cleanup!
For todays design I opted for a soft pink to lilac gradient, I'm loving lilacs so much right now & I think the two colours blend so seamlessly together. Here I used two of Nails Inc Alexa Chung nail polishes back from when she did her wee collab with them, Cashmere Pink & Winter Lilac.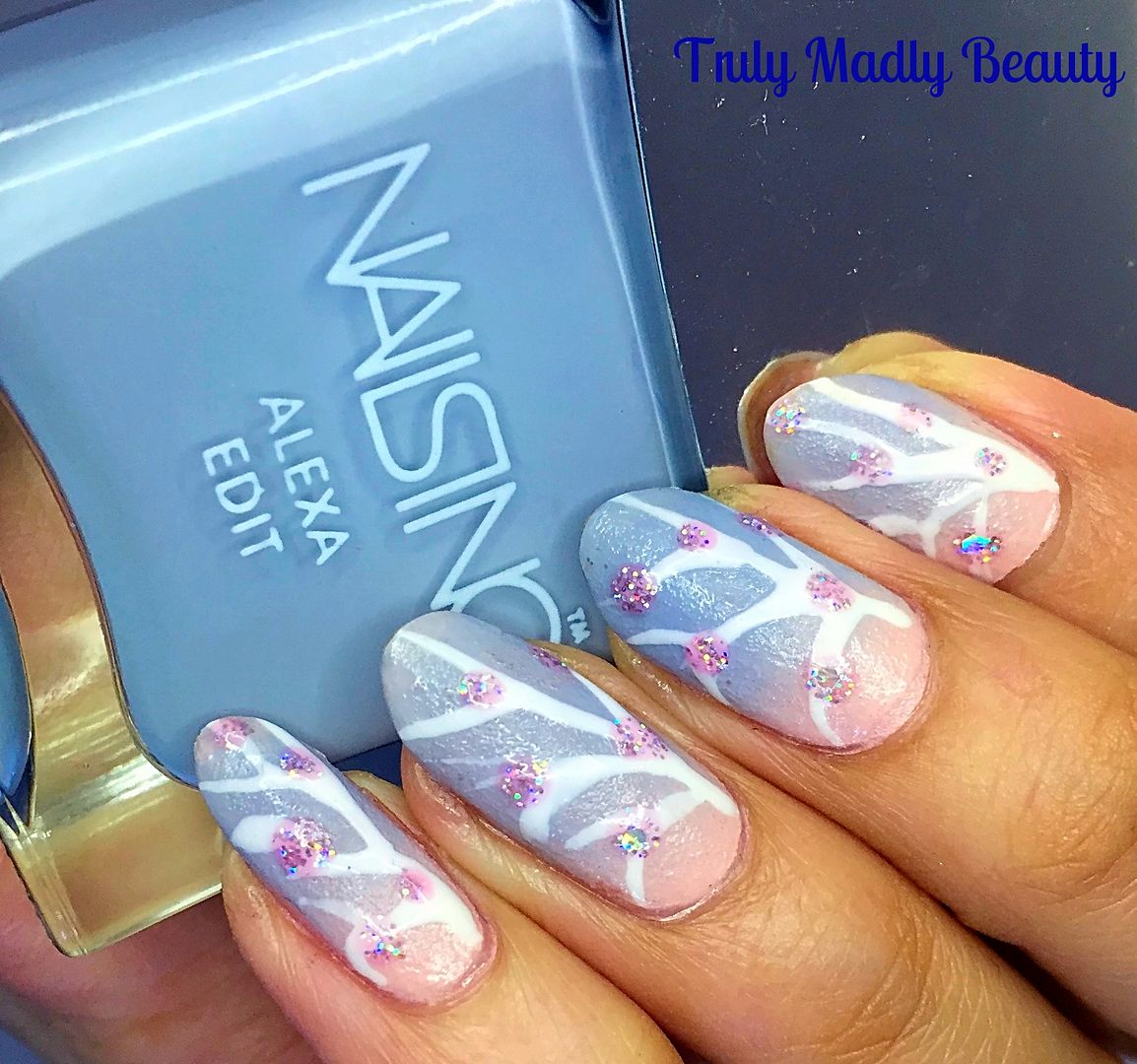 When sponging its best to have a base colour on first, otherwise you'll be sponging 1374313 layers before even getting near to an opaque finish. You can use white for your base, that will really make the colours pop or you can do what I have done which is use the lightest colour, in this instance the Cashmere Pink.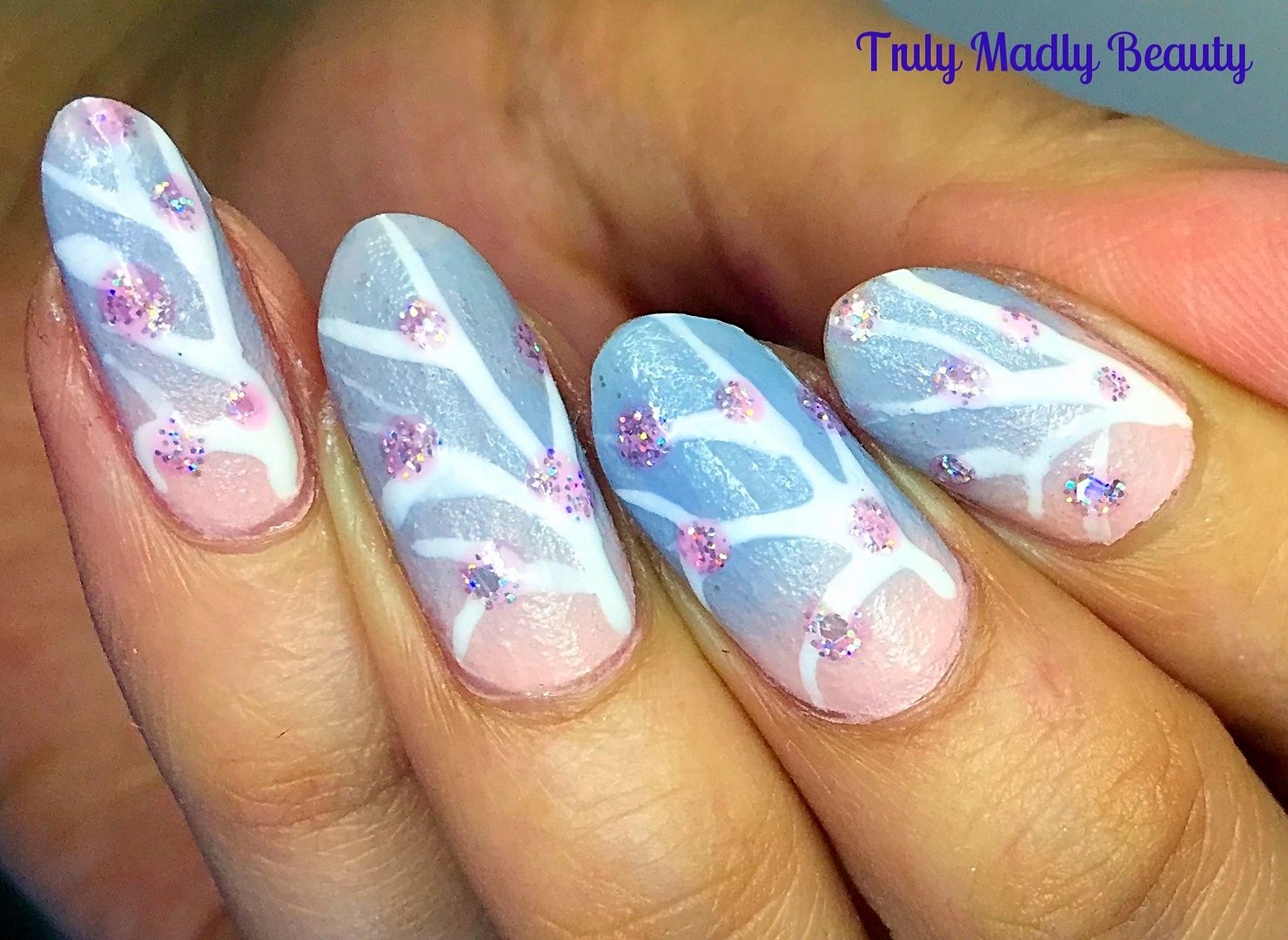 I didn't realise until after I'd applied one coat of Cashmere Pink as my base that this is actually a slightly textured polish?! I had no inkling or indication of this at all so it did come as a bit of a surprise with its slightly rough finish. But as it wasn't overly gritty & plus I'd already started so heck if I ain't a stubborn (& perhaps just plain lazy) mule, I decided to persevere.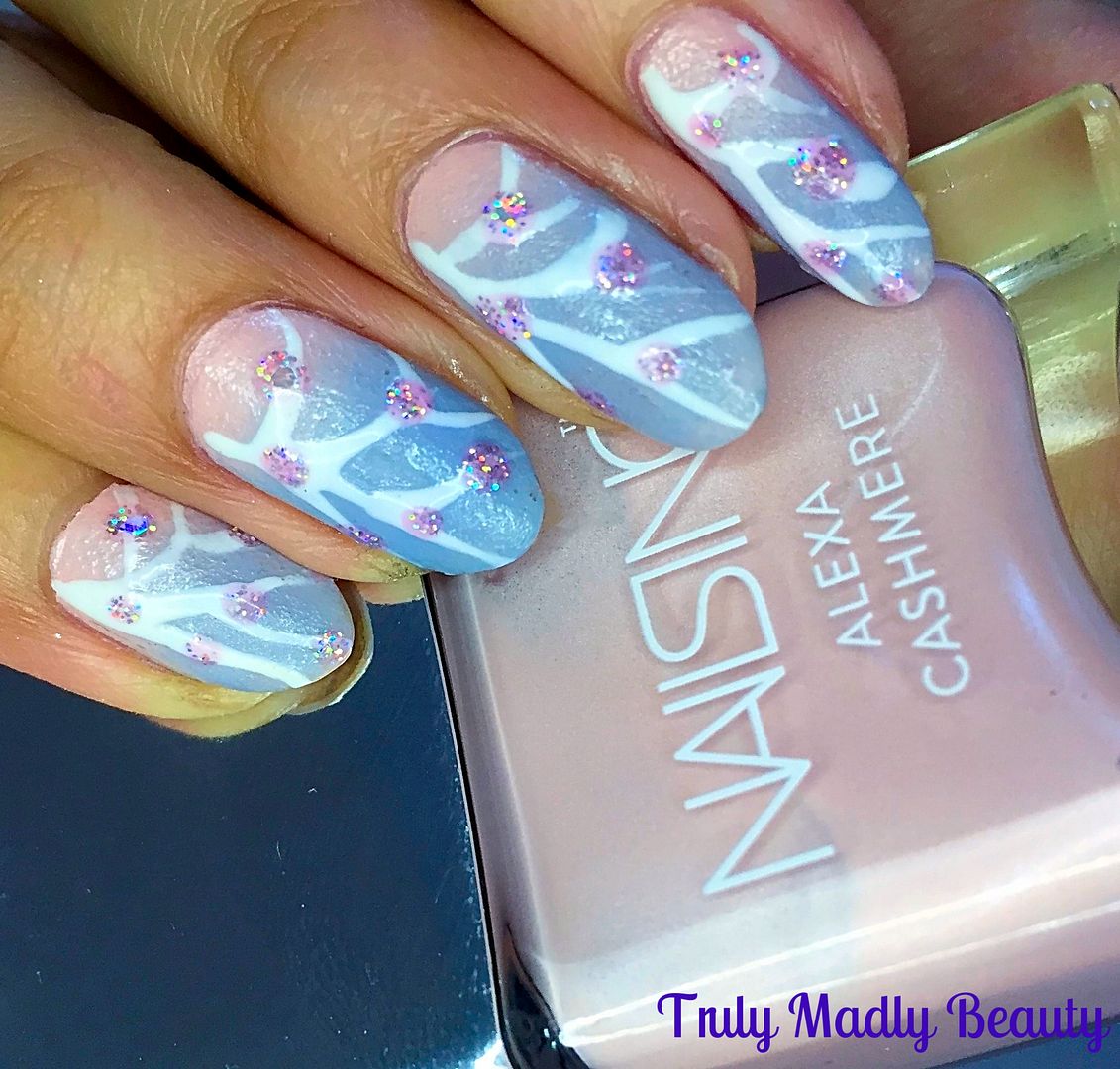 Once your base is completely dry, you can add a speed dry topcoat to help with this, go in with sponging on your polishes. To achieve a finish I was happy with it took only two bouts of sponging.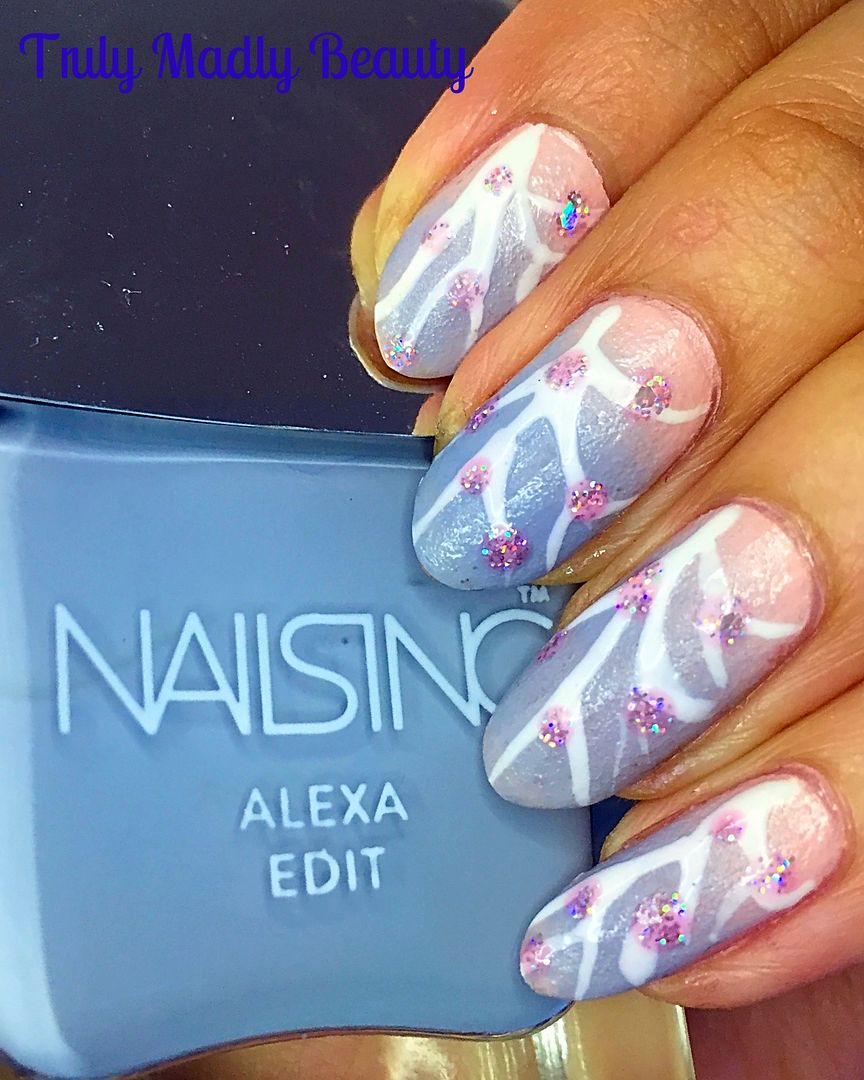 Now I had my pretty base ready for some blossom art! This time I decided to use white nail polish for my branches which I free handed with a fine nail art brush, starting from one corner of the nail & going outwards, keeping the bottom end of the branch thicker & thinning out at the tips.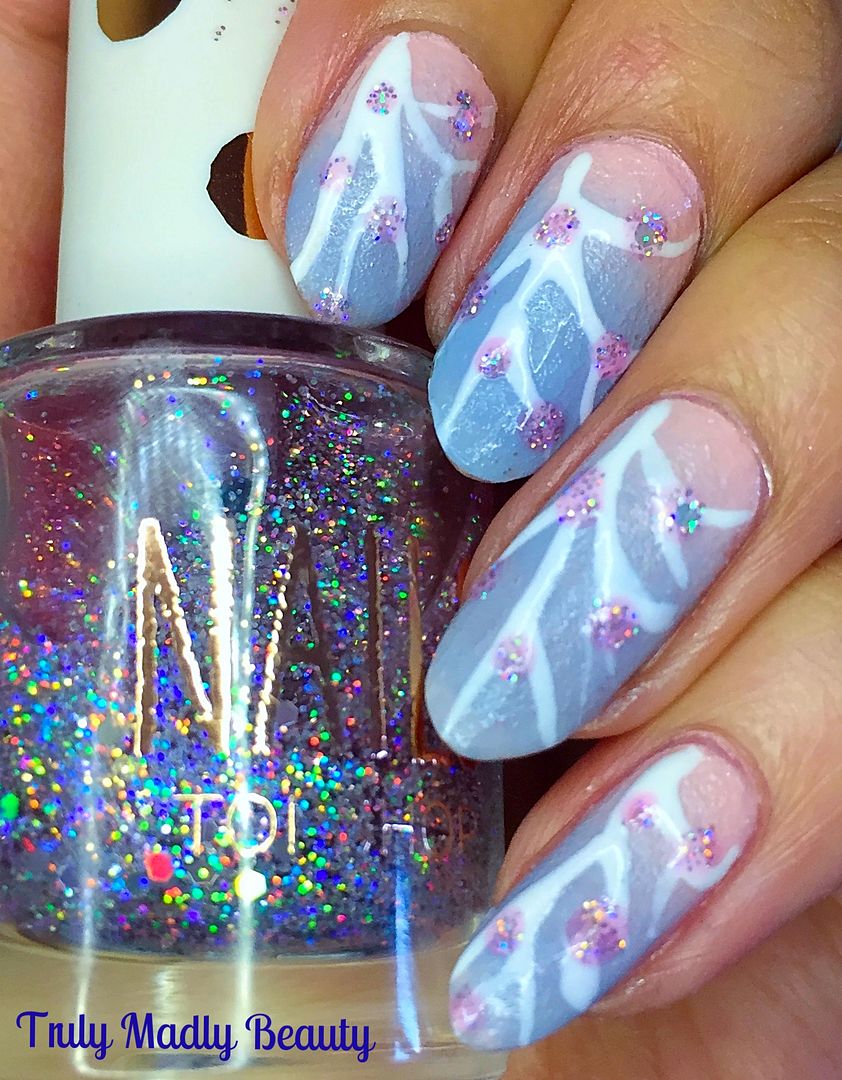 Then for the final detail of the pretty blossoms themselves, this time I decided to go for some glitter because sparkle completes me.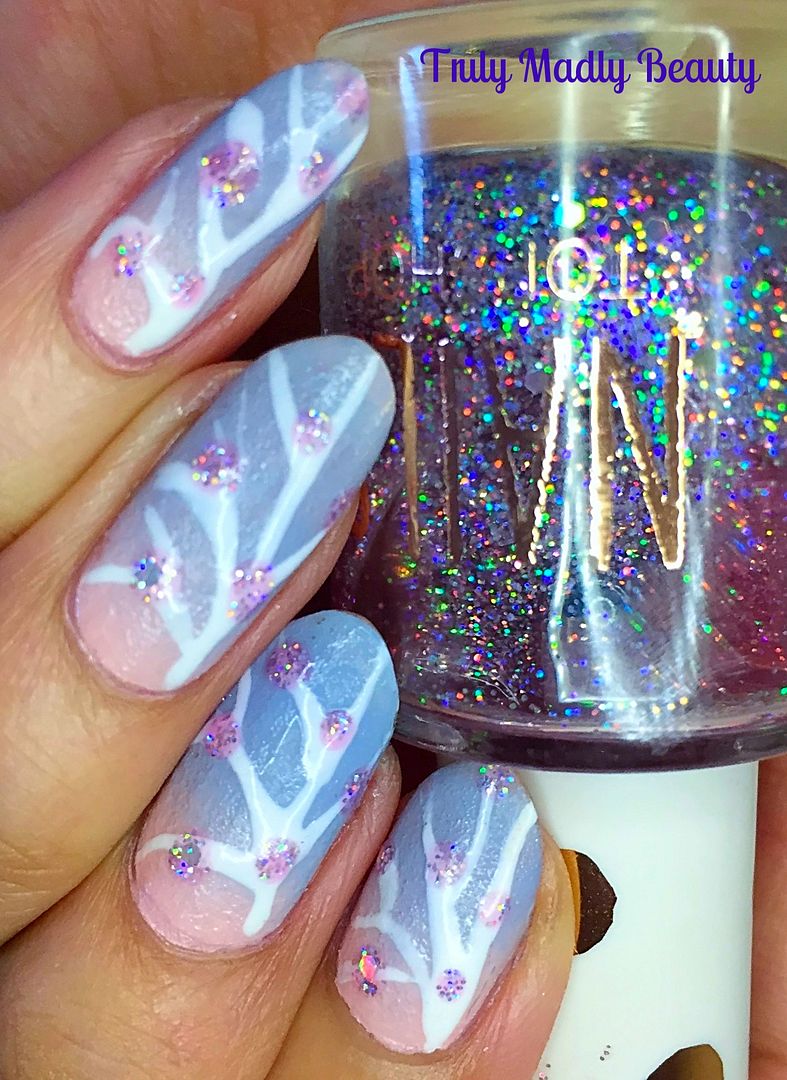 Here I've used a pretty courtesy of Topshop by the name of Adrenalin which is a sheer pink toned glitter topper filled with a rainbow of holo sparkles that definitely get the heart rate pumping. Simply using a dotting tool I dabbed on dots of glitter to represent my blooms.
Finish with topcoat & that's it! Hope you liked! Whats your favourite floral? Thanks as always for reading!
Lotsa love to ya!