Hello there lovely readers,
So this post is going up a tad delayed, I had initially planned on Good Friday but unfortunately I was hit with some very sad news on Thursday. if you follow me on social media you'll know that last week I lost my beloved Miss Kitty. I can't even begin to explain how devastated my family & I are with the loss of my sweet Hoshi, those who know me well know how much my little furbaby meant to me, but my little one was just too poorly & it would have been cruel to keep her with us. She was such a big character its hard to think her gone & I was so overwhelmed & touched with the thoughtful messages received over the Easter break, it truly meant a lot to me so thank you so so much. RIP my little star.
On to todays post...despite it being a bit late I couldn't very well let Easter pass on through without some form of suitably themed nail art now could I? As always nail-spiration is in abundance with pastels, speckles & cute creatures galore, I so love creating something fun every year. Have a peek at some of previous Easter themed nail art including, Cheeky Bunny Booty nails which remain a firm fav for obvious reasons, my Easter Minion Chicks Tutorial for a fun take on the design as well as a wee White Wabbit Tutorial featuring some speckled goodness too.
This year I decided to go down the chick route again but with a slight kawaii twist & created these cute little newborn chickadees popping out of their shells with their curious faces & batting us with their eyelashes :)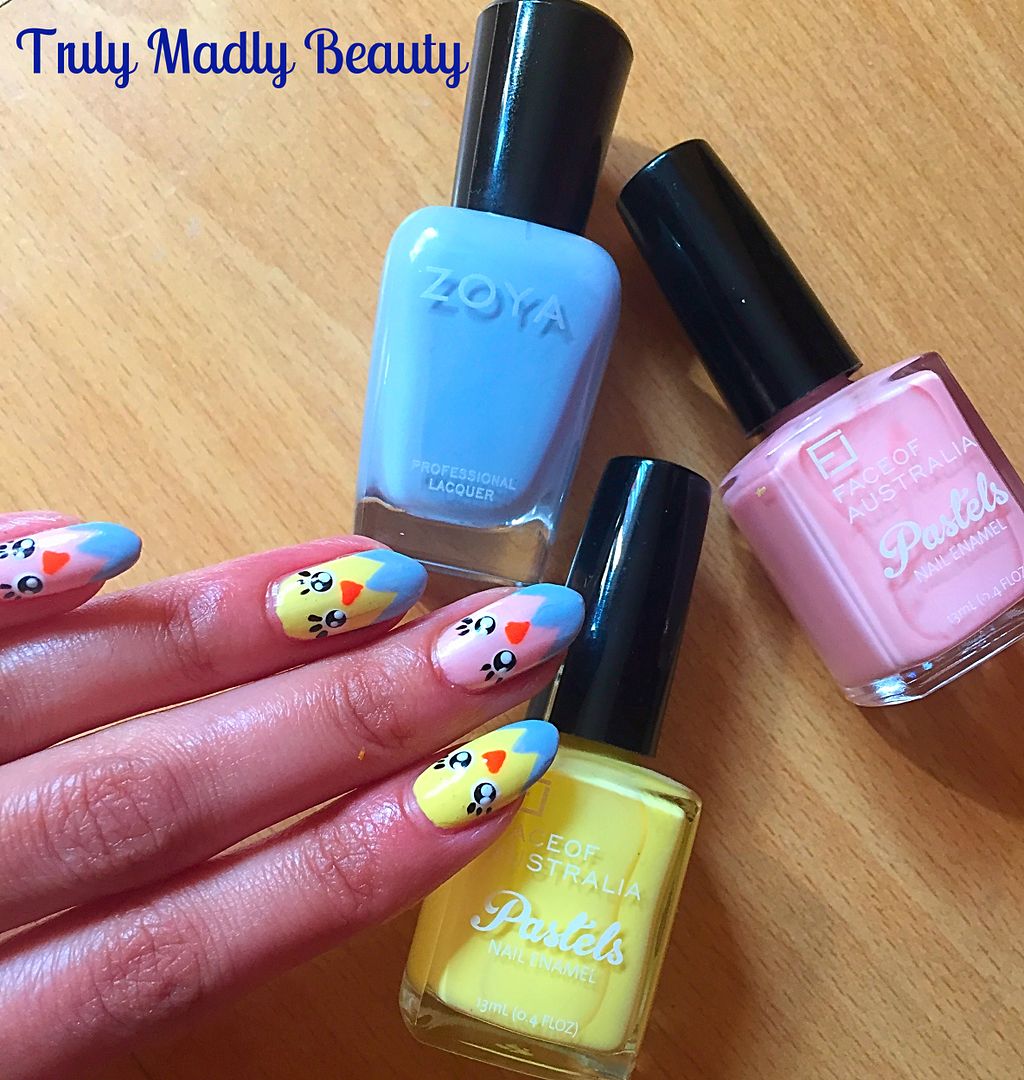 I wanted to mix it up a bit more so instead of just yellow I painted my chicks in pretty pastel shades of pink & yellow, because there's always room for a bit of pink in a manicure.


The polishes I've used here include Zoya & Face of Australia, a really awesome Aussie brand that my lovely pal Chelle sent me a while ago. Thanks to my darling friend I've tried a few of their polishes now & they are so so lovely! These particular shades are from their dreamy Pastels collection.
I used the yellow polish which goes by the delightful name of Easy Peasy Lemon Squeezy for my pointer & ring finger chicks. Two coats which went on super smoothly for a lovely lemony opaque finish.
For the pink chicks on my middle & little finger I used two coats of the equally fabulously named I'll Take You To The Candy Shop. This shade reminds me of strawberry milkshake, I love it so much!
For the cracked shell tips I wanted to change it up from bog standard white & instead went for a pretty duck egg blue colour using the gorgeous Kristen by Zoya. I just used a fine nail art brush to create the zig zag edge of the shell before filling in the tips. I actually really like the look of this jagged edge style french tip...might need to recreate this again!
Then for the cute eye detail which is what makes this design, its all about your dot placement. Using a large & small sized dotting tool I first applied a large dot of white polish side by side. Then inside the white place a dot of black slightly smaller than the white.
Next using the smaller dotting tool, dip into your white again & add two smaller dots inside the black in a diagonal as shown. Then lastly using a fine nail art brush add on three little eyelashes to each eye.
Not forgetting the little beaks, for this I just drew on a wee triangle using a random orange polish & a small nail art brush again. Finish with a coat or two of topcoat to seal & shine and you're done! Cute Kawaii Chickies peek-a-boo-ing at ya!
Hope you liked this years (slightly late)Easter mani my dears. Thanks for stopping by!
Lotsa love to ya!