Hi there lovely readers!
Now I'm sure that you've all seen by now the chrome nail trend that looks like your rocking molten metal on the talons & is the current obsession in the nail world. Seeing these stunning mirror finish metallic sci fi nails on my Insta feed has me itching to get in on some of that shiny action!
My only dilemma has been that the majority of chrome powders I've come across work with UV Gel polish only. I do own a UV lamp, but the idea of using gel polishes, for me & I'm sure others, is just a bit much, especially seeing as I chop & change my nails so often. Though for this there is also a solution, that being using a peel off basecoat...this way I could easily remove said gel polish after a few days if I wish.
But for now, like Indiana Jones hunting for the Holy Grail, I've been searching for a chrome powder that works on regular polish & I've just ordered one which I think may be exactly what I've been hunting for....but until then I thought I'd share with you a lovely & very budget friendly alternative you can get to achieve a futuristic finish to you nails & is courtesy of Born Pretty Store.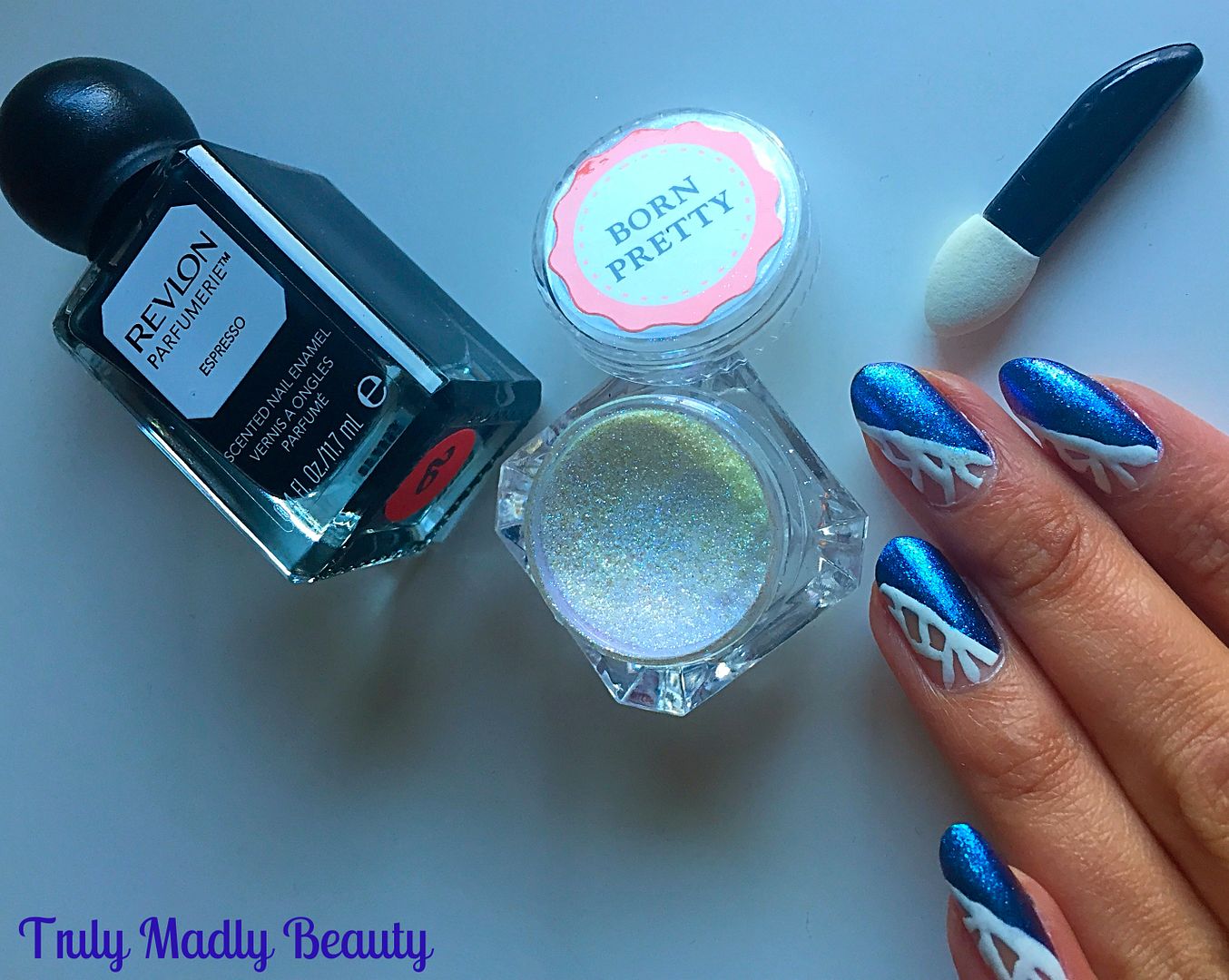 BornPretty Store is my ultimate go to place for all my nail art bits & bobs, you are spoilt for choice with the incredible array of nail art products all for super cheap prices. Yes your order will take a month or so to get to you, but with free worldwide shipping & excellent quality affordable items, its totally worth the wait. I always place an order for a few things at a time, trust me its so easy to keep adding things to your basket, & in my last order I included this little pot of what I have labelled...MAGICAL UNICORN DUST.
Its actually called Chameleon powder but potayto potahto...Unicorn always wins. This little pot of wonder costs only a whopping £1.40 & comes in a variety of pigments to choose from, each promising to give a metallic chrome finish. What urged me to go for this one in particular was that I noticed in the comments a lot of the reviewers stated that they had used this with regular polish with fab results...SOLD. So I picked me up a pretty pot of shade 587.
With the pot comes one of those eyeshadow applicator thingamybobby's which I've seen used in a lot of the videos to apply the chrome powder. However I've discovered that your fingertip works just as well if not better. Isn't it pretty?
But...what effect does it give & does it work? Well lets have a look!
Would you believe me if I told you this was done using a plain black polish underneath? The Unicorn dust transformed my bog standard black, which was Revlon's Expresso to this STUNNING shimmery, holographic Blue duochrome!
Now I'm calling this a definite duochrome finish, as there is a lovely shift of colour & whilst I wouldn't say that the effect becomes fully metallic mirror chrome, I still absolutely LOVE the finish.
I applied my black polish to part of the nail, covering only half of the bed at a diagonal, leaving the rest bare to create this random white freehand negative space design.
After applying the polish, I left it to dry for a minute until it is almost touch dry & only slightly tacky, then using my finger, I dipped into my pot of magic unicorn dust & simply swiped across the polish until all of the black is covered & your left with this eye catching shimmer sparkle finish.
And a little goes a long way, you literally only need to dab your finger in to pick up enough product. Once you are happy, swipe away the access left on your skin with a brush or towel. I then used a thin nail art brush and some white polish to add on this white pattern on to the remaining space left on the nail, before finishing off with my CND topcoat to finish.
So for £1.40 I'm pretty chuffed with the results of the Born Pretty Store Chameleon Powder which can be found HERE & I'm keen to see what finishes it will give to other shades too... However I'm still yearning for that proper mirror metallic chrome look & with the product I've just purchased online, I think I've found it! I will of course keep you updated, so stay tuned!
Lotsa love to ya!