Hey there lovely readers!
I'm excited to share with you a few of the divine new nail polish shades that have been released by one of my favourite brands True Brit London, these new additions have recently joined their already stunning array of lacquers available.
Its no secret how much I adore this brand, True Brit London nail polishes really are something else. Not only are the shades & formulations top notch, but they really have nailed it in the packaging stakes with their gorgeous chunky ice cube shaped embossed bottles that exude luxury, only without the hefty price tag. I also love their quintessentially classy vibe, seeking inspiration for their collections in all things from history to traditionally British themes. You can check out my previous True Brit London posts & swatches HERE.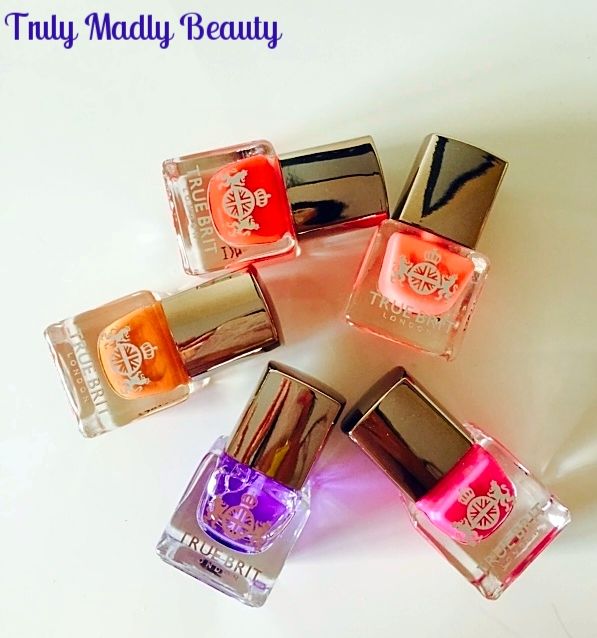 I have four of the new shades to share with you but I wanted to give each shade the attention it deserves so will split up each post individually. To get the ball rolling we are starting things with the distinctly unique Nostalgia*.
Now this is a shade that definitively screams vintage. I actually tried this shade out first as I thought it would be my least favourite of the bunch as I'm not really one for orange tones but by golly I love it!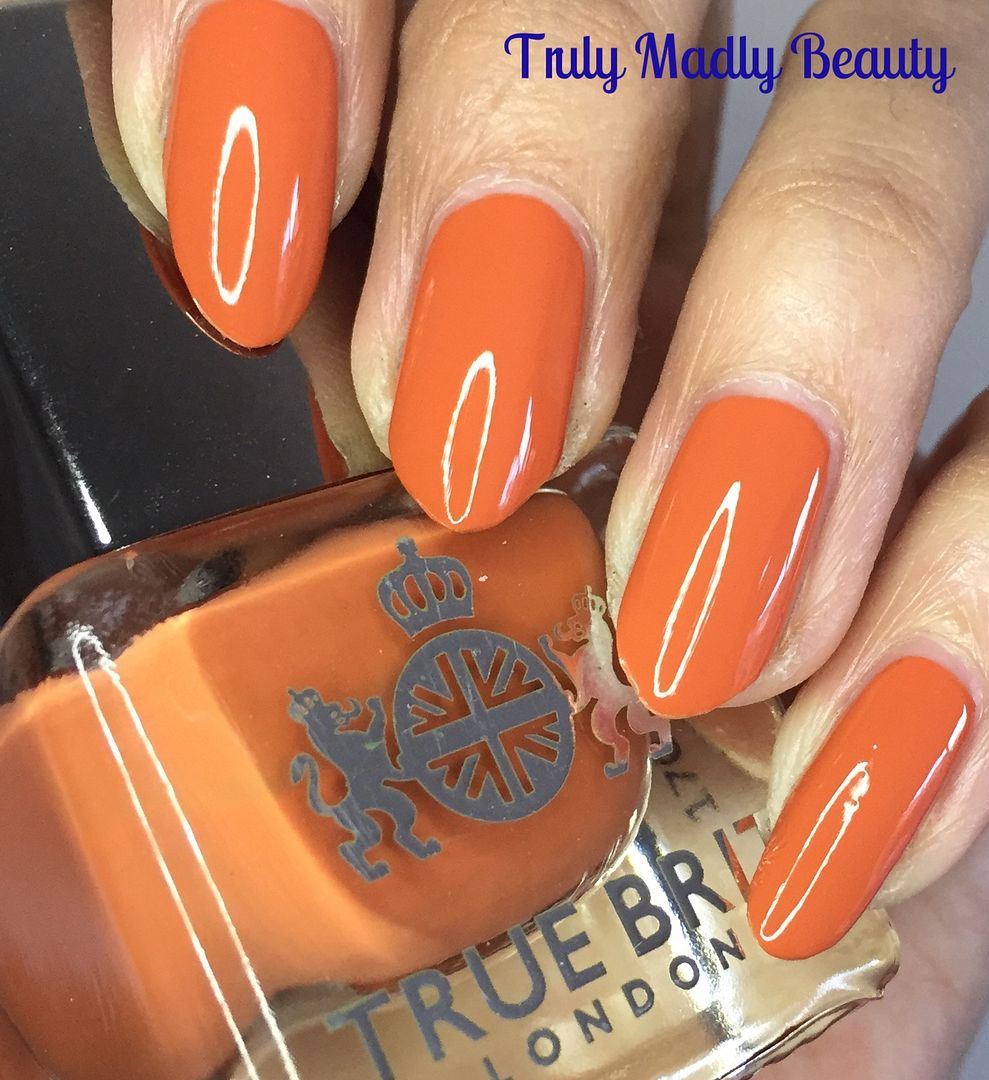 A warm orange creme, this shade is inspired by the 70's iconic colour tone & I can definitely visualize many an outfit incorporating this shade in that era!
In fact I'm pretty certain there's an utterly fabulous polaroid of my papa bear hidden away in the albums rocking a pair of suede trousers this exact shade haha! It also made me realise that the name of this polish is perfect as it definitively made me feel nostalgic & eager to dig out the family albums for a good ol story & giggle (as they are always inevitable) fest ;)
The formula was dreamy & this is two coats applied for an opaque glossy finish.
I wanted to do a bit of abstract nail art on this & I was really happy with part of the design, but I got a bit overexcited & added on dots at the end which absolutely ruined the whole thing! So unfortunately there are no final pictures of the full mani as those will NEVER see the light of day but I managed to capture each of the steps BEFORE disaster struck with the epic mani fail, so you can have a go at creating too!
First, using white polish and a thin nail art brush, apply two curved lines on the nail, joining at the tip so that you have a curved triangle like shape as shown.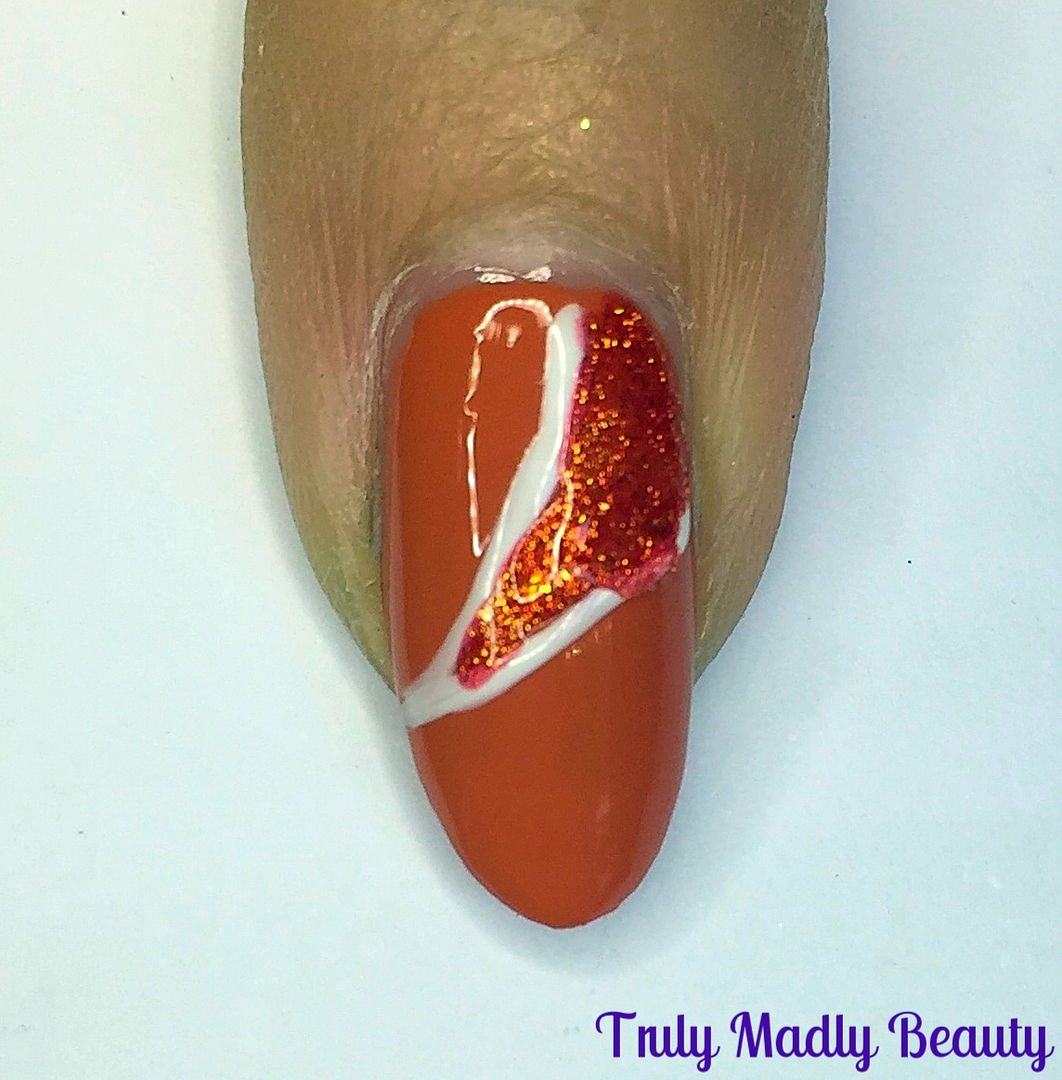 Next fill in this triangle with a shimmery shade, here I've used Zoya Amy, which is a stunning glass fleck orange shimmer which I thought would go perfectly with Nostalgia.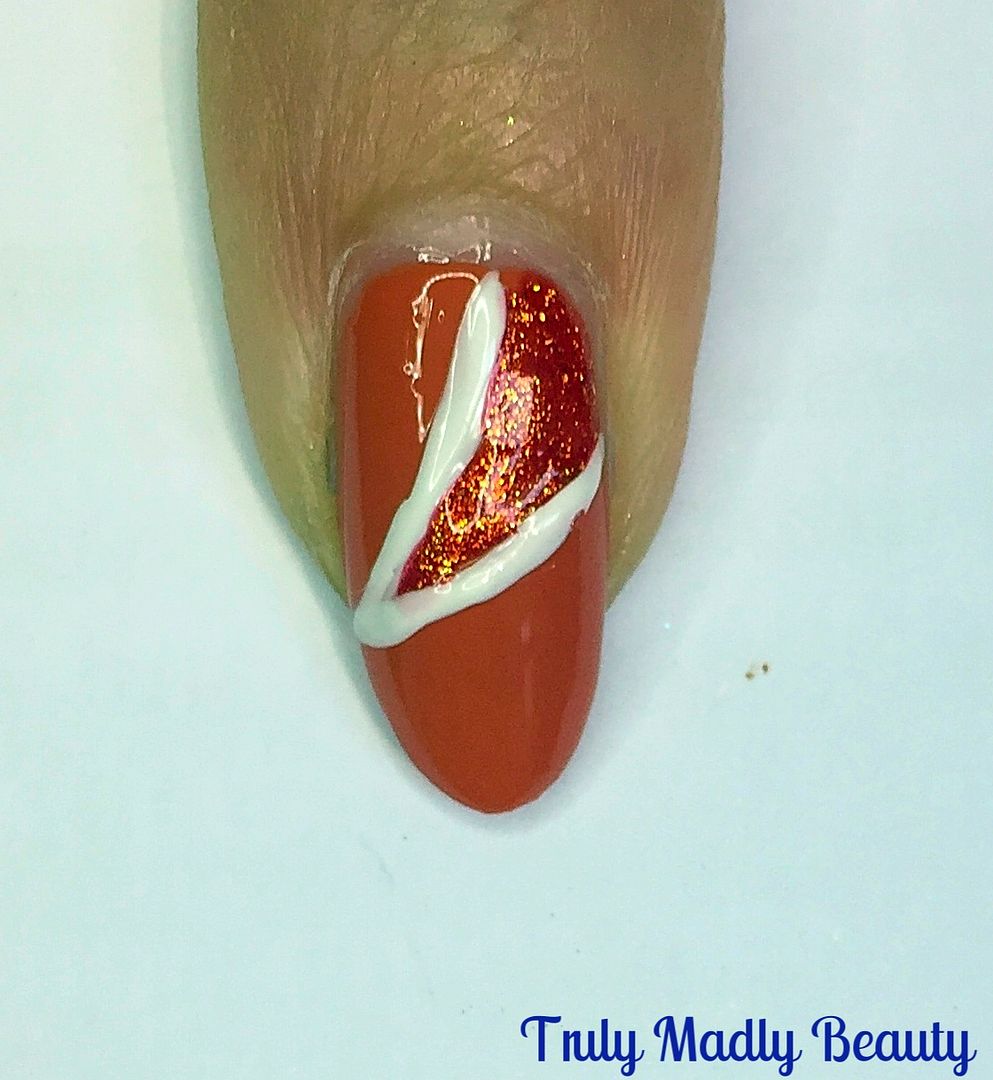 After you have filled in the triangle, go over the white lines again to neaten up areas where the polish has gone over.
Finally, going in with the white polish & nail art brush again, apply some more curved lines haphazardly across the nail to create this abstract finish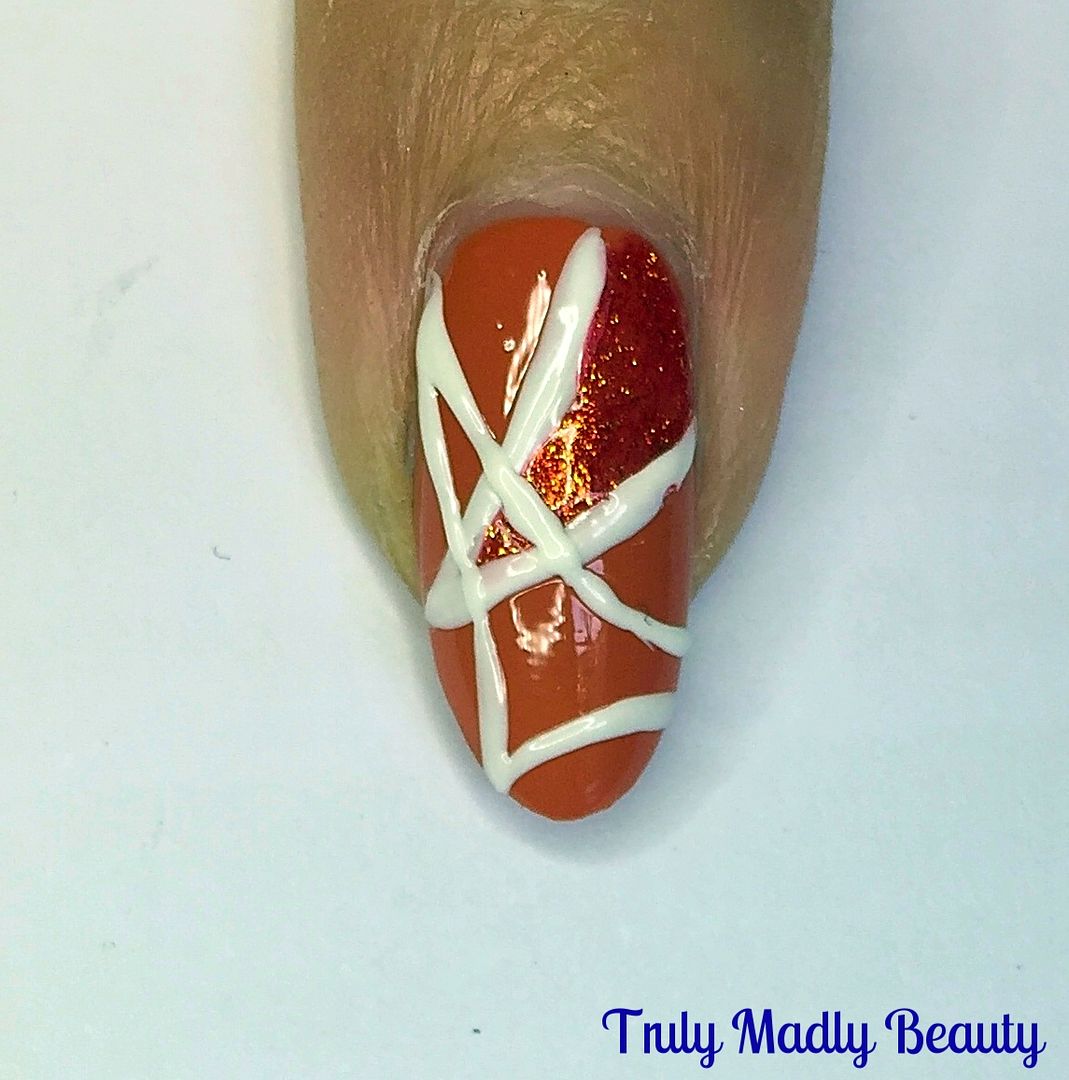 Now I should've stopped at this point but me being me I got a bit over enthusiastic & thought adding a few dots to the design would be a good idea...it wasn't. O_o *cough*
Anyhoos lets pretend that never happened & just enjoy another swatch of the delightful Nostalgia again shall we...*side eye*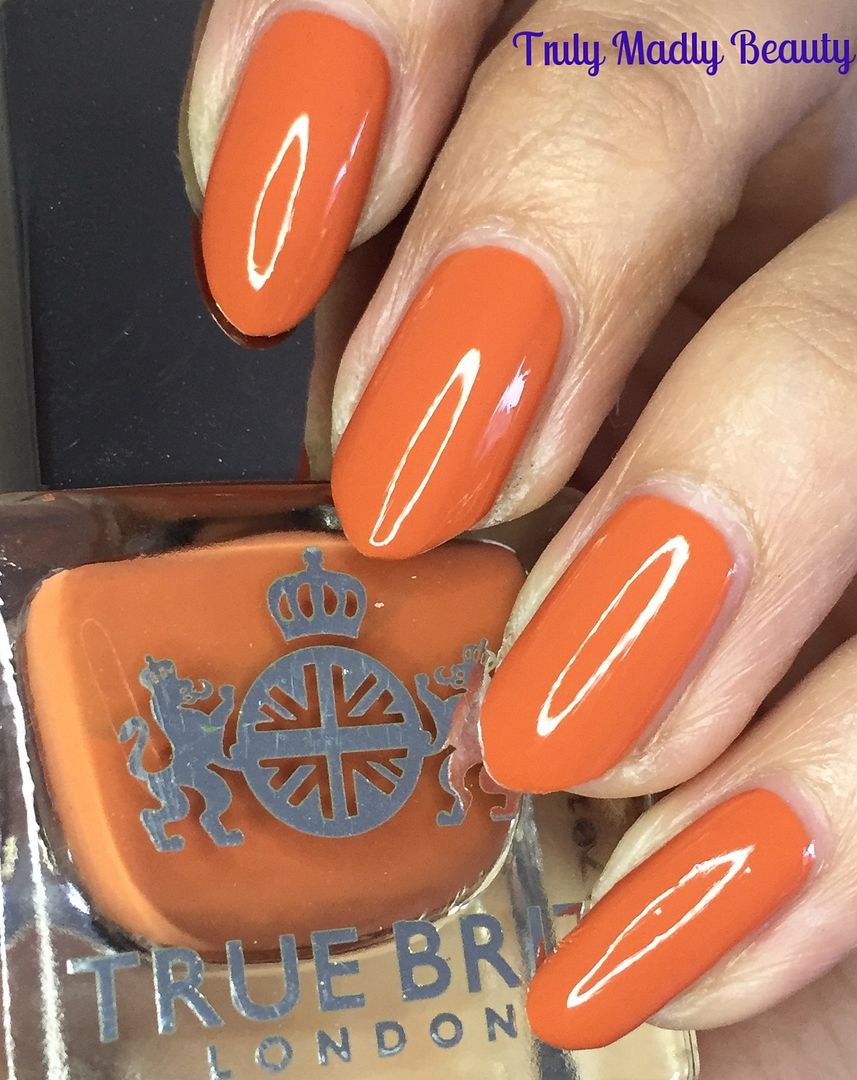 True Brit London polishes can be purchased online for £12.50. Thanks as always for reading, stay tuned for the next shade to be tested! Till next time!
Lotsa love to ya!
Disclaimer - * products featured were sent to me for my consideration. I am not affiliated with the brand nor paid for this post, this review has been as always my 100% honest opinion! :)