Hey there lovely readers!
Okay confession time...when it comes to skincare I'll admit I've not given as much attention as I should, especially considering I'm now in my late twenties. There was also the slight problem of it all just confusing the heck out of me! I'd find myself reading posts of bloggers skincare routines containing 152613 different products & my mind would implode! However this is something that I plan on rectifying & I've slowly realized that it doesn't have to be complicated rocket science & discovered a few skincare gems that have been a delight to use. One can only pray to the skincare gods that I've not let my tardiness cause any long lasting effects haha!
My skin has thankfully never been too problematic which is a blessing considering my neglectful ways, other than being sensitive & a tad on the dry side. Another admission for you seeing as I'm on roll....I've only in the past 5 years actually made the effort to remove my makeup before bed *cue gasps of horror*...I know. Again this just falls down to my utter laziness so when it came to finding the right product to remove my makeup the USP for me would be speed & ease. Enter at this point CLEANSING OILS! Discovering these bad boys was a definite game changer & I actually found myself anticipating my makeup removal come evening...what can I say? My oddness knows no bounds.
A few of my tried, tested & loved favorites include the NUDE Perfect Cleansing Oil (RRP £28), No7 Beautiful Skin Cleansing Oil (RRP £11) & one which, until recently, beat them all, The BodyShop Chamomile Silky Cleansing Oil (RRP £12). This stuff was the bees knees of cleansers, removing even the most hardcore of mascaras without irritating the eyes quickly & effectively. However I had one MAJOR gripe with it...the pump bottle packaging! I took this on a weekend away with me & the oil LEAKED EVERYWHERE. Not fun. I've even appealed to the lovely BodyShop peeps about this because I love it so much, hopefully they'll work on changing it!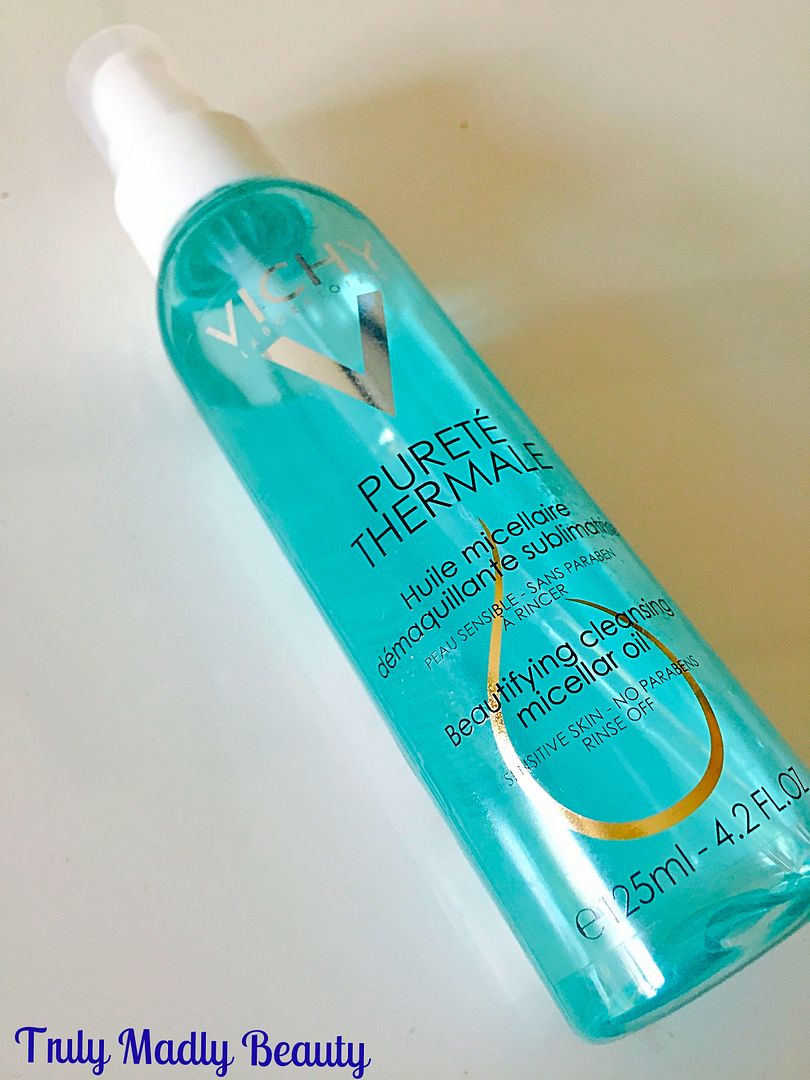 However until they do, they have themselves some serious competition as I've now discovered a new cleansing oil that may have reached HG pedestal status it is THAT good. Enter at this point Vichy Beautifying Cleansing Micellar Oil (RRP £13.75)
This first came on my radar when a friend of mine brought it with her on a recent mini trip away. I love rifling through my friends makeup/skincare bags because I'm a nosy creature & was no doubt wailing out my woes on my tragic BodyShop cleansing oil experience. She immediately dug out this pretty blue bottle of goodness & proceeded to sing its praises.
The Vichy Beautifying Cleansing Micellar Oil comes in a compact yet sturdy bottle & even though it is a pump it also has a cap for secure protection so there is limited risk of any leakages making it perfect for travelling....blooming huzzah!
So its passed the first test with flying colours but of course the truth is in the testing & I'm happy to report that this oil DELIVERS. Enriched with micelles, vitamin E & camellia oil, just 3 pumps is all you need to gently yet effectively remove all makeup, including mascara. I apply this onto dry skin, before wetting my hands & slowly working the oil into a milky emulsion, then rinsing away & wiping with a muslin cloth. Its gentle on the eyes & your skin is left feeling soft, beautifully cleansed & makeup free. WIN.
I've recently upped my cleansing game even further & started incorporating double cleansing in to my routine...I know, calm the heck down Aysh! So after I've used my Vichy, I go in next with The Beauty Kitchen Seahorse Plankton Everlasting Radiance Cleansing Gel*.
First can we please take a second to admire the pretty blue bottle packaging? Very Neals Yard-esque & I'm a sucker for anything Royal Blue! The Beauty Kitchen first came to my attention at a blogger event & had me intrigued with its range of beauty products made from 100% sustainably sourced natural ingredients & essential oils. I'm all over that!
Nowadays you see lots of interesting concoction & potions including unusual new ingredients promising a plethora of miraculous benefits...bee venom & snail gel to name but a few. Well the latest super ingredient to hit skincare world is Seahorse Plankton
Seahorse Plankton is a micro-algae, a unique mix of antioxidants, omega 3, lipids, sterols, carotenoids and vitamins with anti-ageing benefits & which is grown naturally, guaranteeing the products purity and ensuring the eco-balance of the oceans is not disturbed by uncontrolled harvesting & more importantly the seahorses don't go hungry!
As well as the aforementioned micro-algae, the Beauty Kitchen Cleansing Gel also contains a multitude of magical ingredients including Sea Kelp, Immortelle, Angelica Root, Frankincense Gum Oil and Blue Chamomile.
After I have removed my makeup with the Vichy, I squeeze out a pump of this pretty blue tinted gel, which is more than enough, & massage into damp skin. I originally started out simply using the gel like this, however it is recommended using a Konjac sponge or muslin cloth to really reap the full benefits. I happened to find a Konjac sponge on one of my TK Maxx trips for a couple of squids so I picked one up & now use it to achieve a more through cleanse!
After using the gel my skin is left feeling cool, squeaky clean & refreshed yet not dried out at all which is fantastic for me as in the past this has been the main downfall of most cleansers. The herbal ocean like scent is lovely too, really relaxing & comforting, not overpowering at all, perfect before heading off to bed. Its also doesn't irritate the eyes at all, another bonus! The Everlasting Radiance Cleansing Gel really has been a pleasure to use & prepped my skin perfectly for my final step of facial oil before bed.
The Beauty Kitchen range can be found online & in Holland & Barrett. I'm planning on continuing on my skincare journey with next exploring the new The Ordinary skincare range that everyone has been talking about! Have you tried? Thanks as always for reading beauts, what are your current skincare holy grails?
Lotsa love ot ya!
Disclaimer - * products featured were sent to me for my consideration. I am not affiliated with the brand nor paid for this post, this review has been as always my 100% honest opinion! :)