Hello there my lovely readers!
Gotten back in to the swing of things yet? Find myself currently surrounded by gym obsessed work colleagues filled with the obligatory after holiday over indulging guilt...& here's me just sat here happily munching away on left over Roses...haha! I mean if it wasn't the fact that I was allergic to gym I totally would succumb too...its not pretty...sweats, palpitations, breathlessness, hot flushes...this ALWAYS happens whenever I go...so for my well being I simply cannot so hey ho.
One of my favourite things about the Xmas break, other than all the food & family time of course, is the fab selection of festive films to enjoy during ones hibernation. This year we were treated to the entire Harry Potter saga. I visited the studios last year which was absolutely magical & it brought back so many wonderful memories, these films will always have a special place in my heart just like Disney.
Anyhoo watching the films immediately brought to my mind a particular polish in my stash that I had picked up donkeys ago but had not yet had the opportunity to test out...Expecto Patronum by Dollish Polish...well...you can imagine my eagerness to rectify this situation immediately after watching The Prisoner of Azkaban...so out it came!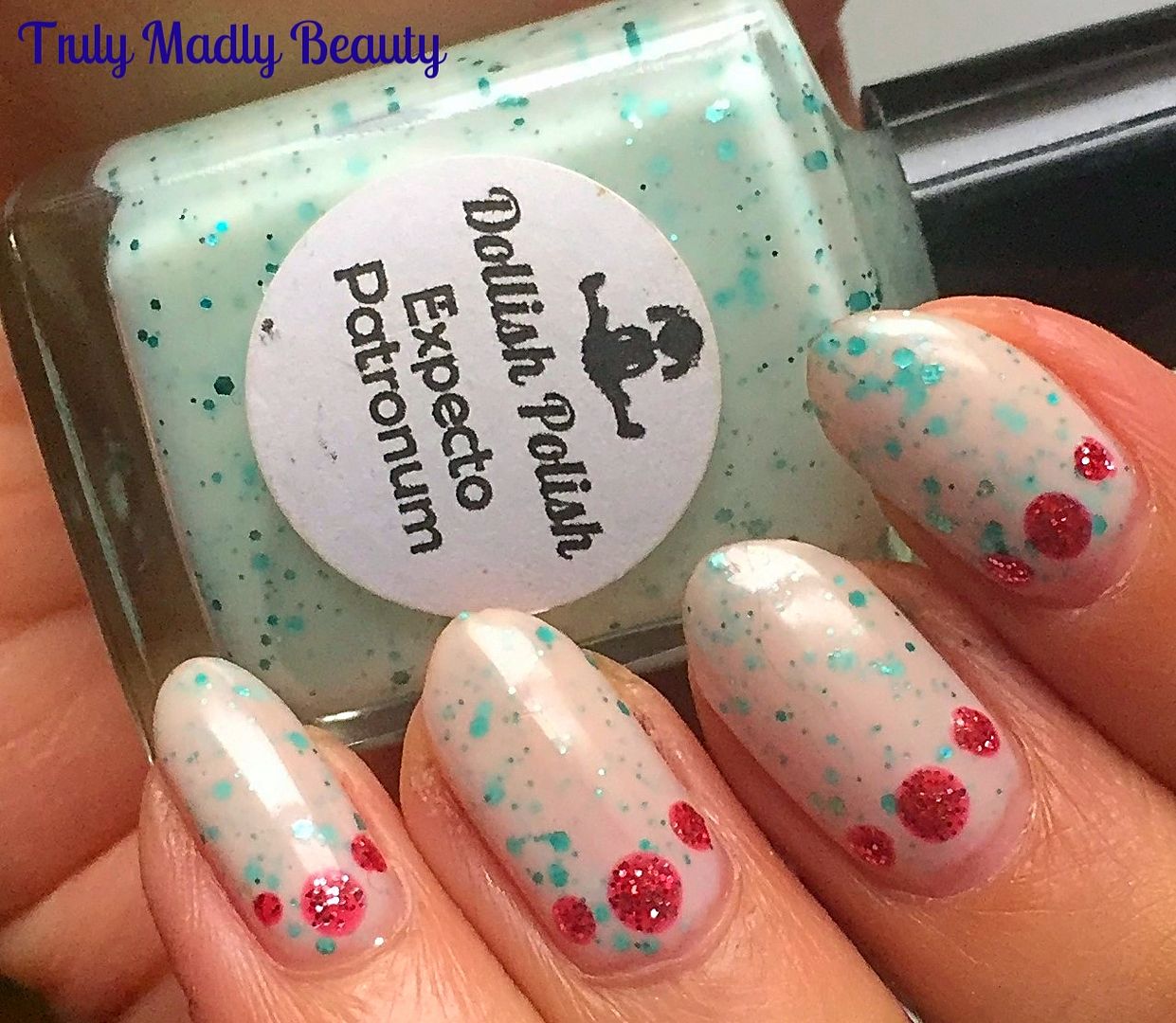 The delightfully titled Expecto Patronum is an indie polish by the brand Dollish Polish. I picked up this little beauty in a blog sale but you can find it on their website HERE. This polish is seriously stunning beauts & if you are a Harry Potter fan then you NEED THIS IN YOUR LIFE. Heck even if you're not just look at its purdiness!
As expected from a polish named after the well known charm spell, Expecto Patronum is a beautiful milky white crelly shade that gets its special magical element from the presence of beautiful minty green iridescent flakies & teal green holo glitter chunks of different sizes....SWOONS!
The formula is light therefore to get full impact of this polish, 3 coats will be required to achieve opaque coverage but oh boy is it worth it. I can understand why this little gem is a best-seller as it really is something rather special.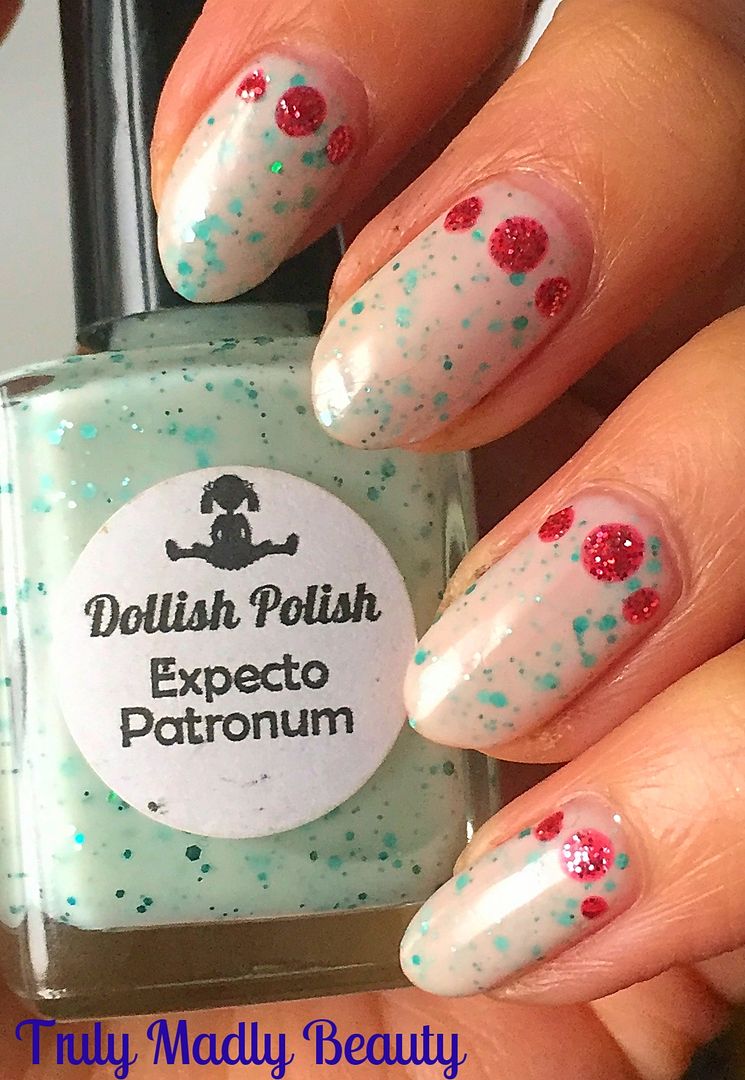 Not that it needed it but to add a bit of extra oomph to the mani I added on 3 dots of this gorgeous pink glitter from China Glaze called Mrs Claus just above the cuticle, China Glaze really do glitter polish well & this one is no exception. I love this sort of dotticure nail art as its such an easy way to get a glitter fix & can jazz up any mani effortlessly!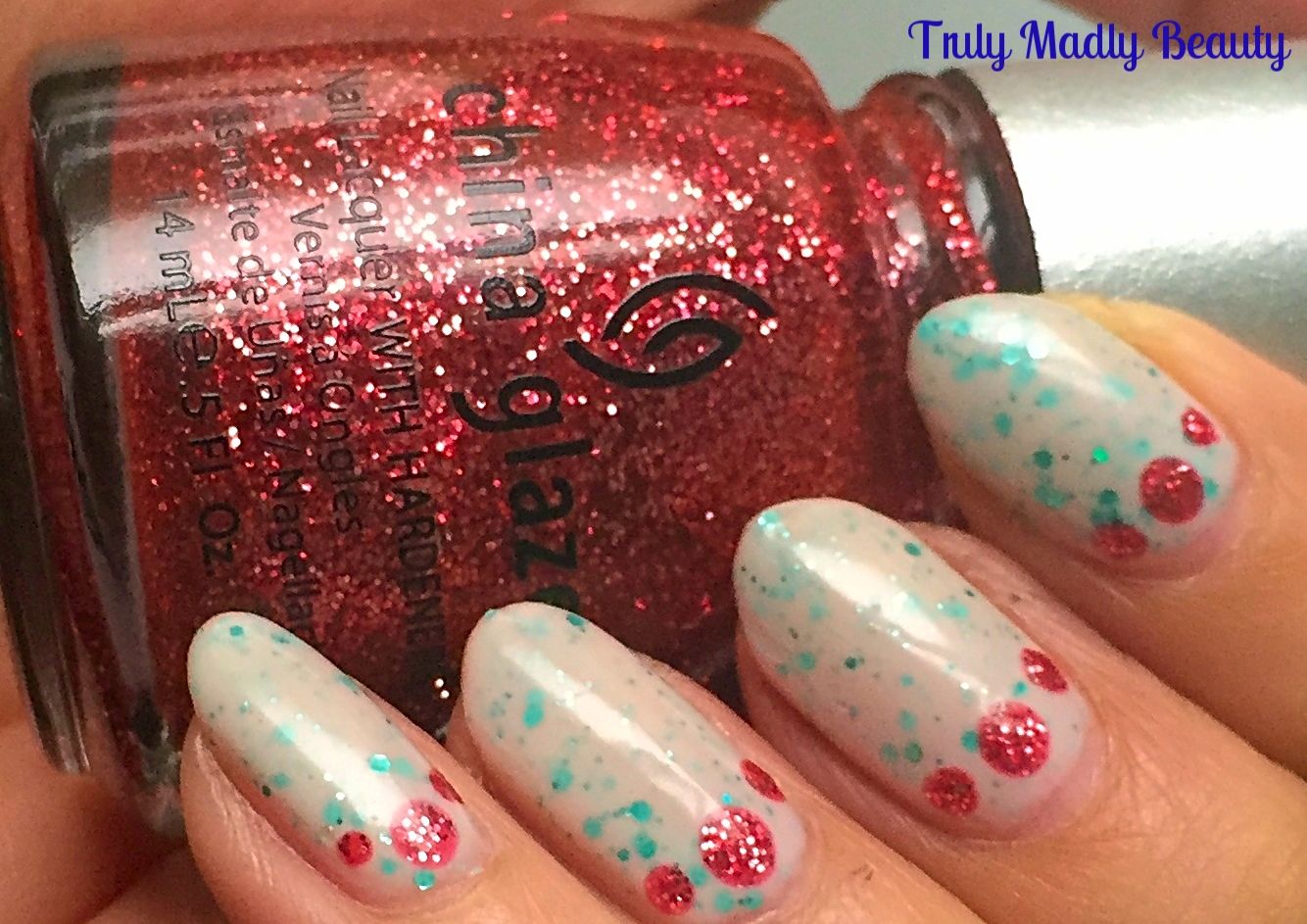 Finish with obligatory topcoat to protect all that sparkly goodness & you have your nails ready to cast your Patronus charm!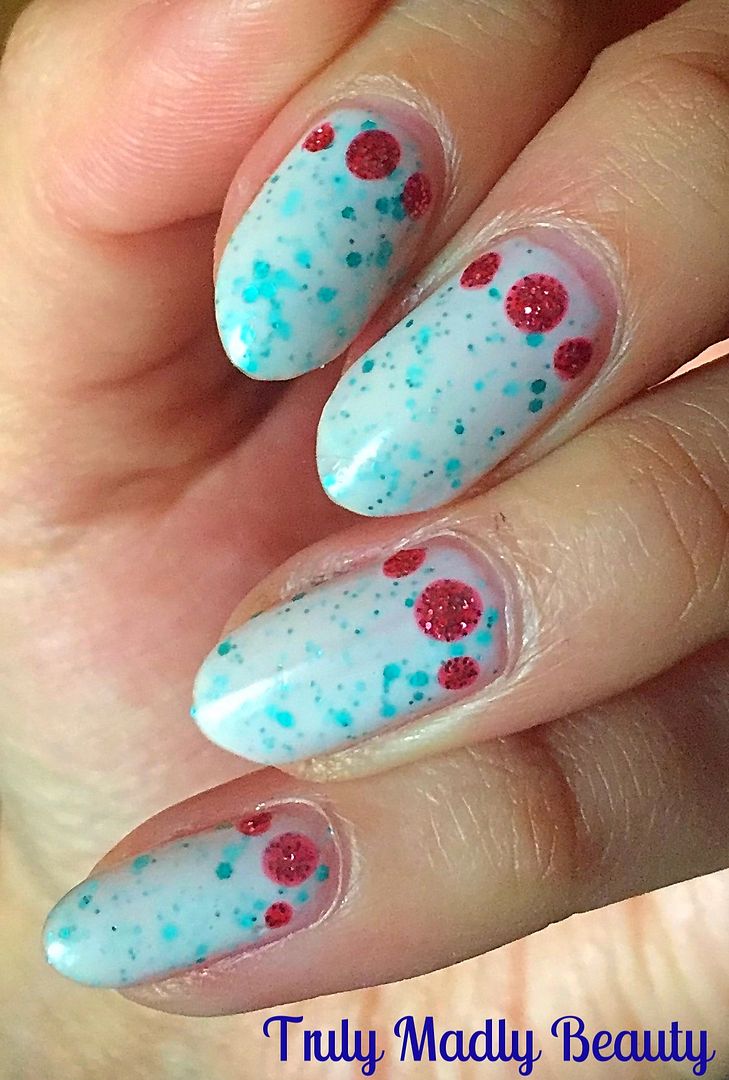 You can get your hands on this divine polish via the Dollish Polish website HERE where they offer international shipping & is available in both large & small sizes. Thanks for reading!