Hello there my lovely readers!
Another Valentines themed mani for you today my dears! This time I've thrown together some fun floating hearts that are super simple to do & which I'll show you how to create...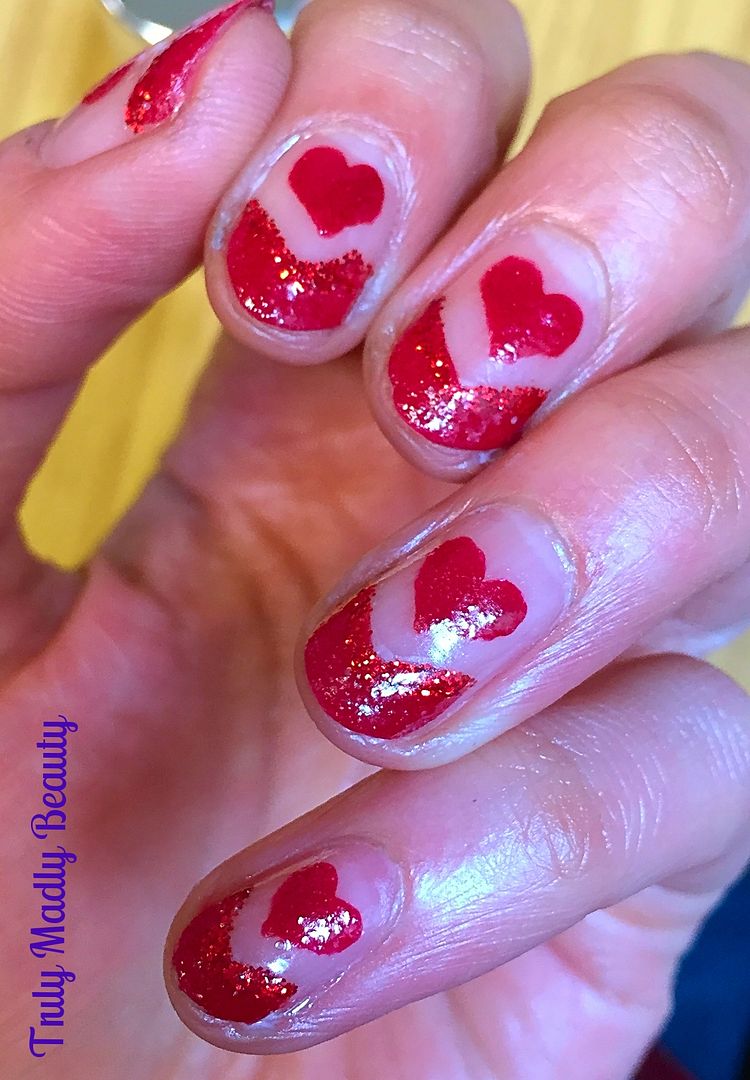 For this I've used KIKO's True Love Lacquer in Red Kiss, which the lovely Safiyah aka Frootibeauty kindly gifted me when I saw her recently because she's just an absolute angel who knows my weakness! I've always adored KIKO polishes, fab quality for a bargain price. Well I saw this & though it an apt polish for a Valentines manicure!
What I didn't realise however was that these particular polishes from KIKO's recent BFF collection for Valentines day are actually textured! By the time I noticed this I was already on my 3rd nail in haha!
The True Love Nail Lacquers are micropearls which in fact dry to a matte textured finish, almost like sand effect polishes. I hadn't seen any swatches online so you could say it took me by surprise a tad. Normally I wouldn't have chosen a textured/effects polish for this type of mani but hey ho, I rolled with it anyhoos :)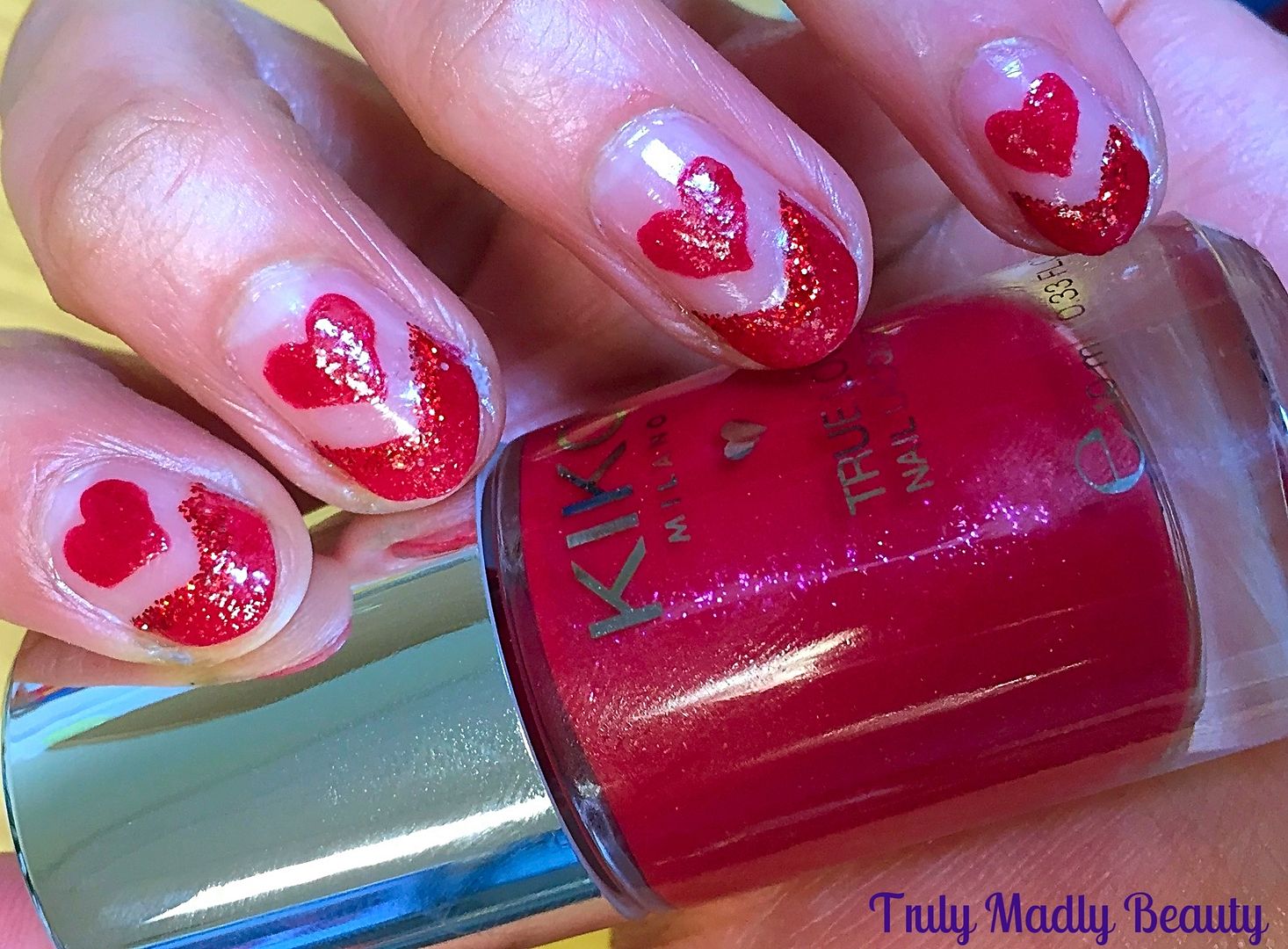 The theme of the polish not to mention the fire engine red shade was perfect for a valentines mani. The textured finish is definitely interesting, matte polish lovers especially would love it. You have to work quick with the polish as the formula can get gloopy if overworked hence why its not the best choice for nail art, & the polish dries fast, another bonus of these textured type polishes.
Here's a quick step by step guide on how to create the floating hearts french nails...
To create the sharp edged french tip & to help shape the heart I've used these pointed manicure guides which I picked up in Savers a while back but you can easily find these on Ebay or Born Pretty Store. You can of course do it all free hand but these definitely make life easier! And I'm ALL for that ;)
I start off with a bare nail base as I'll be using the guides & don't want to risk them peeling off a base coat when removing. Plus I find the guides stick better to a bare nail.
Position your guide about 3/4 of the way on the nail, depending on how thick you want your french edge. As I currently have small nubbins I position my guides a bit further down to give the illusion of tips, WHY OH WHY DO YOU KEEP BREAKING NAILS?! I'VE BEEN GOOD TO YOOOOOUUUU!!! ....*cough*....Apologies...my current nail length state is a sensitive subject at the moment...
Start with drawing your heart. Using a fine nail art brush, dip into your polish & free hand two curved line next to each other creating the top of your heart. You can see how the guide helps with the shaping of your heart.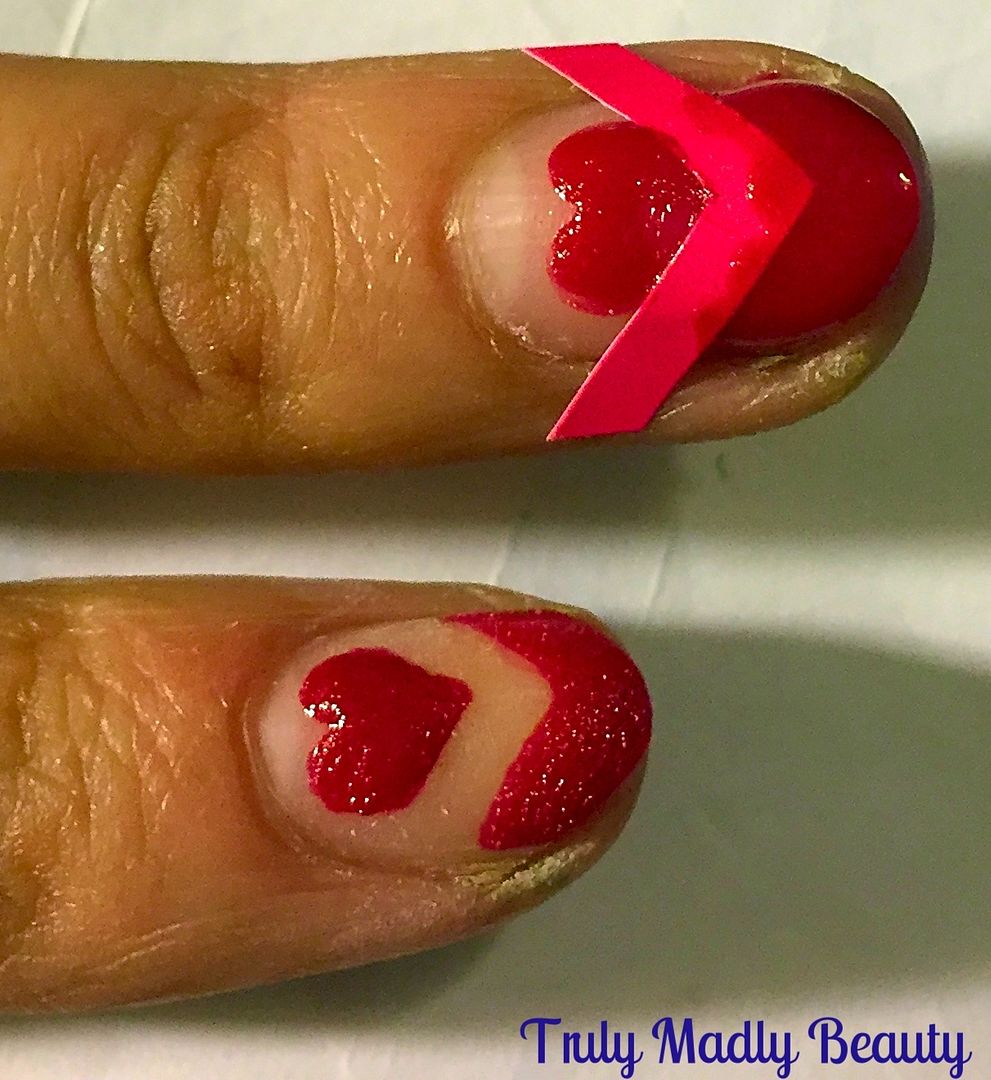 Then using the brush from the polish, apply the polish to the tips. Its good to use a thick opaque shade for negative space mani's like this as ideally you only want to apply one coat.
Once you've applied your polish to the tips, immediately remove the guide, with a pair of tweezers if you have some just to make it a tad easier, whilst the polish is still wet.
Once removed you have your floating heart & french tip!
Don't worry if some polish has smudged whilst removing your guides, I always do a bit of clean up at this point with my brush & acetone, going along the lines so that the edges are sharp & clean.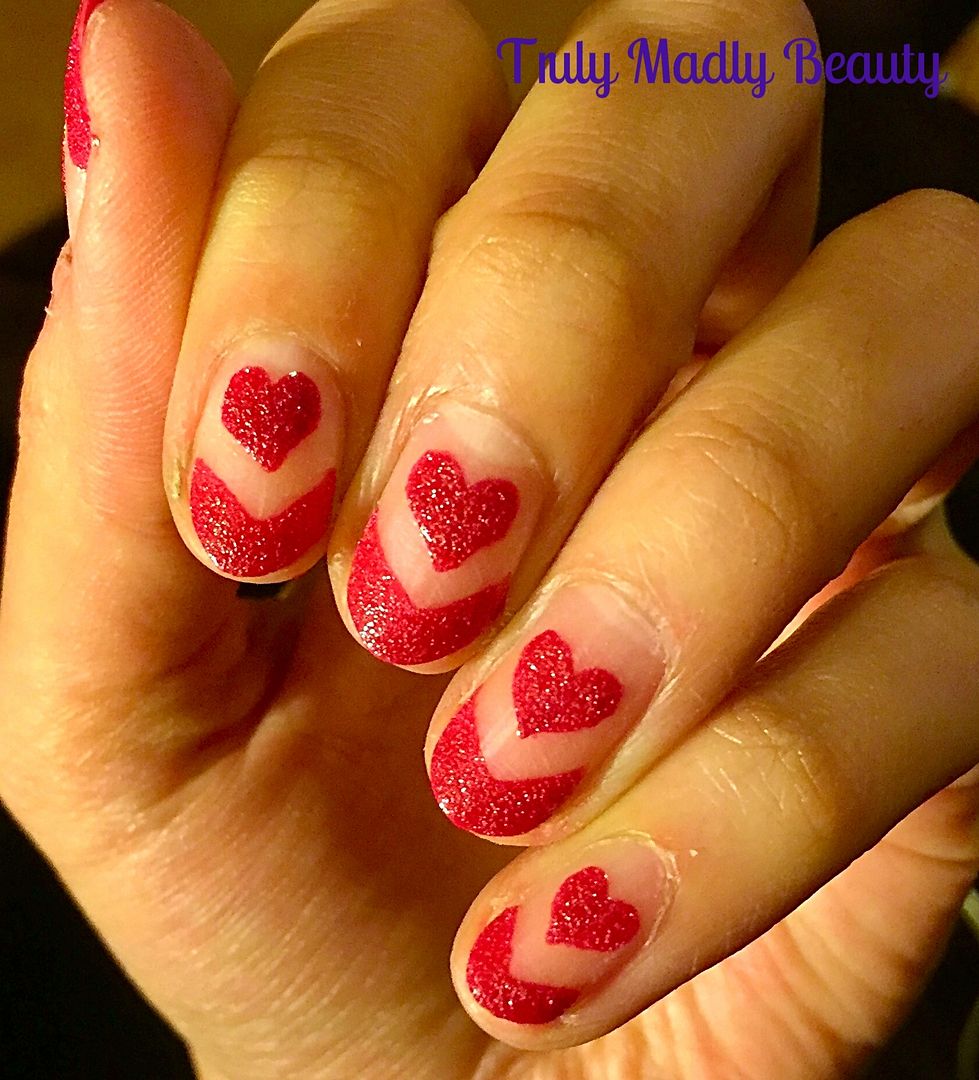 I also went over the floating heart once more to get a stronger colour pay off as well as making the bottom point & edges a bit more curved & neater.
I still felt it missing something, so whenever this happens I reach for MAH GLITTAH! Using some glitter red polish I applied some sparkle to the inner edge of the tips. This is of course an optional step.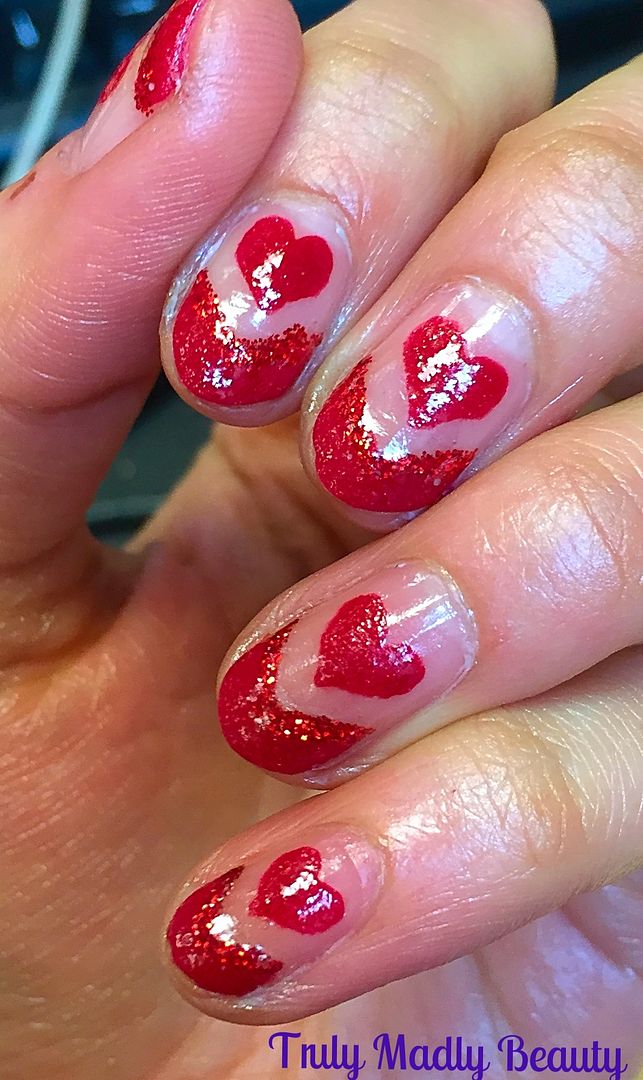 Because I wanted a super glossy finish & not the textured effect, though to be honest I actually quite liked that too, I went over the mani with two thick coats of topcoat to get that sheen.
And thats it! Hope you liked the floating hearts valentines nails lovelies! Thanks as always for reading!
Lotsa love to ya!