Hey there my lovely readers!
I'm sure you know me well enough by now to understand that nothing excites me more than when an intriguing new product pops up in the nail polish world. Such is what I have to share with you lovelies today & is an offering from one of my favourite polish brands of last year True Brit London, their polishes blew me away with their quality & idea, not only a wide range of fun & fantastic shades but also the most divine packaging! Well they have recently released a new product that has also succeeded in winning me over completely. The product in question? *Scented Nail Polish Removers!
I'm not going to lie, when I first heard of these I was a tad dubious, however having tried and tested these myself all I can think of now is..why hasn't anyone thought of this before?!
As much as we love our mani's there is of course that dreaded task of removal which requires you to reach for the cotton wool & polish remover. Even though you can find many polish removers these days without acetone, the majority of them also come accompanied with strong overpowering fumes that could knock out a rhino! Not only that but they can also strip a lot of moisture from the skin & nails.
Well no more lightheaded wooziness from aforementioned overbearing removers, unless...erm you're in to that sort of thing...but lets not go down that road shall we...*side eye* True Brit London have created these delightful & might I add SUPER pretty scented polish removers which are available in either Strawberries & Cream or Elderflower & Cucumber scents...yummy sounding right?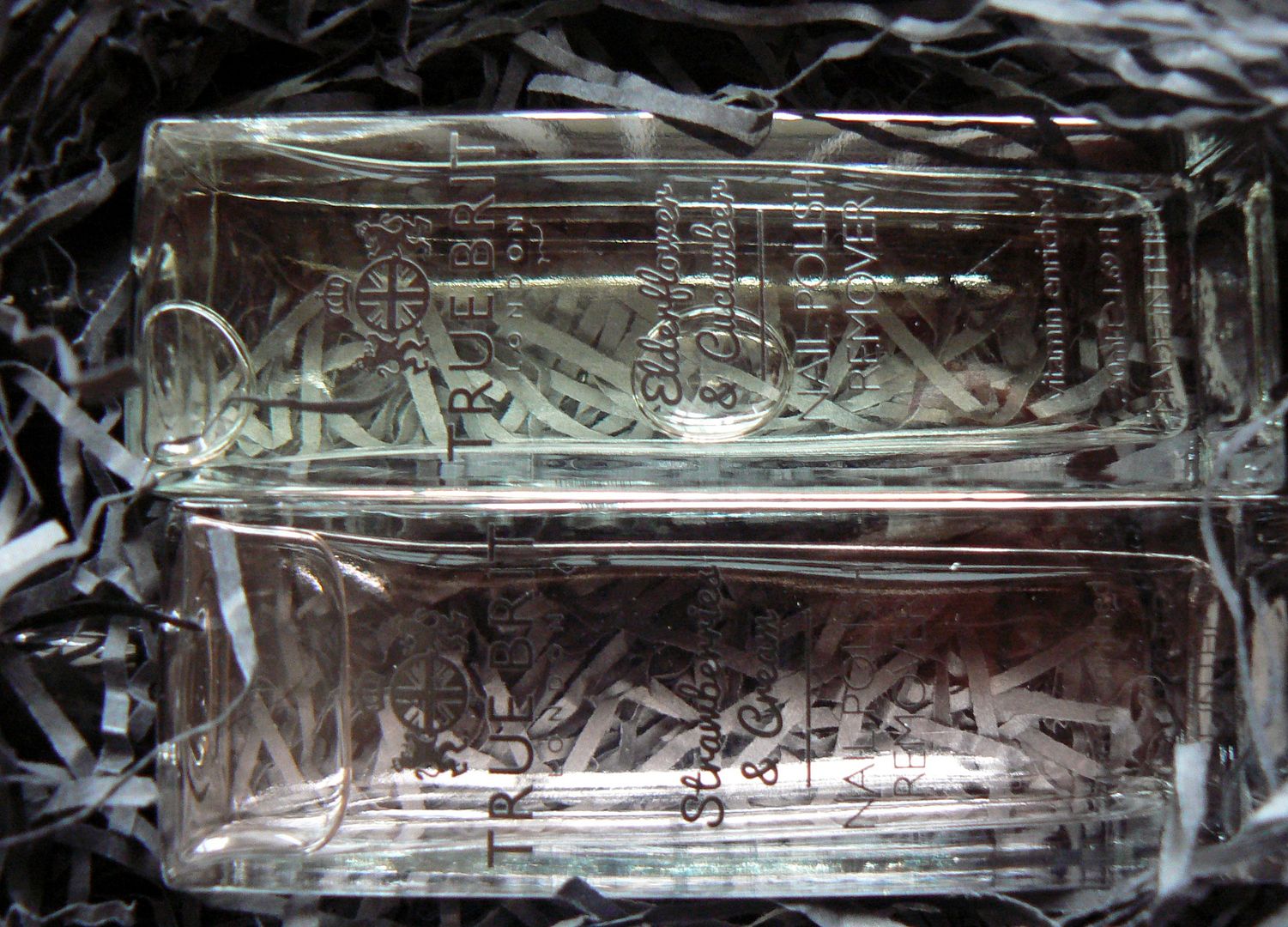 First things first, I am a sucker for pretty packaging & I would expect no less from the folks at True Brit London who have their packaging on POINT & bottled up the prettily tinted removers in these gorgeous dinky glass bottles that would look so lovely on display next to their gorgeous polishes.
On to the scents, I thought I would prefer the Strawberries & Cream but after using this on one hand & the Elderflower & Cucumber on the other I couldn't decide which I loved more! I love how these work just like perfume, of course if you sniff directly from the bottle you're hit with an overbearing scent which makes it hard to detect the delicate notes, however once transferred to the skin & nails, the most delightful scent is released that will have you finding any excuse to breathe in.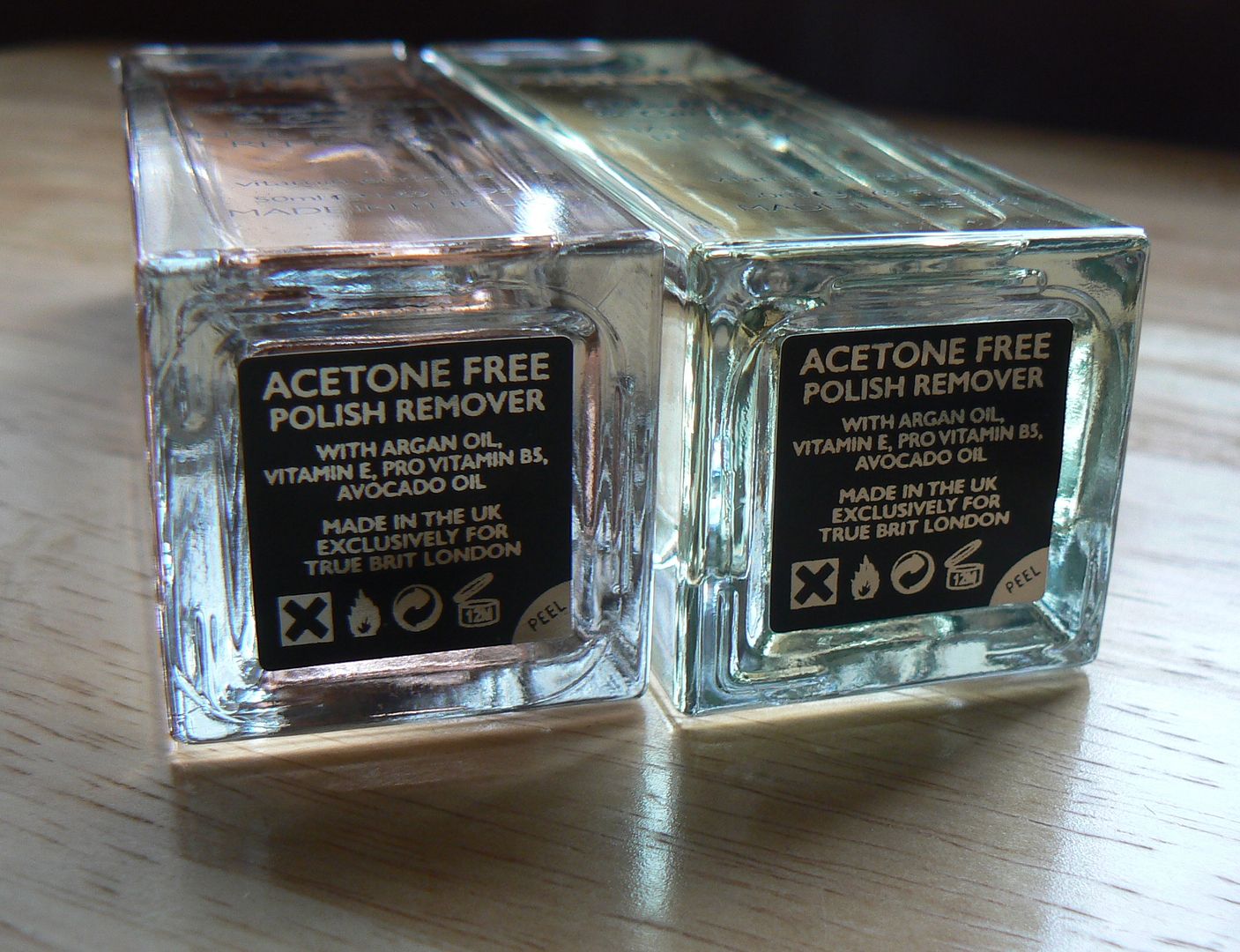 I really have to take my hat off to True Brit London for getting their scents absolutely perfectly British. I don't know how they did it but honestly, the moment I breathed in each scent, both so refreshing & light, it immediately brought hot English summertime's to my mind! Divine! The scents themselves last for up to a few hours.
Of course the most important question is quality of performance & I'm happy to report that these delivered on that & then some! Just a few drops applied to my cotton wool succeeded in removing my polish in just a few swipes. Seeing as I usually have about four coats there (base, two of polish & topcoat) that's a big thumbs up from me!
Not only is the polish removed cleanly, due to the vitamin & oil enriched formula, my nails & cuticles were not left feeling completely stripped of moisture as is usual when using my ordinary acetone, instead they felt soft, clean & of course delightfully scented! I now find myself actually looking forward to the polish removal process haha!
Well done True Brit London, you've done it again! *applauds* The scented polish removers are available to purchase online for £5.95 which is a fantastic price for what you are getting truly is a lovely quality product that delivers. You can also get an extra 10% off your order using my code TRULY10
Thanks as always for reading!
Lotsa love to ya!
Disclaimer - * products featured were sent to me for my consideration. I am not affiliated with the brand nor paid for this post, this review has been as always my 100% honest opinion! :)