Hullo lovely readers!

Wooo scorching enough for you?! Hope you're all coping with this heatwave okay dolls!
Time to share another pretty polish offering from new nail polish brand *True Brit London. So far I've shown you the delights that were *Cream Tea & *Knightsbridge. Today sees the turn of a pow wow shade if there ever was one, here we have *Lady Penelope from the English Rose collection...
What did I tell you? Now that's a shade to get your nails noticed! Inspiration for this shade came from none other than the iconic secret agent who oozes sophisticated style in abundance, the Lady Penelope from the much loved retro show Thunderbirds.
Lady Penelope is a vibrantly pigmented fuchsia creme polish, of course it would be, I would expect nothing else from a polish named after the field agent with a penchant for all kinds of pink! Major car envy FYI...
The formula was lovely to work with, this is two coats applied over the *True Brit London Caviar base coat. Application was smooth & opaque in finish, with quick drying time.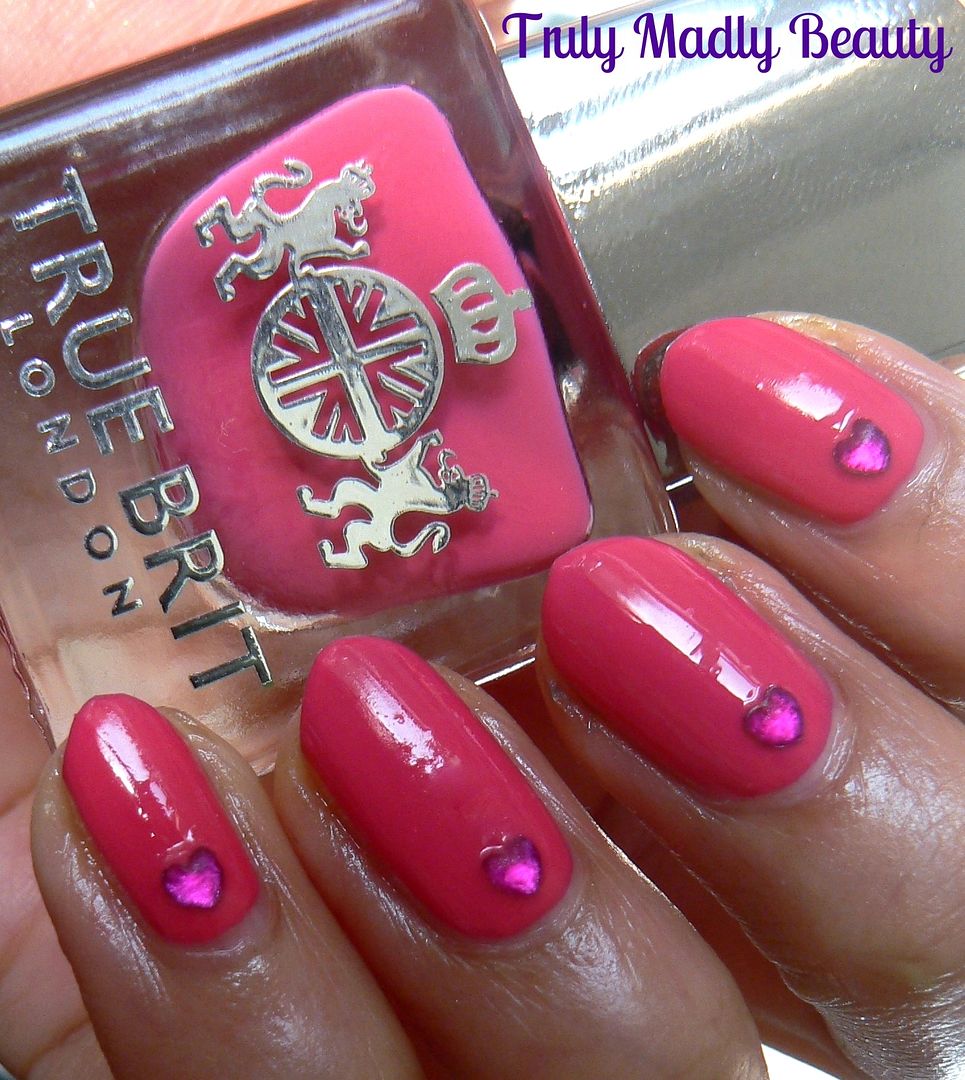 In honour of Lady Penelope, I opted for some added detail in the form of cute pink heart rhinestones applied to each nail, before sealing with the *True Brit London Gloss topcoat for a super glossy finish.
Another stunner! It has to be said that True Brit London have really impressed me with their innovative range. The polishes I've tried so far have been top notch in quality & deliverance & I still have one last shade to share with you so do keep your eyes peeled for that as its a bobby dazzler!
Also, a little treat for you, the lovely folks over at True Brit London have offered to give you, my beautiful readers, a 10% discount off your order! Simply use the code TRULY10. :) And if that wasn't fab enough, they are currently celebrating Wimbledon with a special 15% off for a limited time! Simply enter DEUCE for your discount. The entire range can be found online.
Thanks as always for reading, till next time!
Lotsa love to ya!
Disclaimer - * products featured were sent to me for my consideration. I am not affiliated with the brand nor paid for this post, this review has been as always my 100% honest opinion! :)