Hello there lovely readers!
Now this is something that I have been wanting to do on my blog for the longest time & for various reasons prolonged but now I am finally on it huzzah! As you may know about me, one of my great loves is Disney. It played a huge part in my upbringing & still to this day I love nothing more than taking a break from adulting & indulging in a Disney movie marathon, immersing myself back into that magical world. One of my best holidays was Christmas spent in Disneyland Paris 4 years ago & I am yearning to visit Florida's offering one day. So it would only make sense to channel this passion of mine through another love which is of course....nail art!
I already have a few Disney themed manicures that I cannot wait to share with you, I'll be exploring all sides of Disney, both Good and Evil in my nail art series, so this will include not only Princesses but Villains & additional characters as well, if you have any requests then please do let me know! But to start off my Disney Nail Art Series I thought I would begin with of course the main movie remake that EVERYONE is talking about at the moment....Beauty and The Beast which I went to see last Friday!
Beauty and the Beast is one of my all time favourite Disney movies, so when I heard they were remaking in to a live action film I was naturally intrigued. I'll be honest, when they first started doing these movie remakes of the Disney classics part of me did protest a bit with the worry that they would not live up to the originals. But to be honest I've actually enjoyed the ones they've done so far (Cinderella, Malificent, The Jungle Book) & I'm looking forward to more! Of course nothing will ever replace the originals for me but the live action remakes have been surprisingly good & I'm happy to report that I very much enjoyed the latest remake so definitely do go & see it!
Onto the nails! For my Beauty and The Beast themed nails there were many routes I could've gone down but I didn't want to over complicate it too much so decided to use two significant focal points of the film...the enchanted rose & Belle's beautiful golden ballgown that she wears in the now iconic dance scene.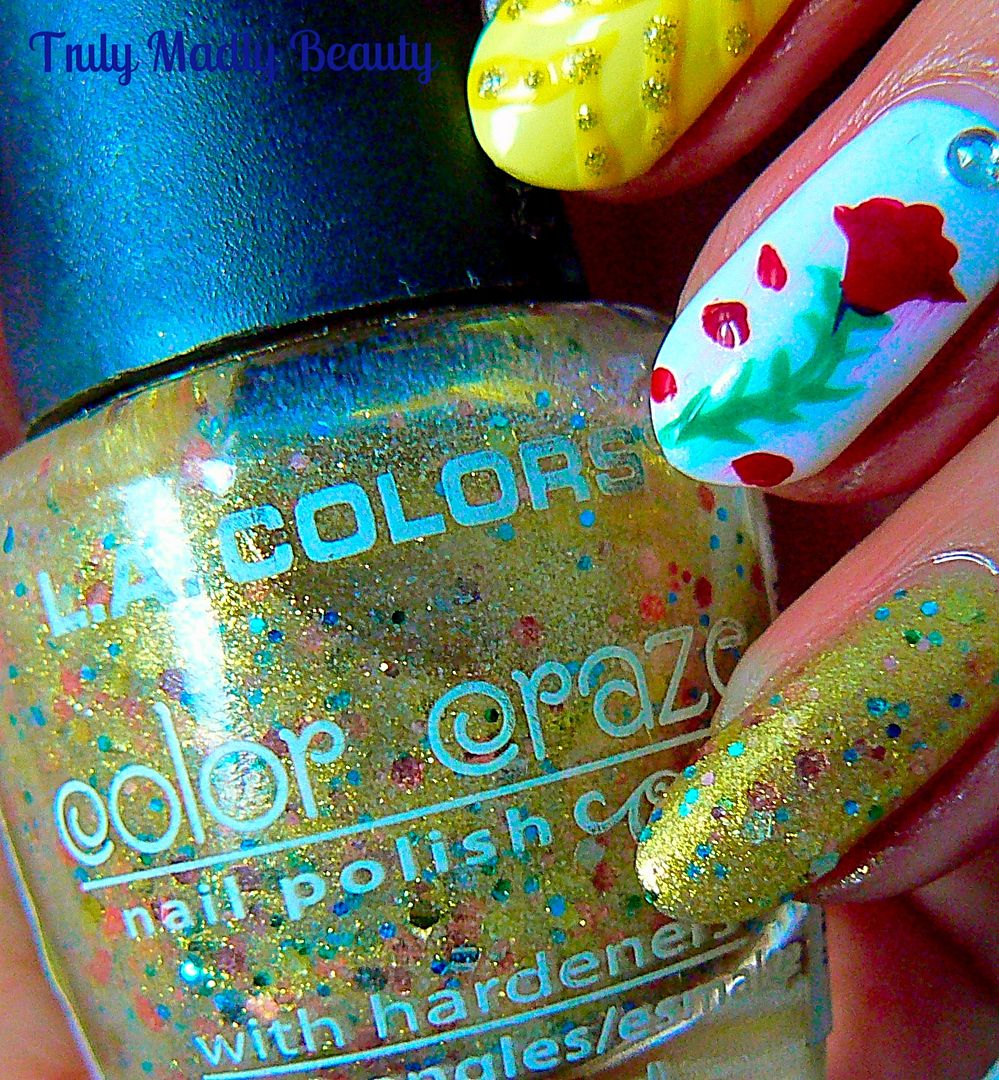 Starting simple yet suitably sparkly I used a really beautiful golden foil on my thumb & pinkie fingers. This is 3 coats of Glam by LA Colors & such a unique pale gold as there are also tiny specks of pink & blue glitter in it which reminded me of Mrs Potts & Chips crockery...remember I told you I had a thing for pretty crockery in my previous post? I can't believe these polishes are just 99p form Beauty Base & whenever I'm in Westfields I will almost always pop in & add a few more to my collection as they are ridiculously good!
I then needed a suitable yellow shade for my nails that were to depict Belle's dress. For my index & middle finger I applied two coats of Lime Crime Crema De Limon a really beautiful creamy pale yellow that applied like a dream in two coats.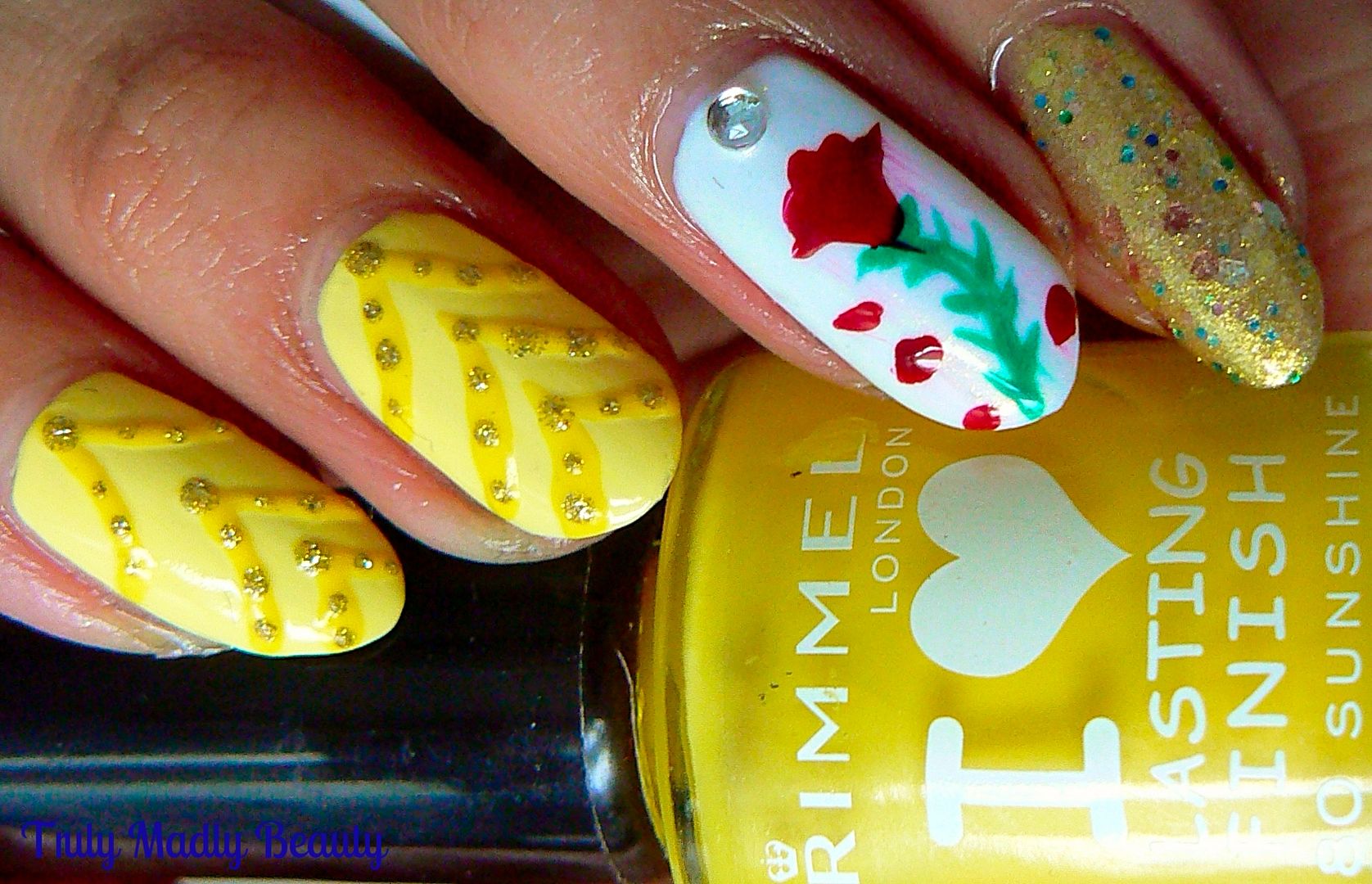 Then for the layered pleat details of the dress I used a slightly brighter shade of yellow courtesy of Rimmel Sunshine & using a fine nail art brush, free handed three curved upside down V's down the nail.
To add a bit more magic to the dress nails I finished by applying rows of tiny gold glitter dots using a random gold glitter polish & a small dotting tool.
Finally for my accent nail I created the Enchanted Rose! To do this I applied two coats of white polish, here I've used a brand called Saffron London which I picked up in a random beauty store for the crazy price of £1 & is actually pretty darn decent!
To add an ethereal glow to the white I applied one coat of Ulta3 Crystallina, a super pretty opalescent topcoat.
I then grabbed my Ju Bilej fine nail art brushes & starting with a green polish, again I used a random one that I reached for simply because it was nearest, applied a thin curved line for the stem, before adding some thorn & leaf detail along the edges.
Then using the same fine brush & this time a beautiful red by Nails Inc, Tate, I drew on the rose at the top of the stem, nothing fancy, just roughly so that it looked like a rose more or less, not forgetting to add a few dropping petals coming down.
Final details of a clear rhinestone as the top of the glass case & finish everything with topcoat! Definitely wait a wee while for the rose to dry as you'll risk dragging the colour as you can see I did here because I am an eejit & have no patience...O_o
And thats my first manicure in my Disney Nail Art series! Hope you like my lovelies & keep posted for more to come! As previously mentioned if you have any suggestions or requests then hit me up for sure! Thanks for reading!
Lotsa love to ya!