Hello lovely readers!
So the time hath come to start getting spooky on the nails my dears! My goth side is so satisfied this time of year but then with me its all 365 days not just October with its main event of Halloween, I'm dark souled pretty much all year round ;) But tis now especially my oddness can come out in full force haha!
So for my first Halloween mani I've decided to go for some creepy cobwebs which I've glammed up with silver holo because life is always brighter when there's holo dolls. Halloween doesn't always have to be dark & spooky, though I totally dig that too
Please excuse the quality of the pics beauts, I've never been over the moon with my photo skills in the first place but I've recently moved & struggling to find which areas have the best lighting, so far the kitchen is winning... O_O Not to mention that the winter months means early darkness which, as you know my fellow bloggers out there, is our worst nightmare!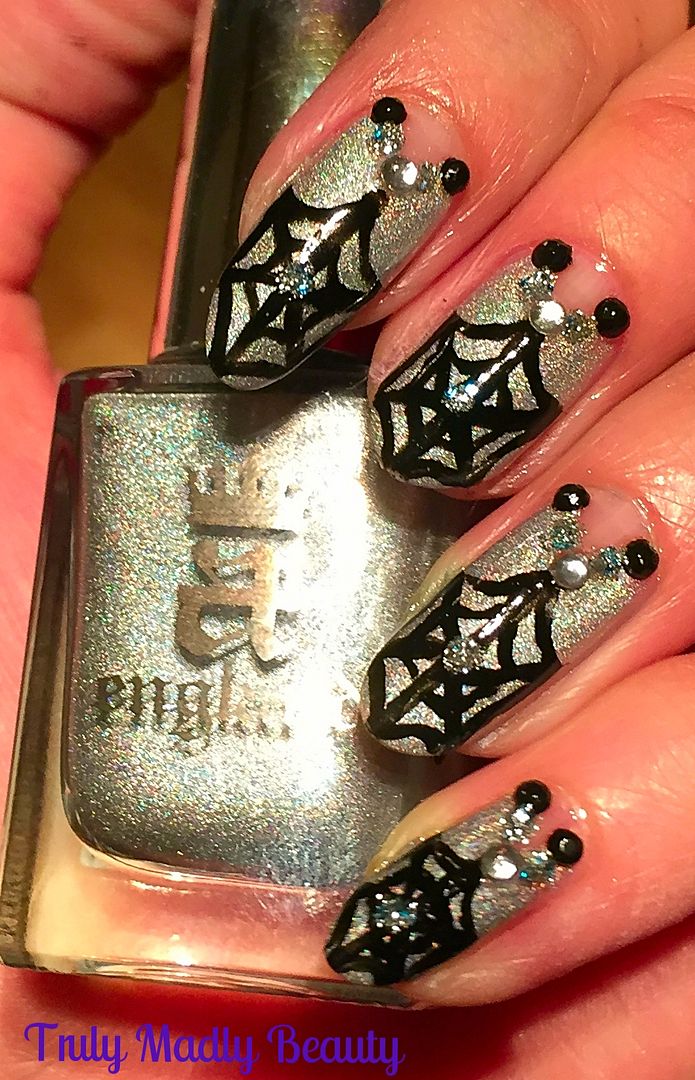 Anyhoo I digressed there with that mini rant, apologies. For my base polish I've used the glorious A England shade Encore Margot. I ADORE the lovely Adina's brand of polishes with their beautifully gothic & medieval collections, I URGE you to check them out.
Encore Margot is a dreamy blue toned silver holo which I've applied two coats of on most of the nail, leaving a wee angled part by the cuticle end bare...not sure why, just felt the mood for a bit of random negative spaceage.
Once dry I then grabbed my nail art brushes including my new Nailbees brush which is so fine & perfect for details! The lovely Minnie also sent me a Freddo chocolate with my order along with a cute little note, such a sweetie!
Using some black polish I proceeded to add on my cobwebs. To create the design begin by drawing two diagonal lines to create a cross on to the nail before adding a horizontal line down the middle so that you have the 6 triangle sections of your cobweb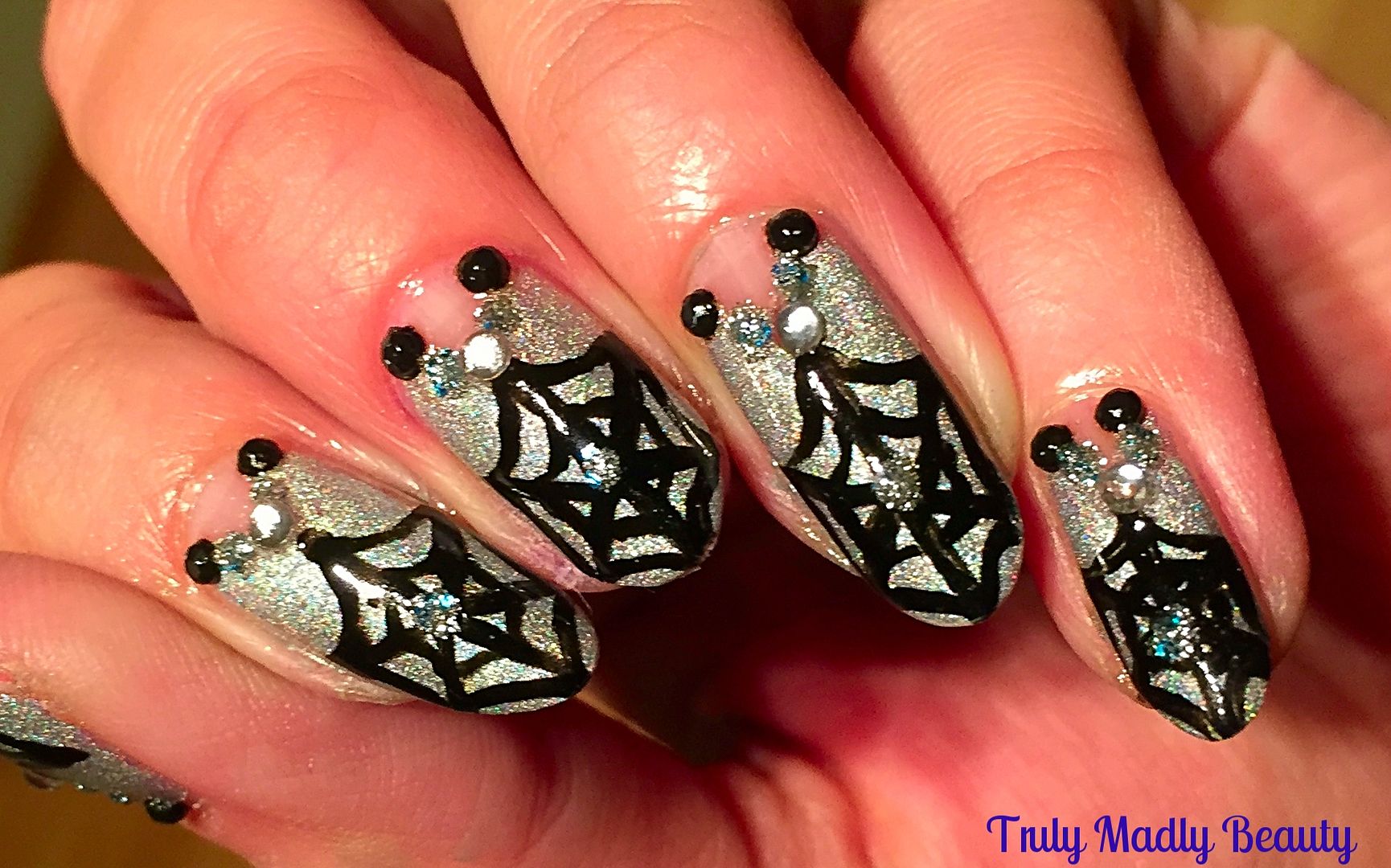 Then using the Nailbees brush & more black polish just add on the final details of two small curved lines in between your triangles & hey presto you have your cobwebs!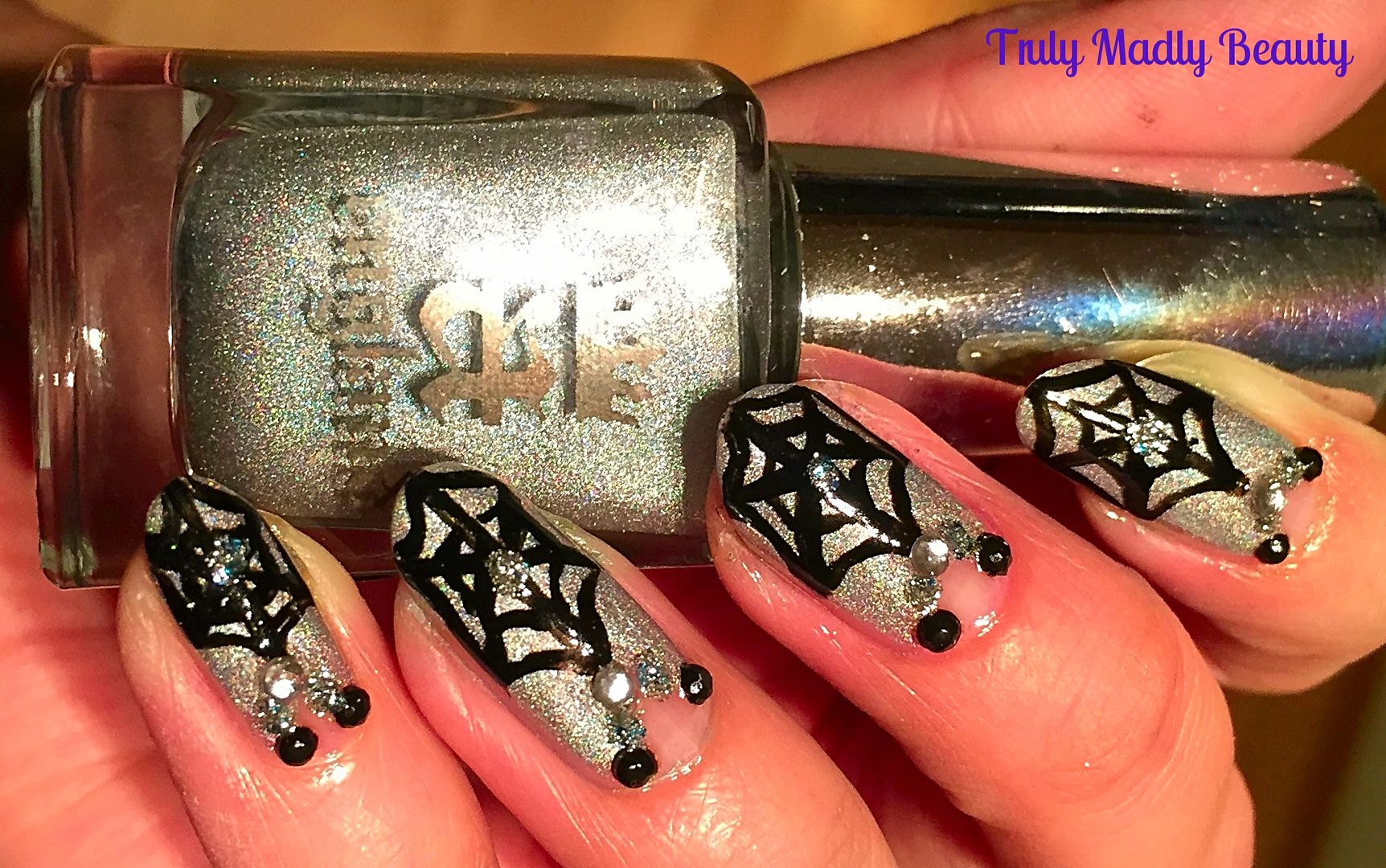 I couldn't stop there so for some extra glam factor I applied one clear & two black rhinestones on to the negative space as well as a couple of dots of China Glaze Lorelai's Tiara which is one of my favourite sparkly glitters with its silver & ice blue tones.
I also added on a final dot of glitter on to the centre of my cobwebs before coating it all with obligatory topcoat to seal.
And thats Halloween mani number 1 for this year done! You can have a peek at all of my Halloween mani's HERE. Racking my brains now on what to rustle up next...until then beauts! Thanks for reading!
Lotsa love to ya!