Hello lovely readers!
Halloween nail design number two for you today witches! A little spooky twist on a French mani, instead of white tips...Black Bat Tips! With a bit of psychedelic neon action too...why not?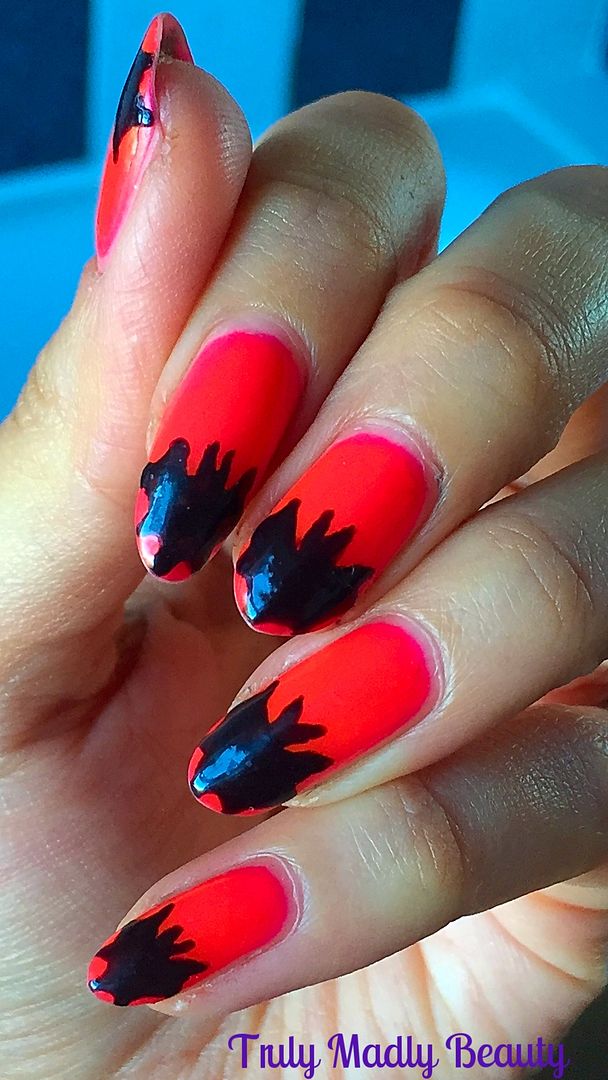 For my base colour I've used Angelica Hip Hop, a gorgeously vibrant neon orange/pink jelly which I picked up from Primarni yonks ago. Not entirely sure they still stock as I've not seen them since Primark expanded their own cosmetics range? But you can still find them online
I wanted my bats to stand out but you can of course use any base colour you like, yellow would've been awesome actually to achieve a cool Batman vibe to the look...but of course me being me I only realised this after...*face palm* O_O
After applying two lovely coats of Hip Hop I waited a few minutes for it to dry before grabbing my Nailbees nail art brush, my new favourite brush to use & free handed my bats using a dark purple Rimmel polish Deliciously Dark...definitely apt for Halloween.
I drew these from scratch using an image I had in my head but there's a few different quick hacks/techniques you can use to create bats, its honestly not as hard as it may seem!
One way is to apply a thick black curved line along the tip just like you would for a normal French mani, then grabbing your base colour, apply 4 semicircles along the edge on top of the black to give the appearance of the bottom of the bat wings. then just add two pointed triangles in the centre of your curve for the head & hey presto!
Finish it all with obligatory topcoat & your bat nails are good to go! I've just finished my next Halloween mani for you guys & I think this is my favourite so far, can't wait to share with you! Until then witches you can find all the Halloween mani inspo from my previous designs HERE!
Lotsa love to ya!