Hello lovely readers!
Every Halloween there is one design that I re-create every year in what now has become a tradition I suppose & that's some lovely dripping blood nails!
They look awesome, are fun to do & you can play around with how you have your blood drips, either by the cuticles, on the tips of your nails or even both! This year I wanted to give my blood drips a slight twist, so instead of normal drops...I went for some dripping heart shaped drops instead!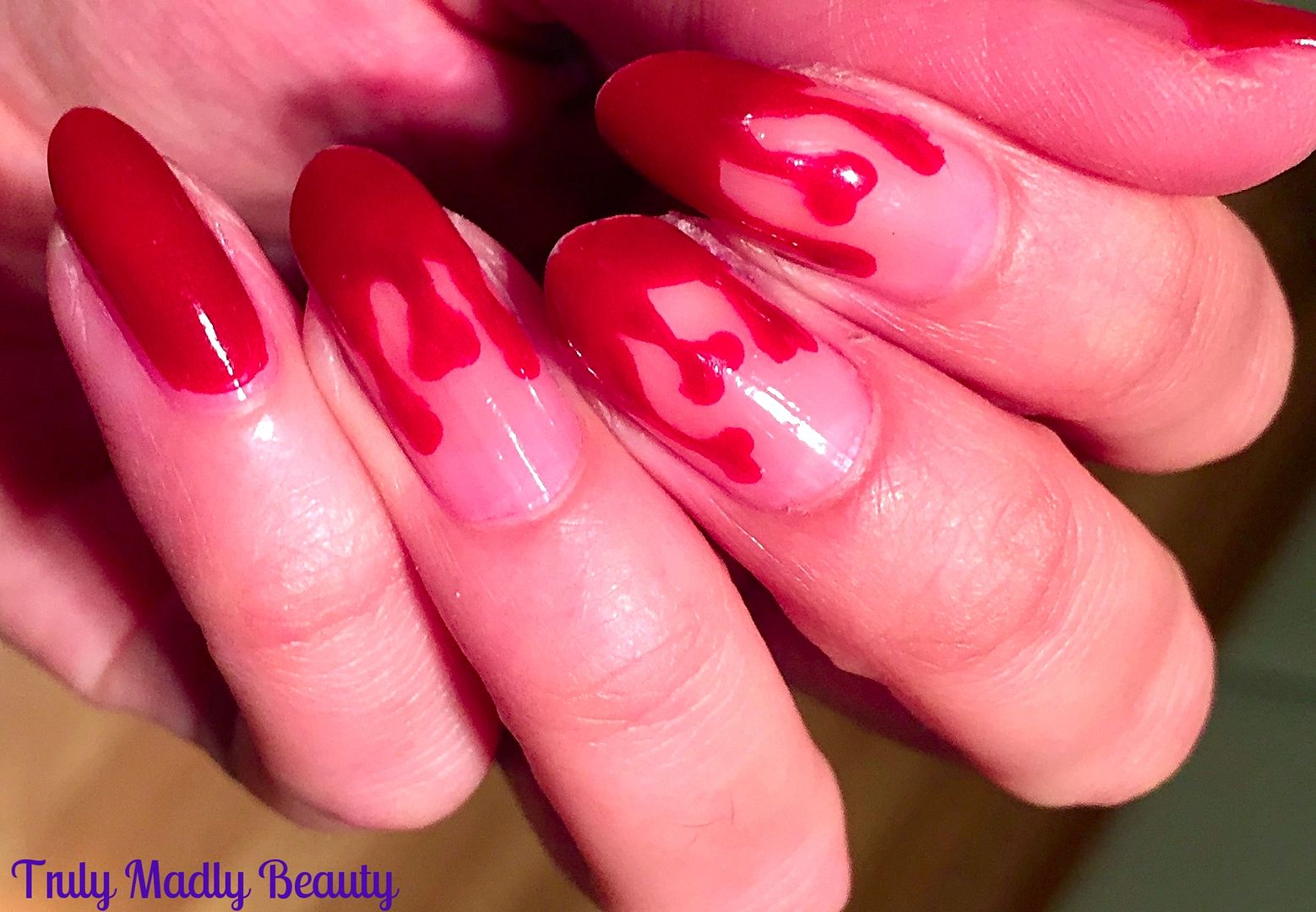 Of course for this you need a lovely blood red polish & I was recently sent a pretty bottle from Joan Collins new beauty range called Timeless Beauty which she has recently launched & features a lovely range of chic beauty products which embody Hollywood Glamour & vintage Art Deco vibes.
The range features a collection of nail lacquers including this divine red which goes by the name Crystal* & just so happened to be the perfect shade to recreate my blood!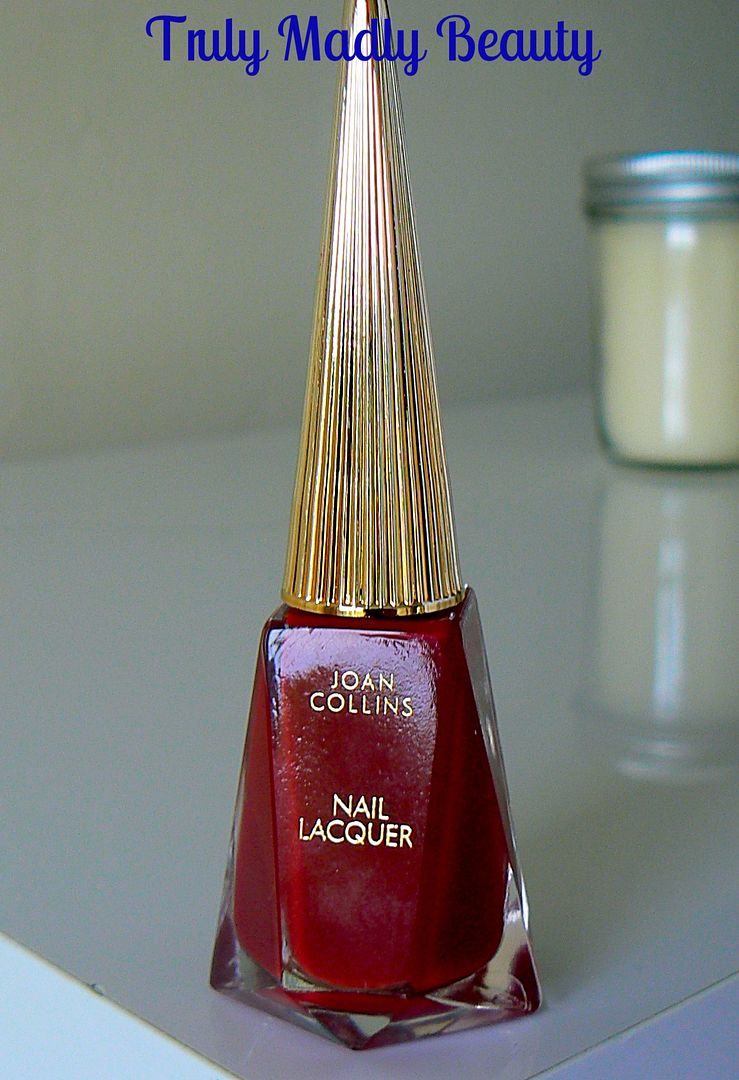 Can we just take a moment to admire the beautiful bottle this polish is housed in? I absolutely LOVE the diamond edged bottle shape & pointed long gold cap, it gives the polish a wonderful vintage look that immediately made me reminisce of my mums signature bottles of polish that I used to always admire from afar. Not only that but doesn't it also have a major Louboutin vibe going on? LOVE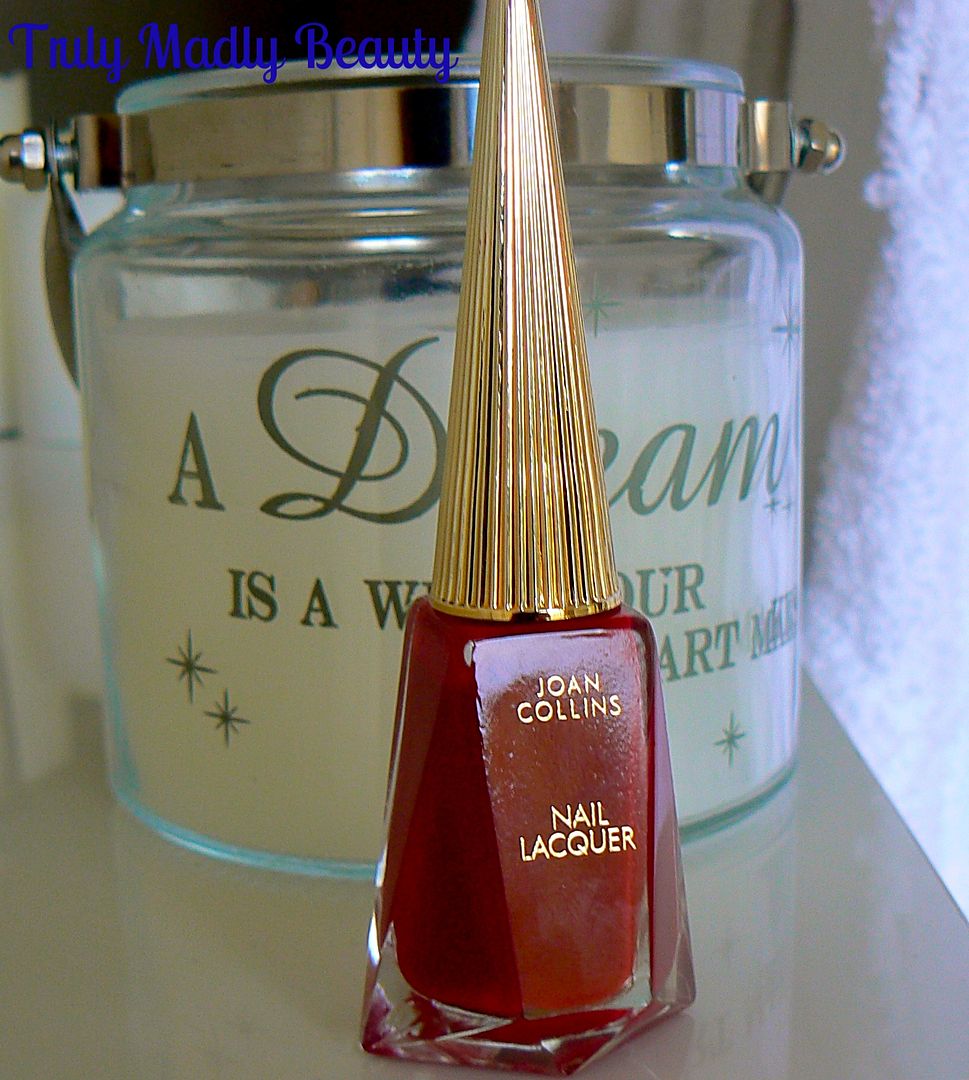 The polish itself is a lovely glossy formula & an intriguing brown toned red, so classy & yet actually perfect for recreating some blood!
To create your blood drips first apply some of your red polish across the tips of your nails using the brush, this doesn't have to be done neatly! After all it IS meant to resemble a puddle of blood ;)
Then for your drops, instead of just applying one drop, apply two smaller ones side by side, before joining the two together at the bottom to create your heart drop! Add about 3 of these per nail.
Then draw a vertical line from the pointed bottom of your hearts up to your red tips. Once you've done this you can then go back in to curve the edges of your lines to make them resemble drips!
I coated the entire little finger nail with the pretty Joan Collins polish as I just loved the shade so much & well because I'm just random.
Finish with topcoat & you're done! Hope you liked this year's variation on blood drip nails! Sorry I haven't been able to do step by step pictorials to go with the instructions for my Halloween designs, all of which you can find HERE, lighting & time have not been in my favour lately!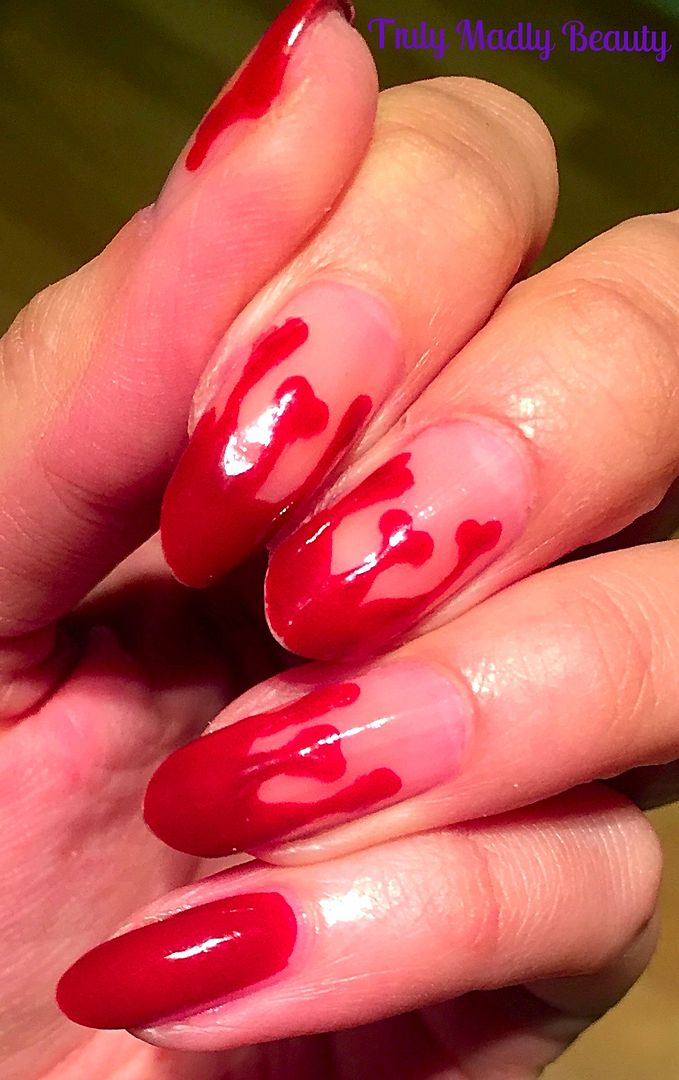 You can find Joan Collins Timeless Beauty range which includes not just nail polish at only £13 each, but a wide range of gorgeous looking products in M&S stores as well as online. Thanks for reading!