Hello there lovely readers!
Hope you had a lovely bank holiday weekend? Yay for a shortened working week!
I seem to be having a phase at the moment & find myself reaching for the pink polishes more of late! I do that sometimes...but you really can't beat a pretty pink mani can you? If your in the mood for pink nails but after something a bit edgy & different then why not try this Art Deco design that is so much simpler to do than it looks!
To start you need your pink, here I've used Models Own HyperGel in Pink Veneer, a really lovely marshmallow pink creme. To create the triangle shape I used some square pieces of cellotape which you place on the nail, next to each other at an angle to create your guide.
Fill in your gap with polish & peel away the cellotape immediately whilst the polish is still wet. Don't worry if your edges aren't completely sharp & clean as this will get covered.
Next, either using a black nail art pen or fine brush & black polish, start by applying a thin outline of black along the outer edge of your pointed pink triangle.
Once done, using the same brush/pen apply horizontal lines angled upwards along the bare space left on the nail, either side of the pink triangle starting from the top going all the way to the bottom, you should be able to squeeze in about four lines either side.
Reaching for my beloved Pink Fizz, gods I cannot express my adoration of this champagne rose glitter bomb, its definitely goes under the "if you only own ONE polish in your life then it must be THIS" category.
I finished the design with a couple of wee dots of Pink Fizz, one at the bottom & a smaller one at the top of my triangle using dotting tool.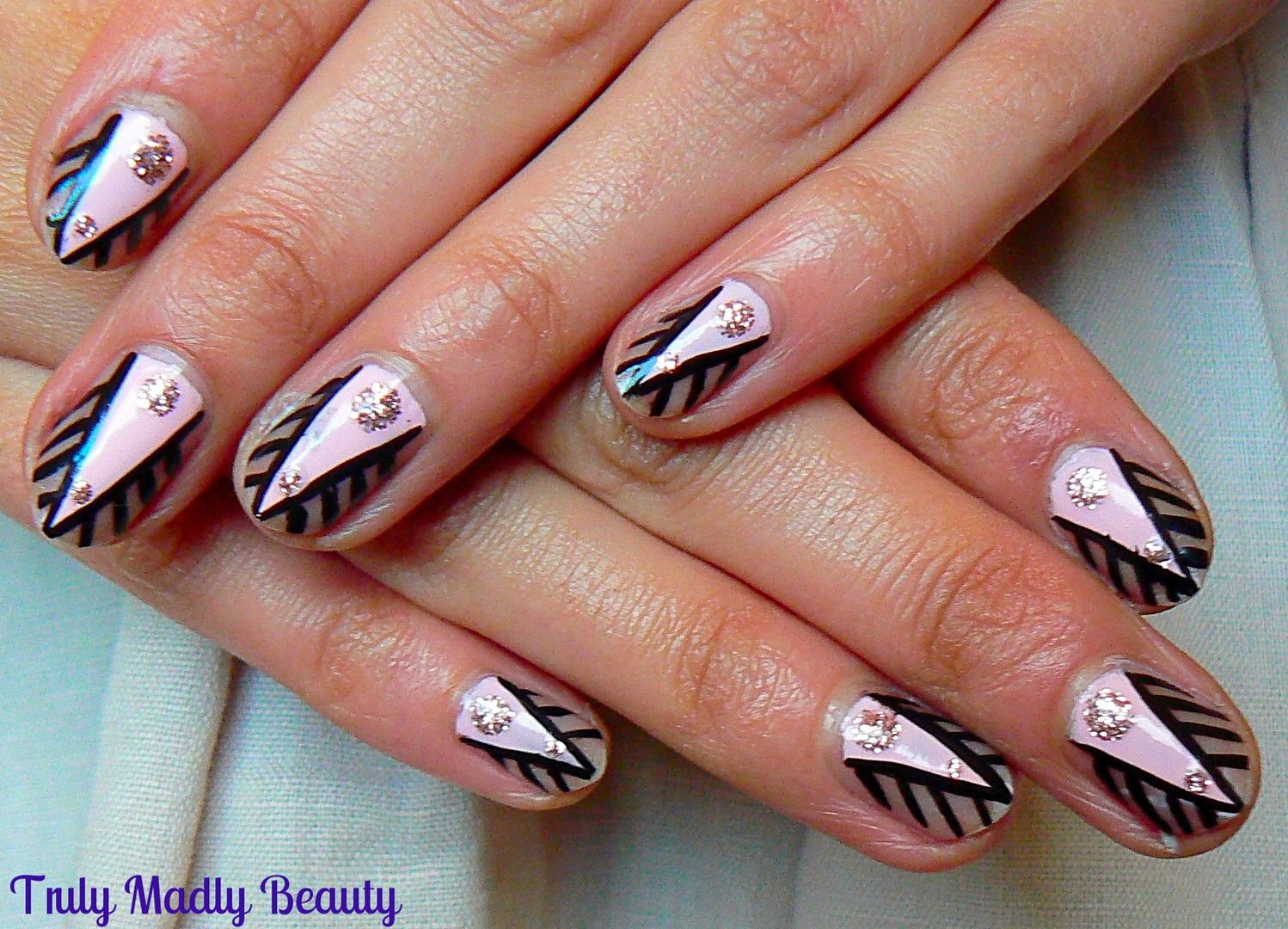 Apply your obligatory topcoat & you are done! Told you it was easy eh? Thanks as always for reading!
Lotsa love to ya!