Hello there lovely readers,
Now I wasn't actually planning on doing an Olympics themed manicure dolls! But unless you've been living under a rock these past few weeks, its hard NOT to get absorbed in the goings on over in Rio right now, especially the incredible performances from the Team GB athletes! Seriously how amazing have they done & it really is so great to see so much positivity & inspiration in a time where there seems to be so much sadness going on in the world. So in honour of the Olympics & a subtle nod to Team GB I've done a suitably styled mani which I'll show you how to create as well!
As you can see I've gone for some GB flag tips with some Gold, Silver & Bronze medals thrown in there too & its honestly so easy to do :) First things first, gather together the polishes you'll be using. Here I've opted for some Nails Inc, KIKO & Models Own to help create this design.
To start things off you'll need these nifty little french mani guides which you can get super cheaply of Ebay. I always make sure I have these in constant supply! Place a guide on each of your nails,about a quarter of the way down as you'll only be painting the top part of your nail.
Now begin with applying your blue, this is Nails Inc Denim, a nice thick opaque blue crème so only one coat is needed. Wait for the blue to dry as now you'll be adding the white detail of you flag & the last thing you want is the blue running into the white!
I used the KIKO french manicure for white tips nail lacquer which I LOVE & has replaced ALL of my nail art pens. The thin brush is perfect for detailed nail art, I only hope they still do it as I want to stock up on these babies!
Using the brush, apply a line along the bottom edge (so right above by the mani guide) & one horizontal line in the centre going up to the tip.
Then add two diagonal lines going up from either side of your horizontal line.
Now grabbing your red polish & a thin nail art brush, I've used Nails Inc St James, apply a thinner line on top of the white, making sure you still leave a bit of white showing.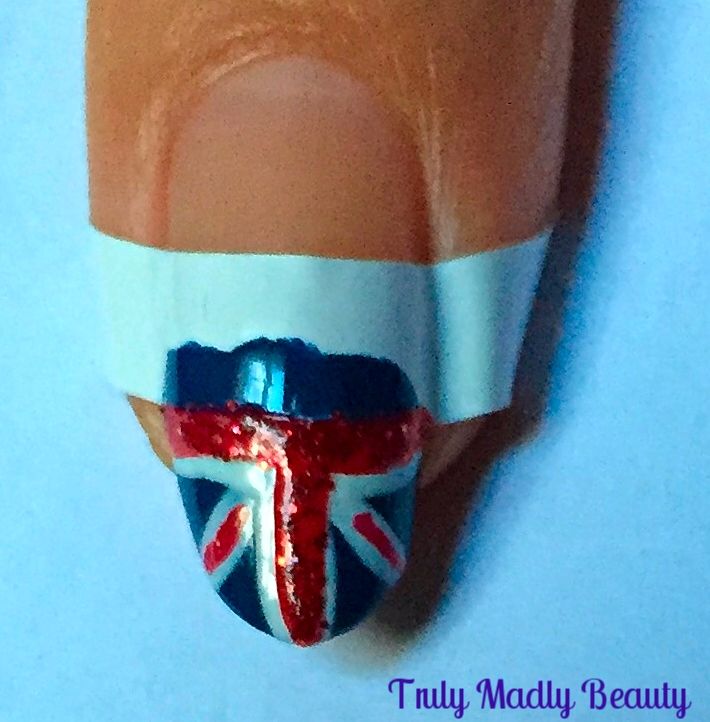 Aaaaand finally, because y'all know I am a sparkle FIEND, as an additional touch I went over the red with a bit of red glitter courtesy of Nails Inc Trafalgar Square.
Now you can (slowly) peel off your mani guides, don't worry if you have any smudges or your edges aren't perfect, this can easily be rectified with a small brush & some acetone. And you have your GB flag tips!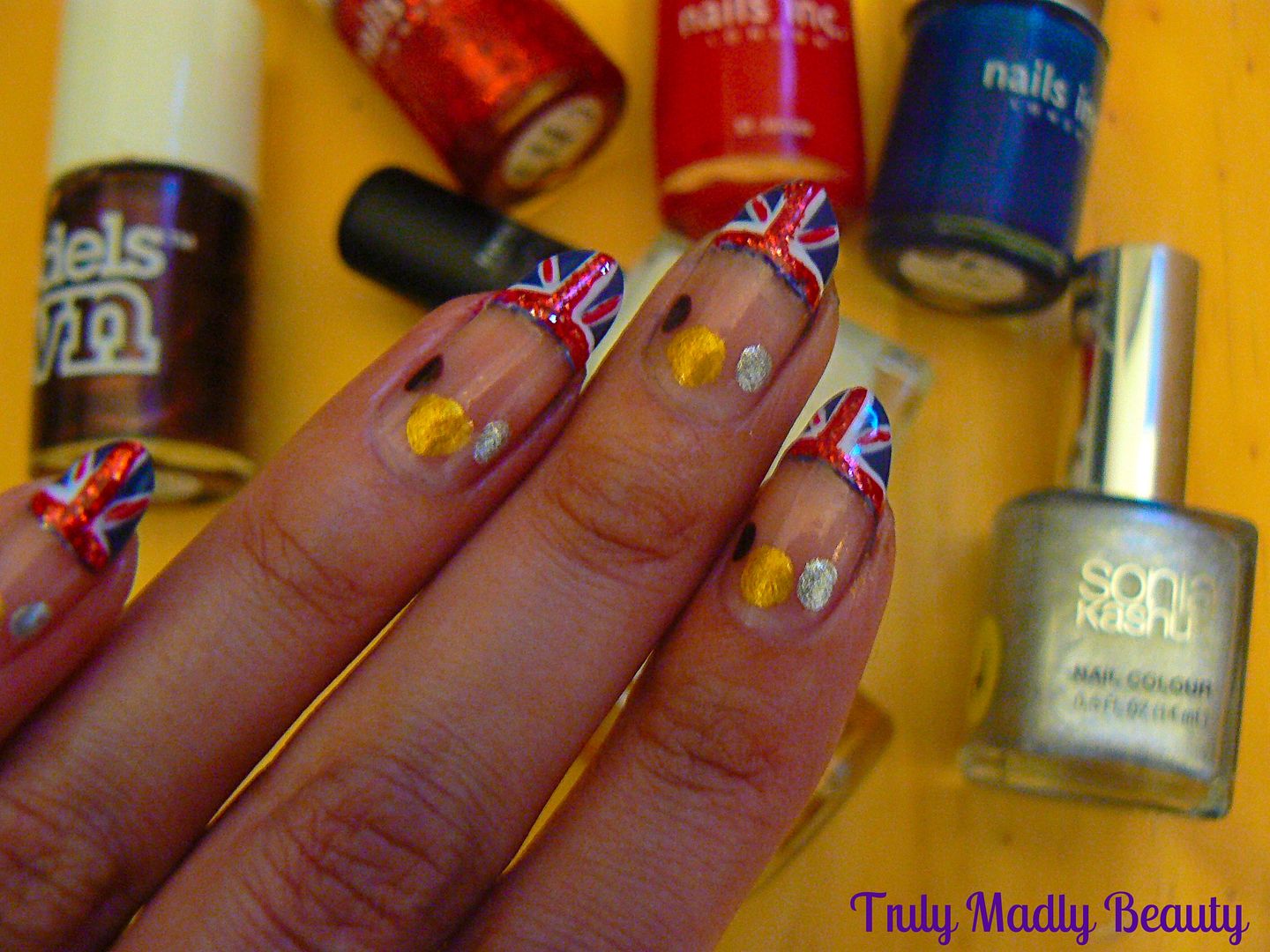 You can leave these as they are but I couldn't NOT put some medals on too, so using a dotting tool & Models Own 25 Carat Gold, Sonia Kashuk Smoke & Mirrors & Models Own Cherry Pie, I added me on some Gold, Silver & Bronze medals along the cuticle.
Finish with topcoat & you're done! Told ya it was easy.
Hope you liked the mani dolls, how are you celebrating the Olympics this year? Thank for reading & keep up the awesomeness Team GB!
Lotsa love to ya!