Hello there lovely readers!
Blimey January is a toughie eh? That struggle of re-joining the gym which is still pending action & you wonder if it EVER will...the excruciatingly slow wait for the next pay day to come round *gazes far in to the abyss*... I'd gotten so used to 3 or 4 day weeks in the last month of December that getting back into the swing of a five day working week is proving a hard task! A holiday is required methinks to counter all this stress, but good news is that New York episode 2 is officially booked & confirmed for June this year & I cannot WAIT! *cue happy dance* After falling head over heels with the city last year I knew I'd be returning for sure & to do so in the summer months where hopefully the weather will be good is the cherry on top.
Anyhoos trooping onwards for now with a wee outfit post for you today beauts, just to mix it up a tad.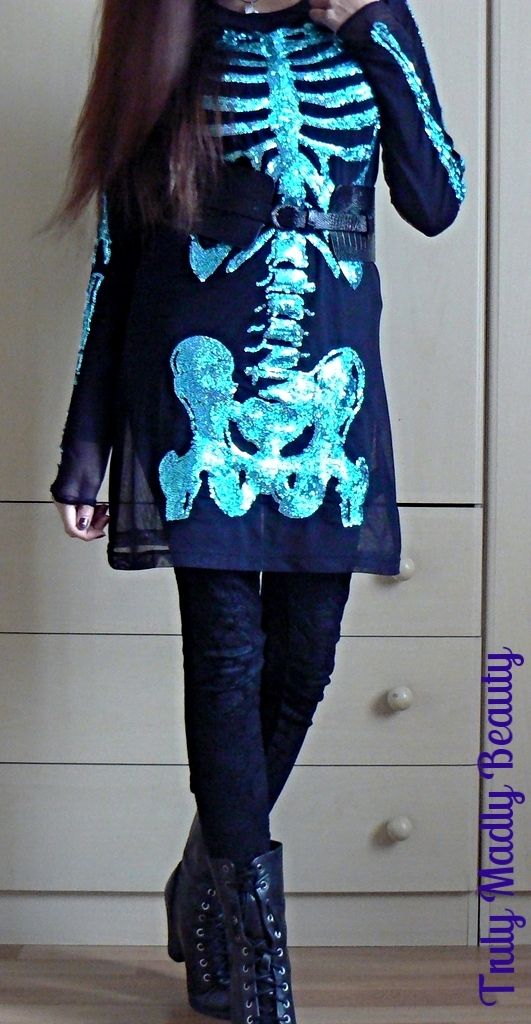 Those who know me well know that bargain hunting is a task I take seriously & not without a touch of pride! Snapping up a good deal is most satisfying, Depop is my addiction, having discovered some ace finds, most recently a Vintage Star Wars skirt featured HERE as well as a new Lolita coat which I nabbed for only £40! As they retail for up to £200 I think that definitely qualifies as a bargain buy. When it comes to shopping in stores I tend to be more weary, I don't do well in crowds & often the sale racks look like a bomb site that breaks me out in a sweat to even contemplate facing! However there is the rare occasion where I manage to discover a treasure hidden away, one such find was this piece of glitter goodness in H&M no less.
GLITTAAH! Oh yus the inner pixie was definitely happy with this sparkly number as well as satisfying my dark soul ;) I do have a soft spot for H&M as they occasionally roll out stellar items like this divine long tee with skeleton rib-cage detail along the front & sleeves covered in beautiful turquoise glitter, its glinting was what caused me to pause whilst strolling by.
The shirt is made up from a thin black see through cotton, very comfy but some underlining twas required, wouldn't want to flash any dodgy parts haha! This was rectified with the simple addition of a long sleeve black t shirt which in this current freezing climate we are experiencing was necessary too! Layers for the win.
I am a lover & loyal wearer of dresses, nothing makes me feel happier than donning a swirling skirt & I'd say 80% of my wardrobe is entirely made up of swishy numbers of some sort, so this is quite different for me. However I adore channeling the gothic vibes on occasion also so this satisfies that perfectly.
Here I've teamed it with some velvet baroque leggings from Zara & my Biker Boots which were a Debenhams purchase many moons ago, finishing the look with a bit of waist cinching courtesy of a gothic leather belt.
So yup definitely happy with this addition to my wardrobe! Thanks as always for reading beauties! Next time your passing by H&M do have a browsy through their sales section, you never what treasures you might find ;)
Lotsa love to ya