Hi there my lovely readers!
Long time no speak! If you follow me on social media you'll know I've been off having adventures on the other side of the world, Koh Samui to be exact. 10 days in glorious weather on a beautiful island was just what this girl needed, though the journey sure is a killer, 20 hours travelling through 3 different time zones really does a number on you! Only just starting to resemble some form of sanity, I can also get back to blogging with some new nail art!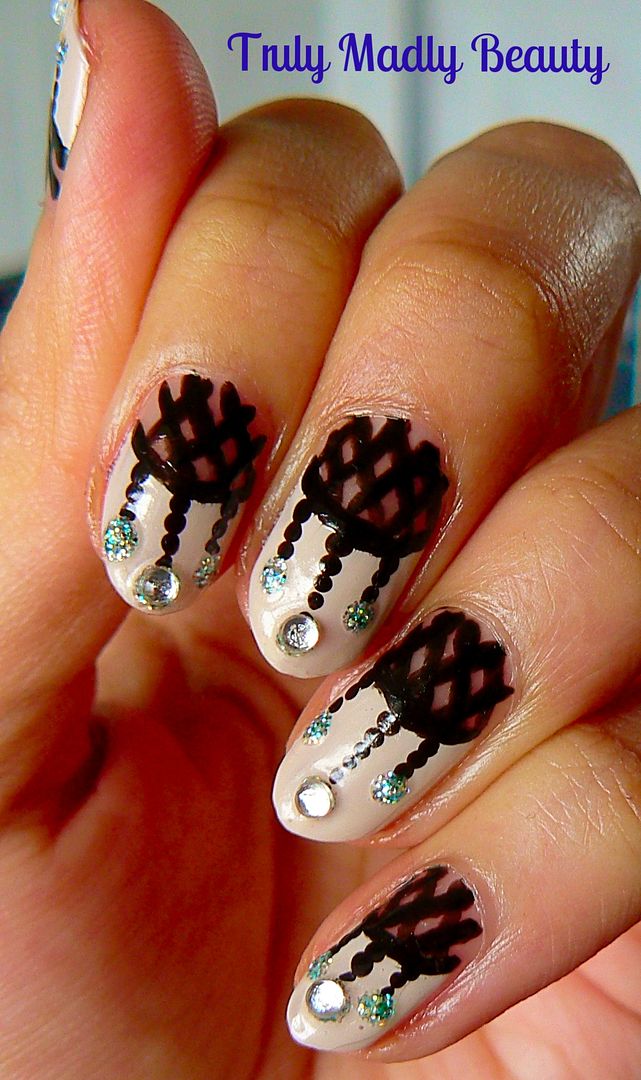 Today's design is Dream Catcher or Chandelier nails if you like! These pretty ornaments looks as lovely decorated on the nails as they do hung up on your walls & you can totally play around with different colours & glitters ;) I've gone for a black & nude look with silvery blue sparkles!
First you need to apply your polish whilst leaving a semi-circle gap for your Dream Catcher. I went for a lovely cream nude courtesy of Models Own HyperGel in Naked Glow.
To help create the curved space I simply used some hole punch reinforcer stickers which are perfect for this. Just stick these onto the bottom half of the nail as shown.
As the formula of the HyperGel polishes is quite thick I got away with applying just a coat for a nice opaque finish. Once applied remove the hole punch sticker whilst the polish is still wet (using a tweezer makes this task easier) & clean up any smudges with a fine brush & acetone.
Now to get to drawing your design. Grab your black polish, or whichever colour you like, & a fine nail art brush. In to the bare nail space apply a criss cross net pattern by drawing 3 diagonal lines & 3 more on top of those in the opposite direction. Apply a thin line of the black polish around the curved edge of the nude polish.
Then using a dotting tool, apply 3 dotted lines coming down from the net, gradually reducing the size of the dot & making the centre line slightly longer than the others. And hey presto you have your Dream Catcher!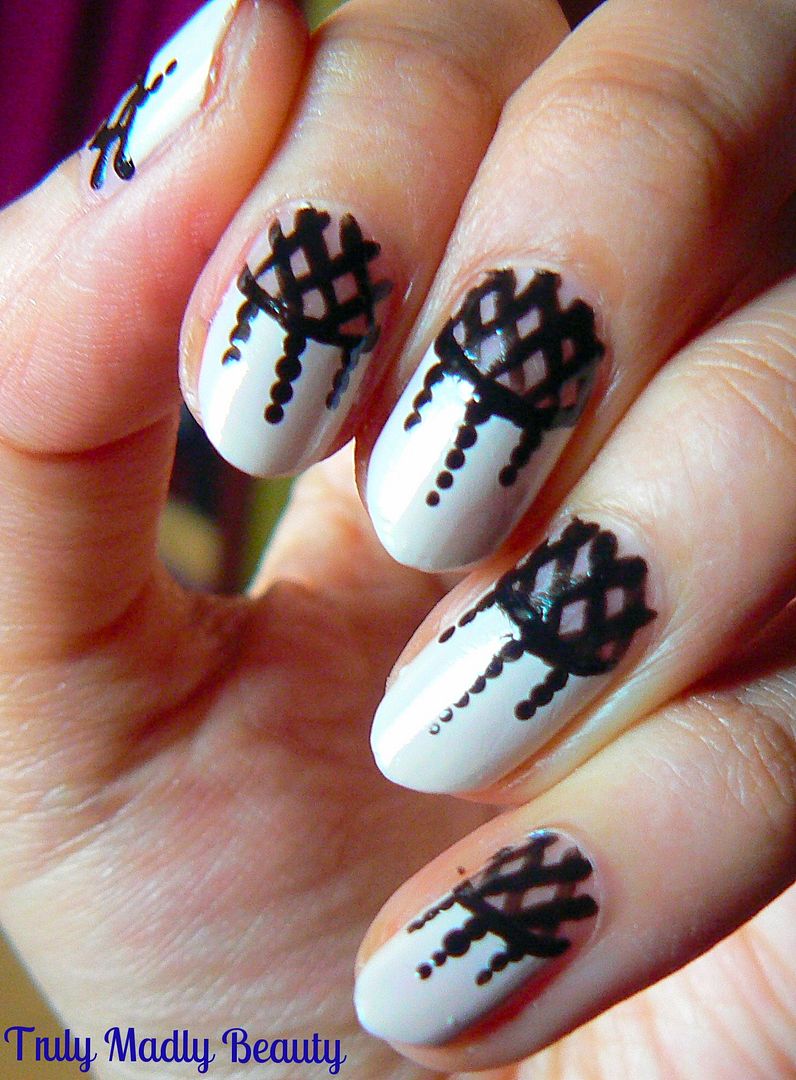 And now time for the glitter! Here I've used a holo glitter from ColorClub. Using whichever shade you like, grab your dotting tool again & apply a blob of the glitter at the bottom of the two outer streams.
At the bottom of the centre stream I applied a pretty rhinestone, but you can stick with the glitter if you prefer!
Wait for your polish to dry for a wee bit before sealing your design with topcoat. And thats it!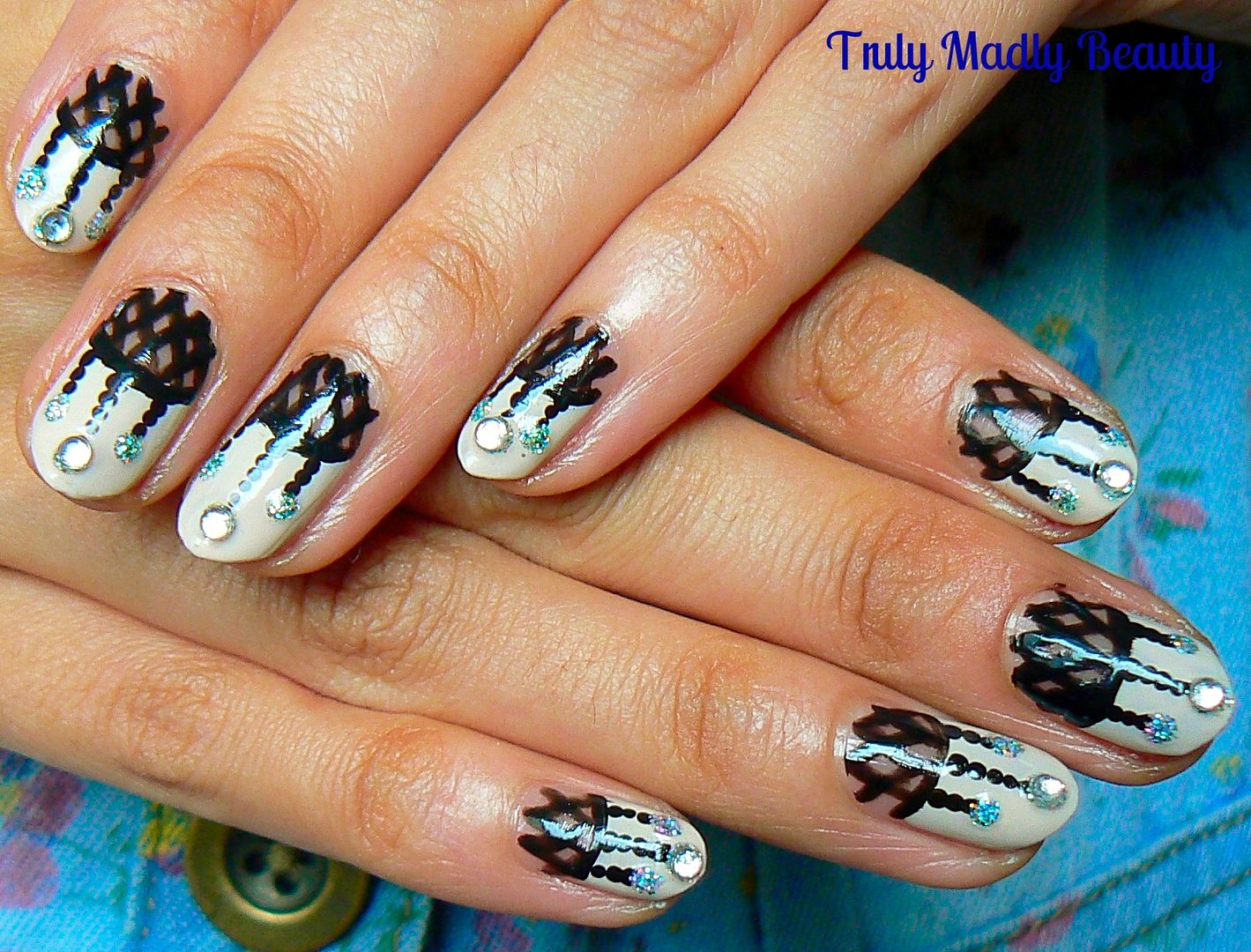 Hope you liked this design my lovelies, do let me know if you give it a try! Thanks for reading!
Lotsa love to ya!