Hey there lovely readers!
In this day & age we all love to find quick solutions to certain beautifying steps, nails included! Nail wraps are the perfect answer to this, straightforward & no fuss waiting for polish to dry. I found myself drifting away from the nail wrap world of late, I'll put it down to experiences with a few dud ones that I didn't get on with & were just too fiddly when it came to application! However I have rediscovered my love for nail wraps thanks to these lovely offerings from Loreal!
I wasn't actually planning on blogging about these, but they are so good I had to share with you my lovelies. I literally picked these up in a rush when I saw them in the Poundshop across the street from where I work as I had a serious chip situation going on with plans in the evening which left me little time for refreshing the mani!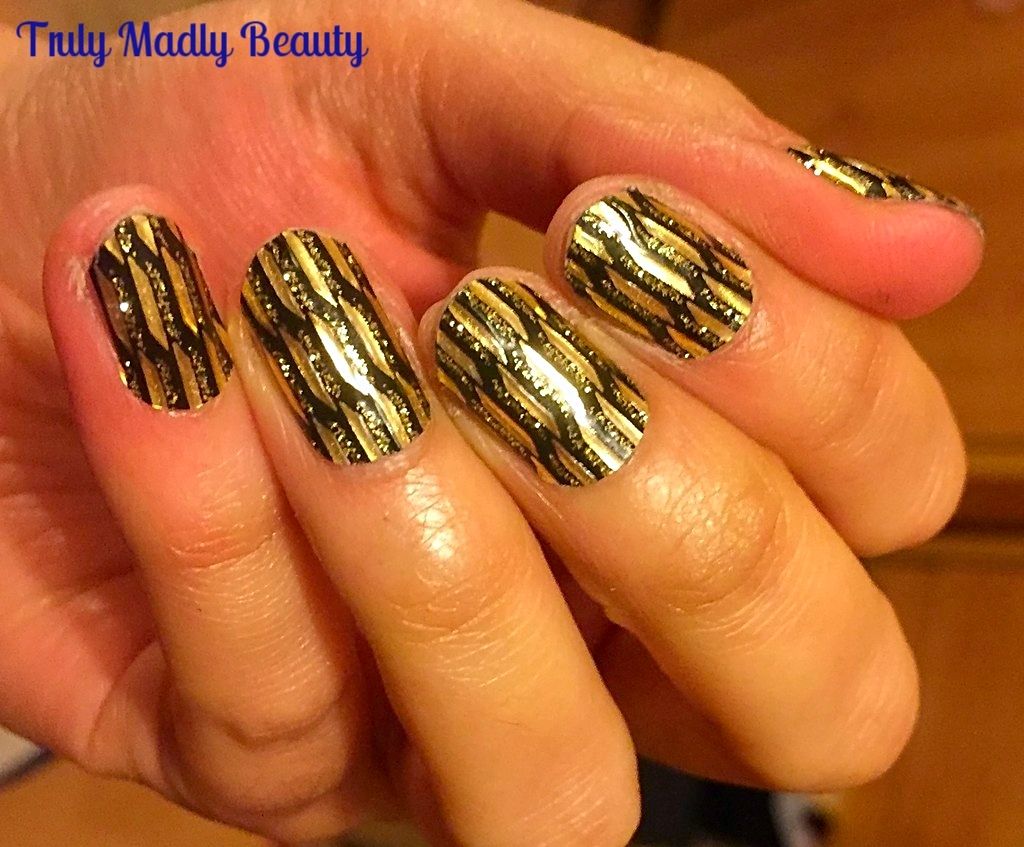 However these blingy Loreal Color Riche nail wraps in design "Or Lame" caught my eye so I decided to pick them up on a whim & boy did they succeed in saving the day!
Once home I quickly removed the traitorous chipped polish with my new favourite, the delicious scented nail polish removers from True Brit London which I've blogged about in detail HERE & then got to work with applying the wraps, a task which was completely literally within minutes.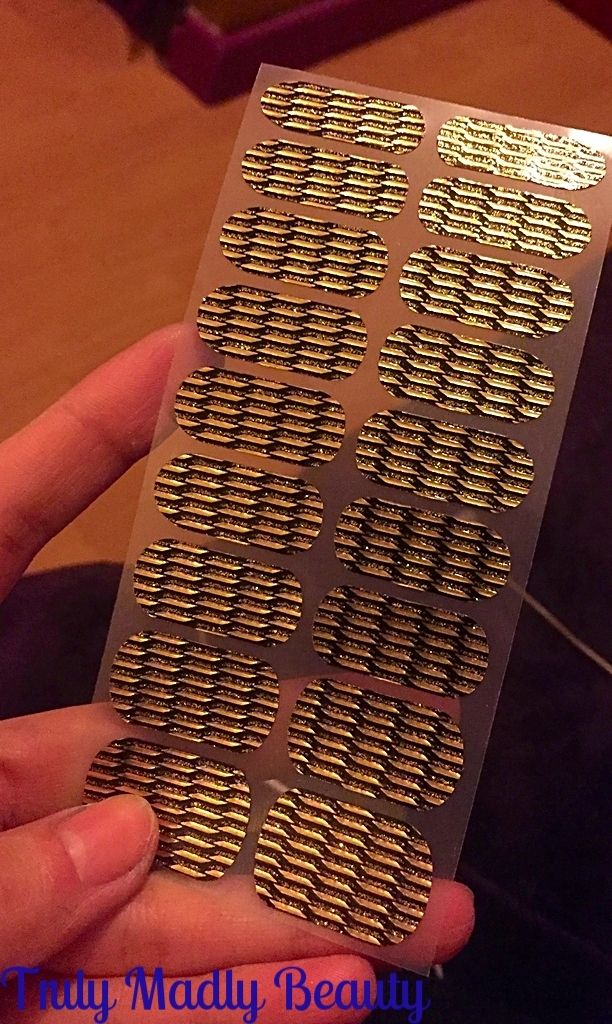 Applying the wraps could not be easier, starting with a clean bare nail. Nail wraps adhere better to a dry surface so its important to ensure that the nail doesn't have any oils or moisture, of course the polish remover helps remove any excess moisture as well.
Select the nail wrap which fits the size of your nail best, the Loreal ones have a nice selection of various sizes so finding a match shouldn't be problematic.
Peel off the nail wrap, which comes away very easily like a sticker, then place on to the nail starting at the cuticle first, then slowly pressing down the length of the nail to the tips. Despite being thin, the Loreal wraps were very easy to place, if you are not happy with your positioning then you can easily lift the wrap off & try again which is great.
Once happy you the need to file off the additional nail wrap that you don't need. In the past when filing, I've often had half the wrap come away with the file which was quite frustrating! I find the easiest way to file off is by sticking the remaining wrap together (as pictured above) at the edge of the nail, then filing downwards until the excess wrap comes away completely.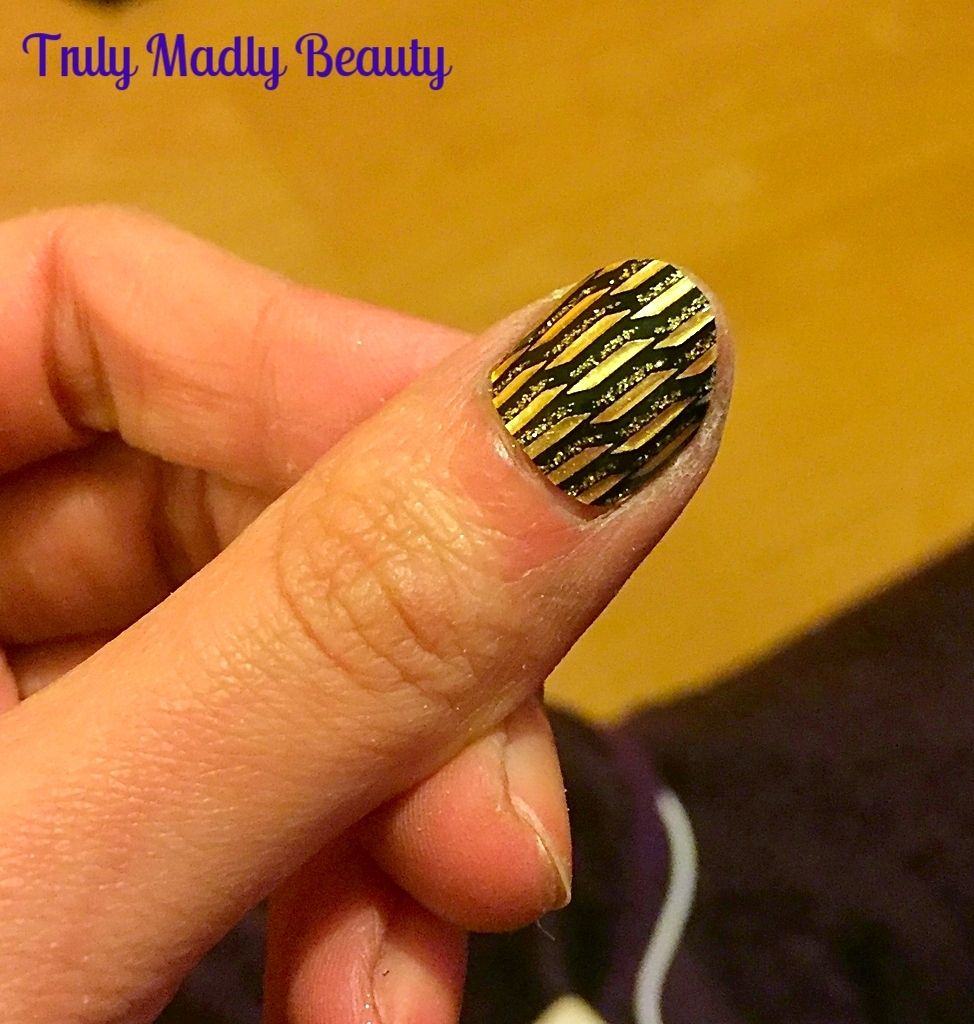 Neaten up the edges of the nail to get rid of any little bits of wrap that might be sticking out & voila! Beautiful blingy nails ready to go!
I also absolutely love the gold and black art deco style design of these nail wraps as they will pretty much go with anything & would be fantastic for last minute nights out when your in a rush but don't want bare nails.
Removal is also super quick, simply lift up the edge of the wrap using an orange stick & then using your finger, the wrap will peel off completely leaving no sticky residue at all, another bonus! I can't comment on longevity as I removed these the next day, however they were all still firmly in place!
I will most definitely be picking up more of these to have as back ups in case of mani emergencies! If you can't find the wraps in stores then they can also be found online on Amazon HERE.
Are you a fan of nail wraps? Thanks for reading beauts!
Lotsa love to ya!