Hey lovely readers!
After watching the Huntsman Winters War movie recently I was inspired to create some nail art after the two stunning, if a wee bit evil/bat shit crazy/mad, queens of the film portrayed by the gorgeous creatures Charlize Theron & Emily Blunt.
My previous post was what I came up with for Charlize's Evil Queen Ravenna & featured lots of dark gothic gold vibes. This time I used Freya's frosty magic as inspo to create an icy manicure suitable for the snow queen & this is what I came up with...
I knew a foil was required for this mani to get the look I wanted & I couldn't have found a more perfect one than this offering from Stargazer. When I picked this up at a beauty expo I actually had no idea what the colour would be as the bottle is a completely opaque silver like a mirror, why you can even see my reflection...*waves* But I threw caution to the winds & to my utter delight I discovered 233 to be an absolutely stunning silvery blue metallic foil! LOVE IT.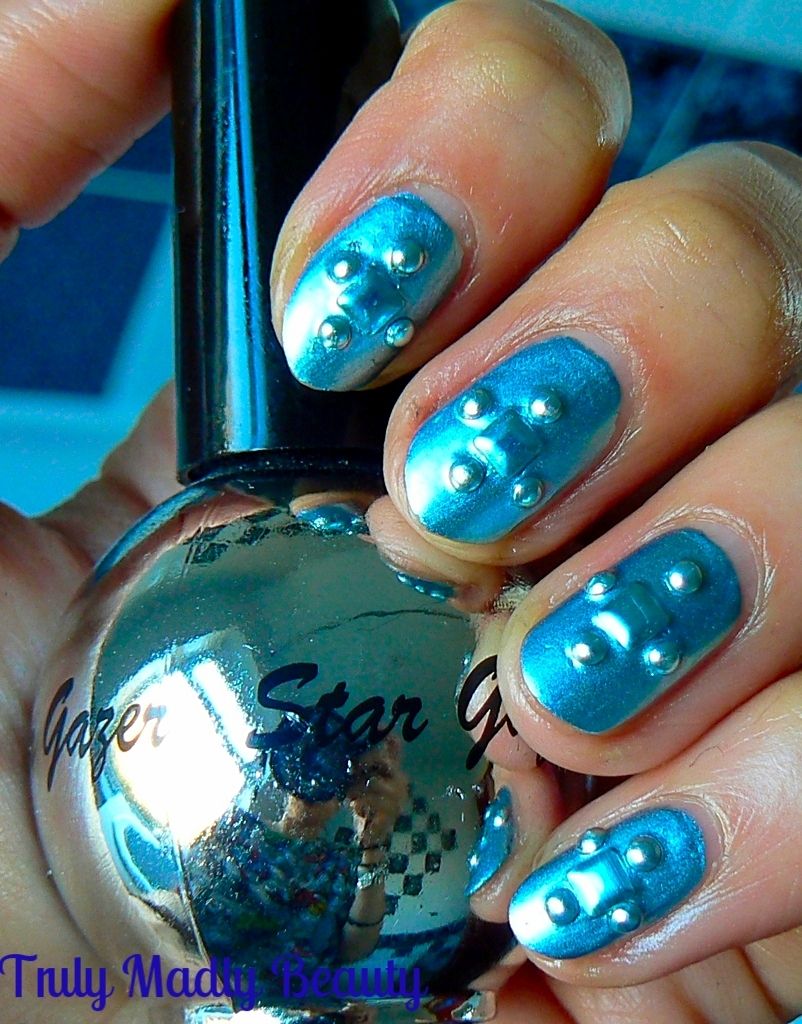 I do love foils, if not for their stunning mirror-y finish then definitely for their speedy drying time! This is two coats which applied nice & smoothly without streaking & dried super quick!
For the nail art I decided to actually keep things a bit simple & low key for once (GASP!) but I thought it suitable as Snow Queen Freya's demeanor is as cool & composed as Ravenna's is over the top mad.
I reached for some pretty ice blue silver square & round studs which I applied in a cross pattern on top of the foil, with the square in the centre, surrounded by four round studs, which added a nice medieval vibe to it that I love as its an era very in tune with the film.
Seal with a thick coat of topcoat to secure the studs & Freya's metallic frosty mani is done!
Thanks for reading! I'm trying to find some beautiful nail claw jewelery similar to the ones worn by the Queens in the film, hopefully Etsy? I think I may have found my seller...click on THIS link if you dare, you will want ALL THE GOTHIC NAIL BLING! I predict a cheeky haul in the very near future...
Lotsa love to ya!