Hello there lovely readers!
Hows you? Again life has taken a mad turn of late with work & weddings & more work! Some down time is muchly needed & I'm currently working on that right now having come back from a blissful massage to start things off for birthday celebrations! Yup, turning another year older tomorrow, still none the wiser & content to continue on my search for Neverland! Looking forward to heading to London for a few days of fun with my favourite humans & non humans too with a visit to a cat cafe for afternoon tea...my two favourite things...cake & kitties! The exciting is hard to contain :)
Today I have for you lovelies a quick & simple two tone geometric design using two polishes from Loreal's Color Riche range that the lovely Safiyah also known as the fabulously talented FrootiBeauty, kindly sent my way, because she's an absolute doll & knows that all orphan polishes wanting a happy home will be welcomed into my domain with open arms!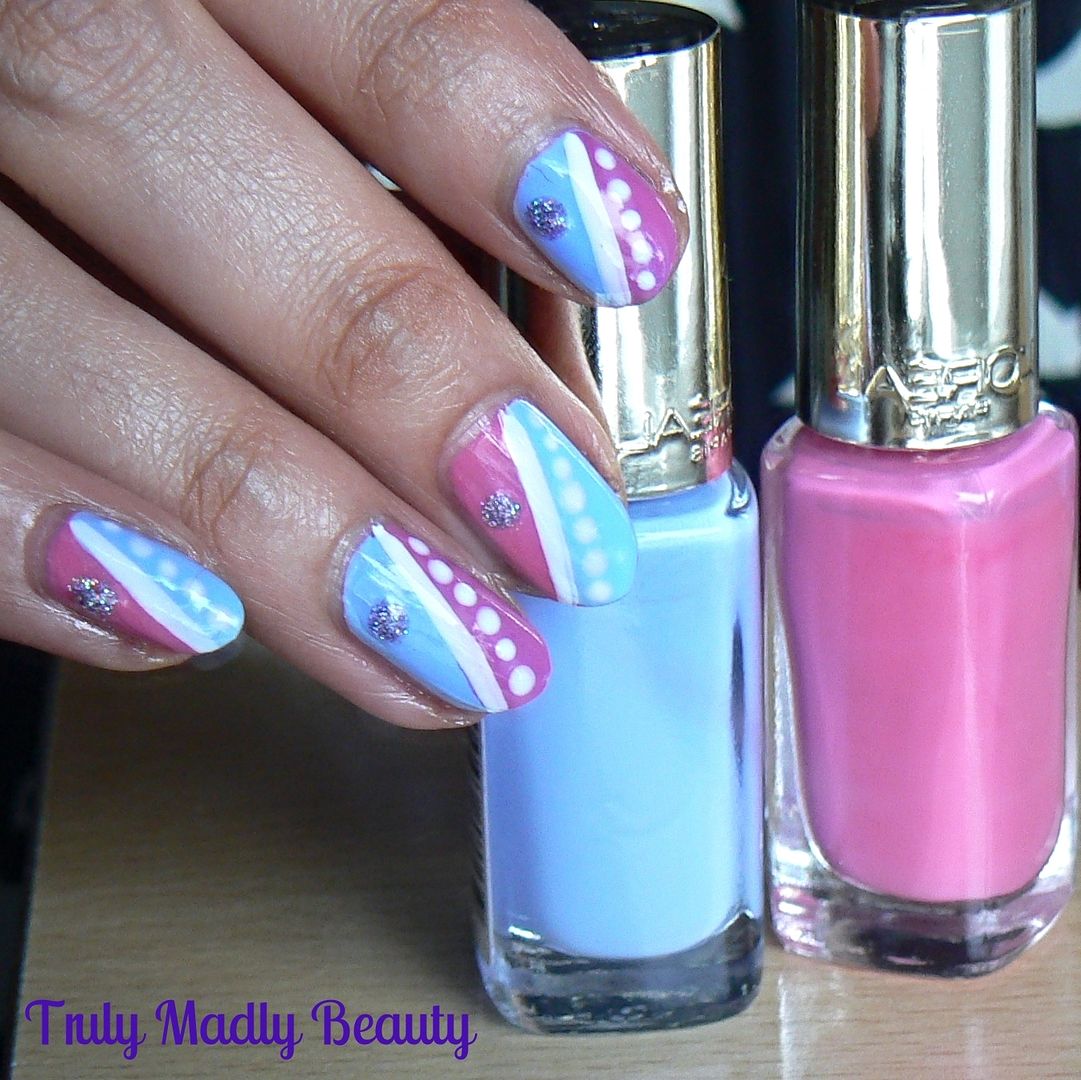 The shades I've used here are 242 Pink Pop, a yummy bright pink creme & 241 Cloud Wow, a pretty pale blue lavender creme. Both polishes were great to work with, smooth formula & quick drying & I love the brush that comes with these. Definitely helps with easy application. They're also contained in such cute dinky bottle packaging that they would be perfect to pop in the bag or take on holiday. This geometric design could not be more straightforward to create so here's a breakdown of the steps for you.
Grabbing your polish, apply one coat to the whole nail, I decided to alternate both shades.



Then using the alternate polish shade, apply a coat at a diagonal across just half of the nail. I use the brush that comes with the polish & apply free hand but you can use a thinner brush & fill in the rest if you find that easier!





Don't worry if your line is a tad wonky as the next step is to apply a thin white line across the diagonal where the two colours meet. I use the Models Own nail art pen in White as it has a thin striper brush end which is perfect for this & makes applying thin straight lines very easy.


Next grabbing a dotting tool, or if you don't have one then a simple bobby pin will suffice! Remember dolls nail art tools are NOT compulsory to create fun nail art! Use whatever is at your disposal! Dip the dotting tool/pin into some white polish & apply a row of dots along the edge of the white line.


The inner magpie in me loves adding a touch of sparkle to the nails so to finish the design I quickly added a dot of Models Own Southern Lights which is a disco of lilac tinted holographic glitter, super satisfying sparkles!


Finally after a bit of clean up if you have any polish spillages on the skin areas with a bit of acetone & a brush, apply a nice thick coat of topcoat to seal your design, I use CND Air Dry, quite possibly the best topcoat on the PLANET in my opinion & that's it!

Hope you liked the mani my lovelies! Do let me know if you give this design a try! Thanks as always for reading, till next time!
Lots love to ya!