Hello there my lovely readers!
To say I'm excited about this post is putting it lightly. Nothing makes me more deliriously happy & gets the heart palpitations a-pounding than sighting a new & interesting offering in the nail polish world. The beauties that I have to share with you today are nothing short of glorious & are the babies of new kids on the nail polish block True Brit London*. Behold...
What did I tell you? Pretty darn special right? The moment my radar sighted these polishes I knew they would not disappoint. Everything about them appeals to my nail polish needs...STUNNING packaging & a gorgeous shade range with fabulous & fun names surrounding interesting & innovative collections.
I'm sure its pretty clear from the name, True Brit London* is a brand that embraces British culture proudly & have sought inspiration for their shades from legendary icons of British fashion & beauty.
First things first, lets talk about packaging. I was impressed with how the polishes arrived, seated in an elegant sleek black box with plenty of paper shredding to protect those pretty bottles. The bottles themselves are designed in a beautiful chunky glass ice cube shape embossed in silver with the True Brit London Logo. Definitely a bottle one would love to show off on their vanity table I'm sure you'll agree! The large silver cap is removable, with a thinner top underneath attached to the brush for easier application.
There are six different collections with their own interesting range of shades including Signature, The Classics, Luxury, London City, Contemporary, Country & English Rose as well as a base & top coat. I have four pretty polishes to play with, which I'll be sharing with you one by one as I don't want to overload you in one go! Plus I think each shade deserves to be fully appreciated ;) I thought I'd start things off with the delightfully delicate Cream Tea from the Classic collection...
Ain't it a pretty one? Cream Tea is a beautiful baby pink crème, extremely pale in its pinkness but I assure you it is most definitely a delightfully light milky pink shade, very elegant. I could definitely see myself wearing this shade whilst indulging in a delicious afternoon tea ;)
I found the formula of Cream Tea to be quite thick, which worried me initially as with thick crème's comes the risk of gloopiness, the first coat was a tad streaky, however two coats applied left a nice smooth glossy & streak free finish. Hurrah!
I couldn't resist adding a little something extra so applied a few pearls around the cuticle area before finishing with a coat of the True Brit London Topcoat.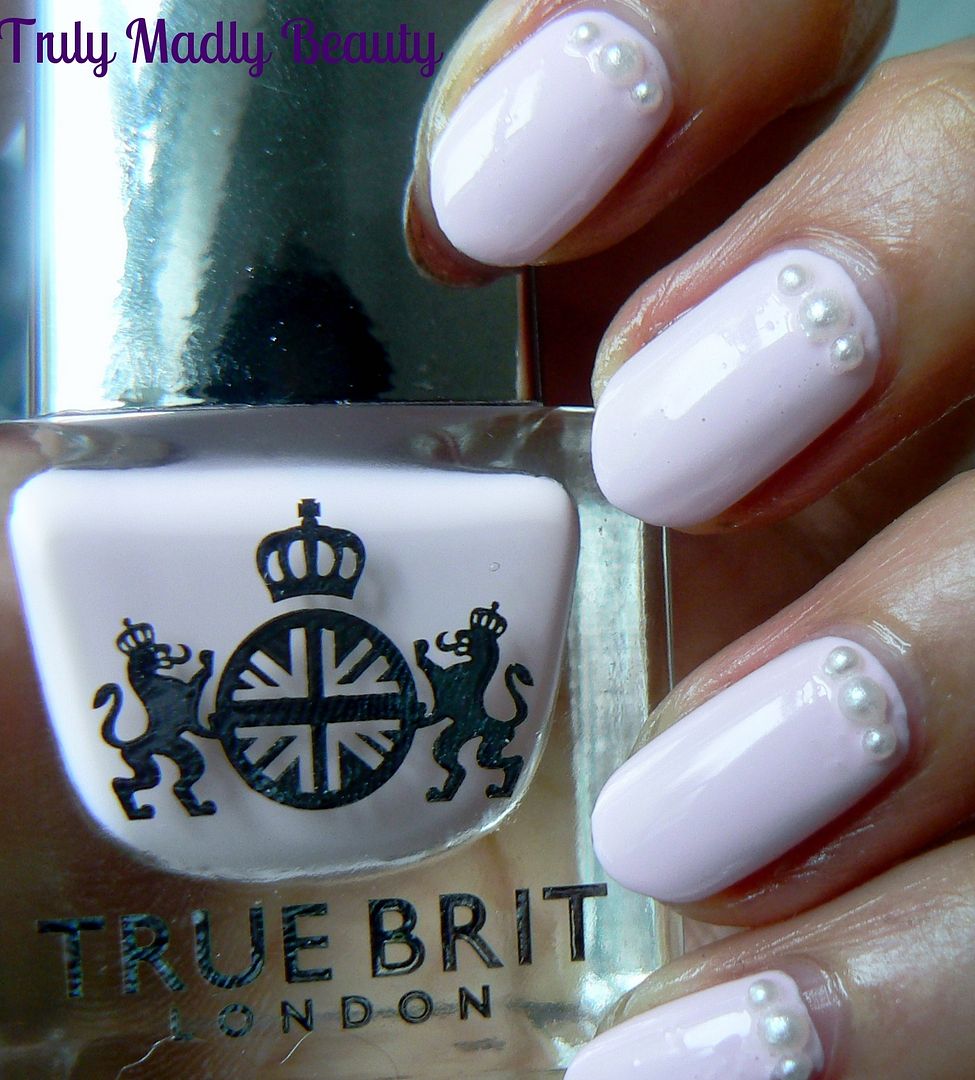 Now you'll know from my last post that CND Air Dry is my HG topcoat & it'll take a lot to change that! True Brit London's is good as topcoats go, this is a thick one so will leave a glossy almost gel like finish, however I wouldn't use it to seal stones in future as I think it was a bit thick for this purpose & resulted in a little bubbling!
Overall I am in love with this delightful pink offering from True Brit London & can't wait to see how the other polishes fair! Do stay tuned to see what delightful shade will be given a turn next! Thanks for reading as always & speak soon!
Lotsa love to ya!
Disclaimer - * products featured were sent to me for my consideration. I am not affiliated with the brand nor paid for this post, this review has been as always my 100% honest opinion! :)