Hello there beauts, hope you're having a good week!
I'm especially excited for the weekend already, as I'll be heading to London for the Swap In The City and Fashion's Finest collaboration event for London Fashion Week, where I'll be getting my mani on! This is my first event for London Fashion Week so I'm a mixture of ecstatic & terrified but its something that I've wanted to be a part of for ages so I can't wait & am very grateful & excited to be a part of it.
The event consists of two days of fashion shows, exhibitions & fun Swap In The City clothes swaps, where a number of superbly talented designers will be showcased at The Grand Connaught Rooms in Covent Garden.
One of these designers is Sicily born Eva Cammarata, whose collections are inspired by Nature, Arts & Philosophy. Not only are her designs beautiful & colourful but Eva's brand is also a fair trade ethical luxury label, using organic & biotech fibers that moisturise the skin of the wearer. And I've used one of her creations as inspiration for today's manicure! I fell in love with this piece, FLOW, with its mixture of blue & sparkle so couldn't wait to rustle up some nail art!
I'm so happy with how this mani came out, I think it may actually be some of my favourite nail art this year so far :) The different blues & turquoises, so dreamy!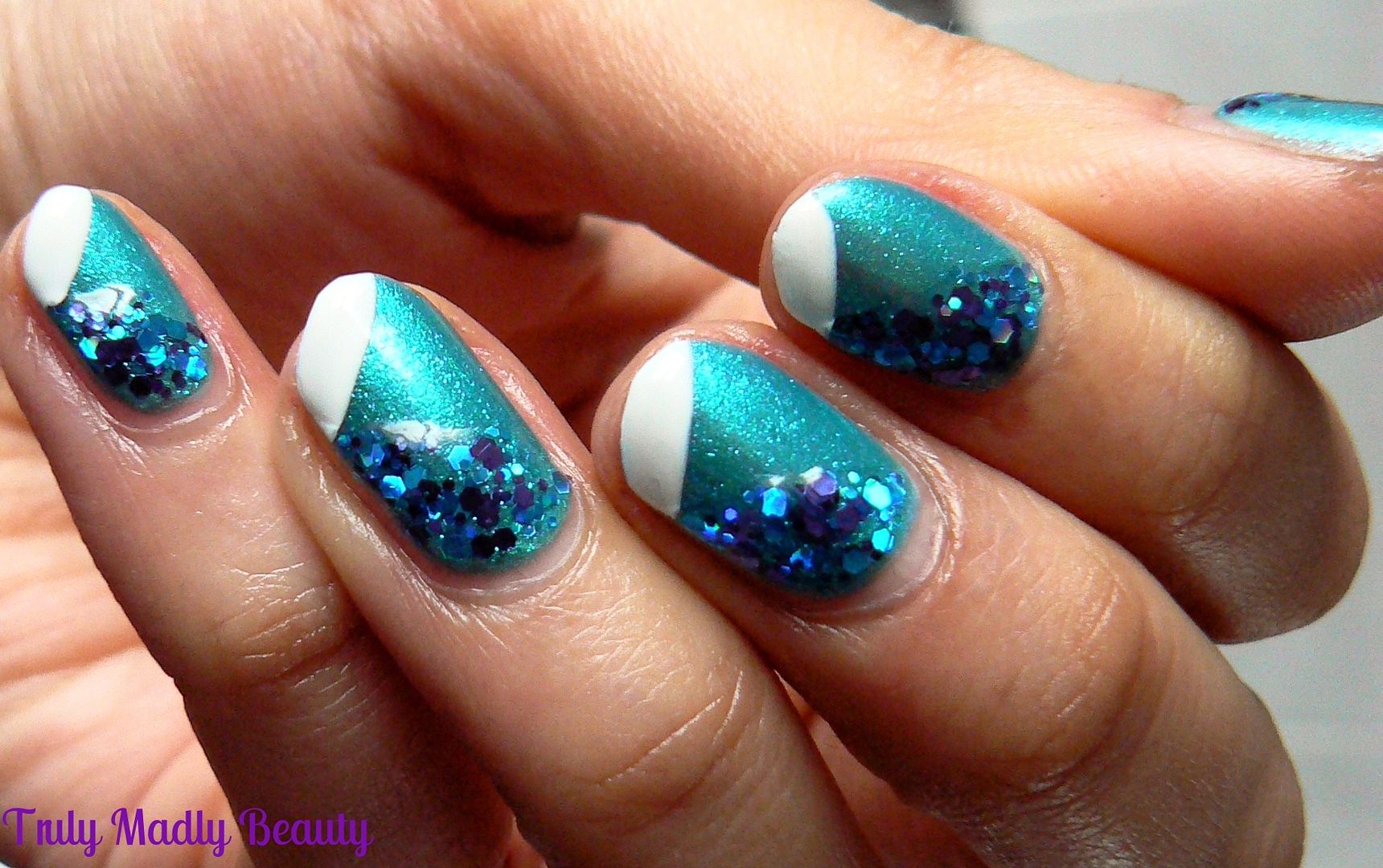 To start I applied my base colour of a pretty turquoise blue, which is actually two different polishes, Sally Hansen Xtreme Wear in Marine Scene, a turquoise blue satin & Sally Hansen Hi Definition in Spectrum, which contains pretty glass flecks adding a nice shimmer to the colour.
The base needs to be completely dry for the next step, I painted my nails the day before but a speed dry topcoat works fab. For the glitter part I grabbed a piece of cellotape & taped off part of the nail, then went in with two lovely glitters by Chit Chat, Ariel, a blue & sea green mix & Violet, a deep violet bl-urple glitter.

I dabbed on the two glitters with a small nail art brush, combining both colours together, before removing the tape whilst still wet.
I then used my Models Own Nail Art Pen in White & using the thin striper brush, added the final detail of a white angled tip.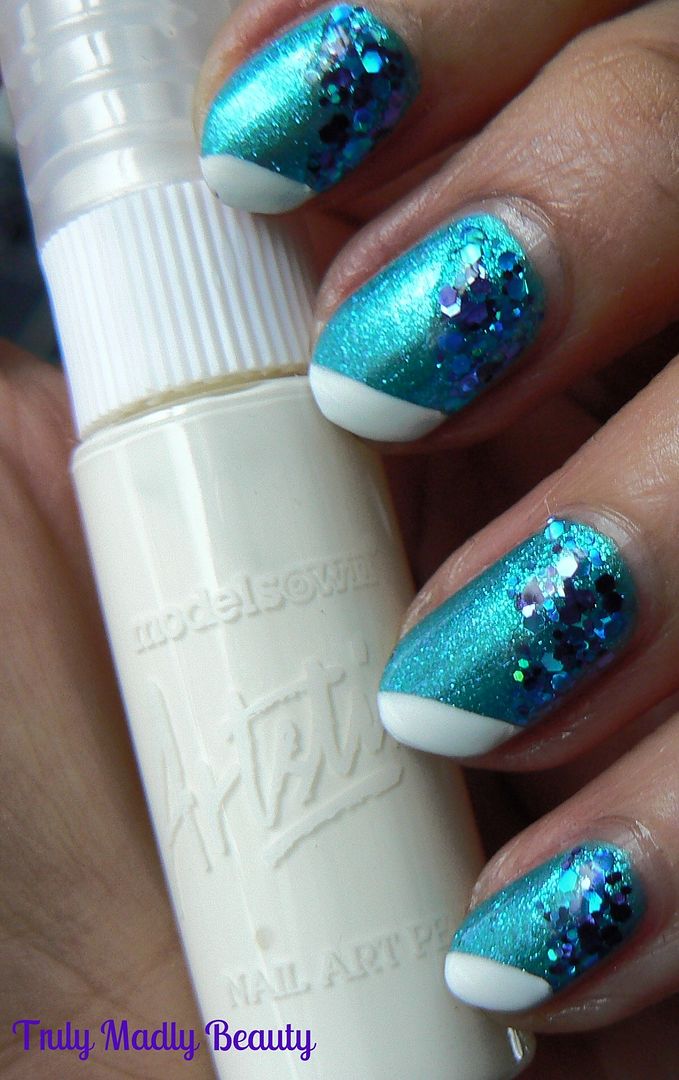 As the glitter layer was quite thick, I left it to air dry for a good few minutes before sealing it all with topcoat, otherwise the glitter would have smeared down the nail & that would have lead to a most unattractive screeching fit of extreme proportions O_o
Hope you liked the mani dolls! If you're headed to London Fashion Week this weekend then definitely pop on down to Covent Garden for the Swap In The City event & come find moi there!
Lotsa love to ya!