Hello there lovely readers & happy bank holiday weekend! I'm beginning to remember why this time of year is my favourite, not just with its delightful abundance of lovely long weekends, but the sun is starting to come out more & the world in general is starting to look just a wee bit more pretty...I'll stop now before I break in to song...
This week was delightfully shortened as my friend & I decided to pop to Paris for the day on the Eurostar. It still boggles my mind that one can travel to France & back all in a day! Of course the tube strikes didn't help but we managed to get there in one piece & spent a delightful day strolling up to Montmarte, exploring the streets & churches, having our portraits done by street artists & of course sampling the many delicious delights! All in all a truly ace day :)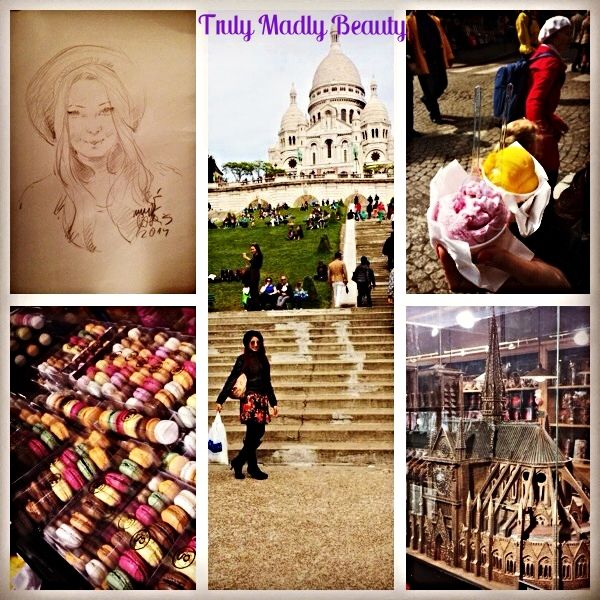 With the Brazilian World Cup looming it seems that many of the up coming trends this summer will be revolving around much colour & carnival vibrancy! The make up brand Collection will most definitely be channeling these things with their upcoming Mardi Gras collection which consists of 3 fruity lip balms & 3 vibrant polishes....
I am always on the hunt for another lip balm to try, this gal can never have too many! These 3 offerings from Collection are non tinted & delicately scented in Strawberry, Orange & Green Apple flavours, very yummy. I've been using these regularly this past week as I've found them to be very hydrating & pretty darn delicious!
The 3 polishes in the collection include a vibrant Canary Yellow, the bold White Out & the pretty Green With Envy, all 3 of which I've used in today's manicure.
I found myself in the mood for a random dotticure & these three polishes did nicely! I started off with a base of two coats of Green With Envy which is a lovely teal green crème with an ever so slight shimmer to it. I was impressed with the formula of these polishes, thick without being gloopy giving an almost opaque finish in one coat.
I then used my Models Own nail art pen in black to draw on some branches on to each nail. Then grabbing my double ended dotting tool & the Canary Yellow polish, added on some large yellow dots/blossoms along the branches.
Then using the smaller end of the dotting tool I used the White Out to add some smaller dots/blossoms on to my branches before finishing off with a topcoat to seal & shine!
Thanks for reading, hope you liked the dotticure my lovelies! The Mardi Gras collection will be available from Collection Cosmetics in Boots & Superdrugs from June 11th, both the balms & polishes retailing for an absolute bargainous £1.99 each!
Lotsa love to ya!
Disclaimer - product was sent to me for my consideration. I am not affiliated with the brand nor paid for this post, this review has been as always my 100% honest opinion! :)