Hello there lovely readers!
I've been absolutely itching to try out Models Own latest release, the eye dazzling Polish Tans Collection. Naturally I succumbed & bought them all on my last trip to Westfields Bottleshop where the highly skilled assistant hypnotized me in to getting them all...o_O I couldn't decide which pretty to try out first so decided to use the whole caboodle in today's mani...
What do you think? The Polish For Tans range is a collection of insanely vibrant pastel neon creams that are definitely a treat for the eyes & nails, designed to enhance & highlight golden skin, just perfect for the upcoming summer months don't you agree?
The polishes in the range include Shades (coral pink), Bikini (bright highlighter yellow), Beach Bag (peachy orange) Sun Hat (barbie bubblegum pink) & Flip Flop (bright highlighter green). I absolutely love all them, if I were to pick a favourite it'll probably be between Sun Hat & Flip Flop
For this psychedelic floral mani I started off with a base of W7 black before grabbing my dotting tool. Then using each polish in turn I simply dipped the dotting tool into the polish, then began adding flowers on to each nail by dotting on the petals in bunches of four.
To finish I just added another dot of gold in the centre of each flower using Models Own nail art pen in Gold before coating it all in a nice thick slick of topcoat to seal & shine! Simples!
I seriously cannot stop gazing at the vibrant shades *grabs sunnies* I think its safe to say I simply adore this collection, bravo Models Own! Also fret not folks, despite the name of this collection its not just suited to those with tans! I've seen swatches of these on paler skin tones, check out Makeup Savvys post, & I actually think they look more fantastic on paler tones as they appear all the more vibrant!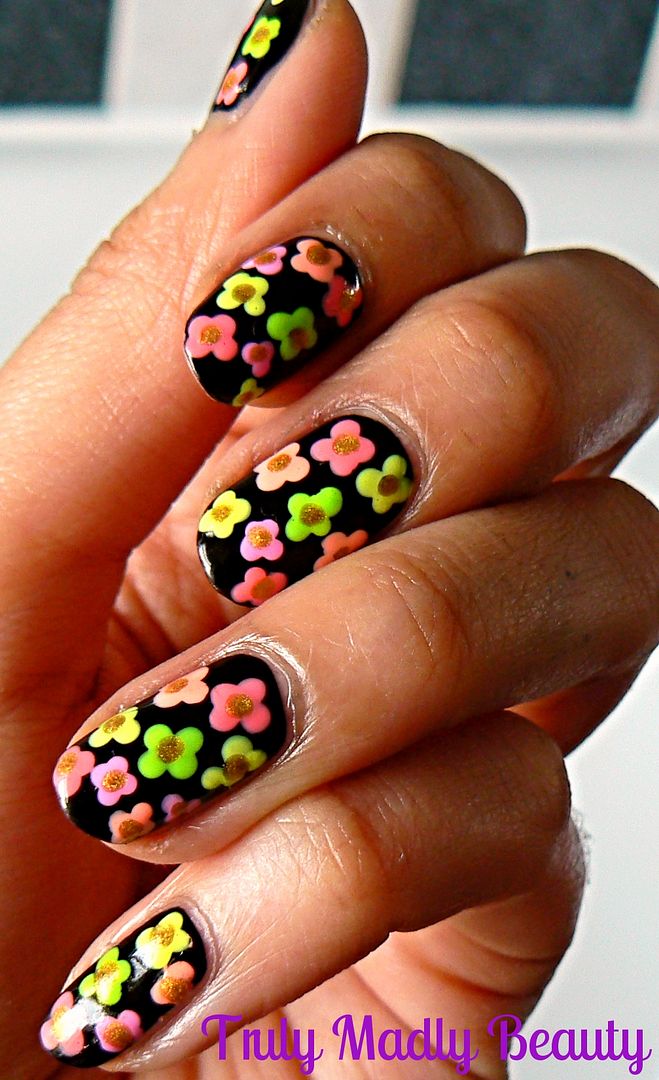 Thanks as always for reading dolls! Models Own polishes retail for £5 & can be found in Boots & online. What's your favourite shade?
Lotsa love to ya!