Hey there lovely readers!
So I felt it was about time to add another manicure into my Disney NailArt Series that I've started here on my blog.
So far I've thrown together some Beauty and The Beast nails & a suitably fairy-tale perriwinkle blue Cinderella themed design as well. I thought the time had come to switch things up a tad & give one of the glorious villain diva's a turn in the nail art stakes.
Alongside the Disney princesses there are also some utterly fabulous goddesses in Disney playing the role of villain whom you can't help but love & I look forward to experimenting & creating something fun for them too!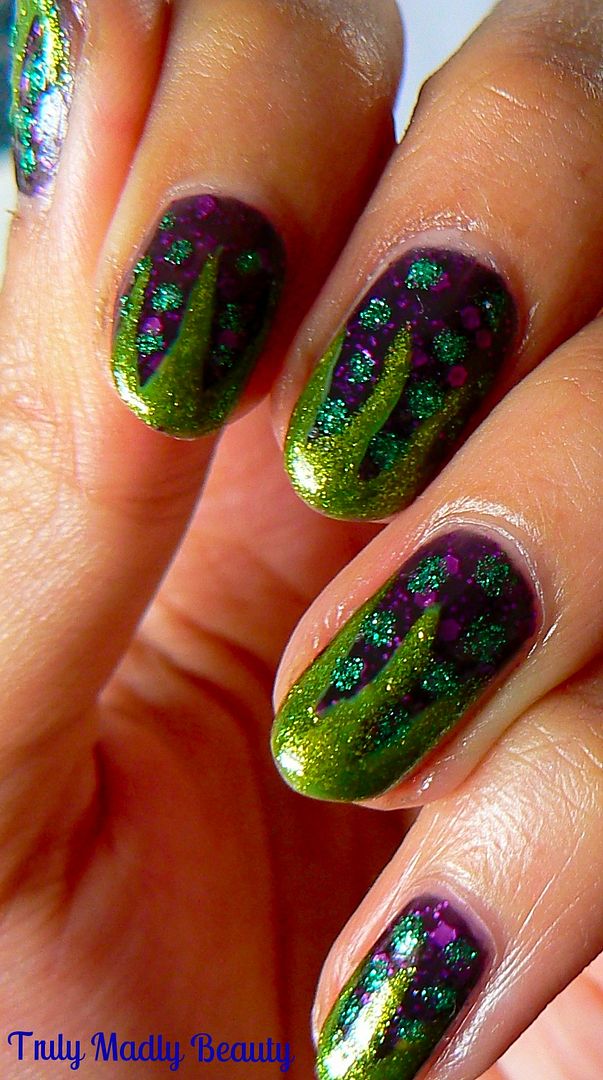 The first Disney villain I wanted to rustle up something for is one of my favourites Maleficent. Of course Sleeping Beauty is a vintage classic when it comes to Disney & a firm favourite of mine, but I also loved the live action adaptation retelling this intriguing villains story in a really wonderful way with Angelina Jolie in the lead role.
Using mostly the animated film as inspiration here, the colours that come to mind & which I associate most when I think of Maleficent are deep purples & bright greens, portraying her magical sorceress aura & trusty orb staff with which she casts her green flamed spells. So going on that, this is what I threw together. (FYI obviously this was a few weeks back on account of my wee nubbins...grow babies...grow!)
Do you remember when Revlon first released Facets of Fuchsia how CRAY CRAY people went over it due to its near identical dupe status to Deborah Lippman's Bad Romance? Well naturally yours truly did also & sped down like Forest Gump to the nearest Boots to snap it up.
An divine mix of black & purple which are a match in heaven in my opinion, Facets of Fuschia is a black jelly polish filled with square & hexagon purplely pink glitters, ungh so lush & gothic-y I love it!
As the base is sheer you do need two good coats or three for a true opaque finish, here I went for three thin coats for an even coverage.
Next for the green magic flames I used this lime green nail art polish by Kiss which came with a thin brush allowing me to create the flame details easily, however the formula was really sheer so I went over the flames with this a pretty line green glass fleck polish by Color Club.
I freehanded the flames starting at about the centre of the nail for the tips of the flames, drawing on some squiggly lines side by side, starting thin & gradually getting thicker towards the tips.
I then added a few dots of green glitter from Color Club (oh why you no have names Color Club?!) coming up from the flames for added detail.
Finish with topcoat & done! Some darkly Gothic spell casting worthy nails suitable for our sorceress. Hope you liked my loves & remember to hit me up if you have any suggestions on Disney nail art ideas!
Lotsa love to ya!