Greetings sweetpeas & a happy Xmas Eve! Huzaaaah we made it! Can I get a high five & fist bump? Now one can officially get into the Xmas zone with four days of food, family time, films & more food. I'm already excited for all the food comas that will be happening...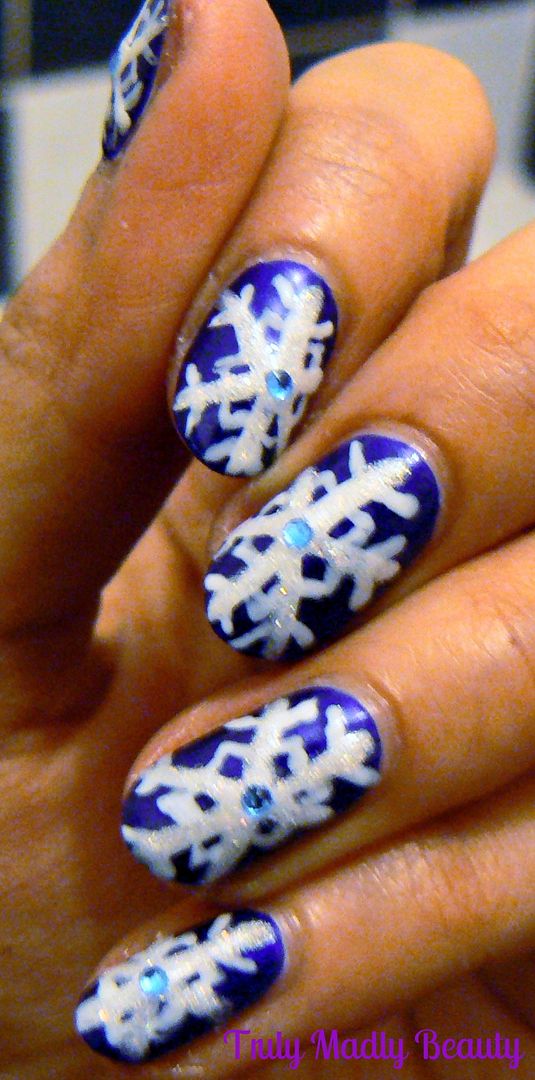 For my base I used this absolutely beautiful polish from Loreal Color Riche, Divine Indigo. This is the first polish I've tried from the range & I am in love! Not just with the gorgeous indigo purple satin shade, but the formula & brush are great quality too.
I then grabbed my nail art brush & some white polish to create the snowflakes. You can totally have fun with all the different & intricate designs possible for snowflakes! Here I went for a straight horizontal line, then drew a cross on the middle of the line, before adding on smaller lines coming out (I know...that made no sense)
I wanted to add a bit more detail to my snowflakes so I used Barry M textured polish in Lady & went over the white polish making them a bit more sparkly & 3D looking.
For a final touch I added on a small blue rhinestone in the center off each snowflake before going over with the obligatory topcoat :) Done!
Thanks as always for reading my lovelies! Wishing you all a wonderful Xmas!
Lotsa love to ya!