Hello there my lovely readers!
Today's nail art that I have for you gives me ALL the happy vibes. For me nail art isn't just a passion but also incredibly therapeutic...not only does it make me feel fab when the tips of my fingers are sporting some form of funky coverage, heck who doesn't feel good when rocking pretty nails, but whereas for some it may be a chore of a task, for me the whole process of nail painting is relaxing as well.
I also find it to be the biggest mood lifter, its the little things that help make one feel not so rubbish & for me having a fun manicure is one them. After having a pretty darn down in the dumps week with my wisdom tooth extraction developing into a glorious infection which I wouldn't wish on my worst enemy & trying to recall a time when I wasn't on a diet of painkillers and antibiotics, I decided I needed something to lift my spirits & as usual resorted to some nail art therapy...& this is what I came up with...
It may be pouring outside but its all Pastels & Rainbows up in here! Well this definitely succeeded in uplifting my mood greatly & would you believe me if I told you this wasn't actually even done with nail polish but in fact acrylic paints?
I've been meaning to experiment with the use of acrylic paints in my nail art for the longest time after seeing many nail artists use them in their designs, they are actually much easier to work with as unlike nail polish, acrylic paints wont go gloopy as nail polish quickly does when your working with it on a design. They also dry fast & come in array of colours to play with.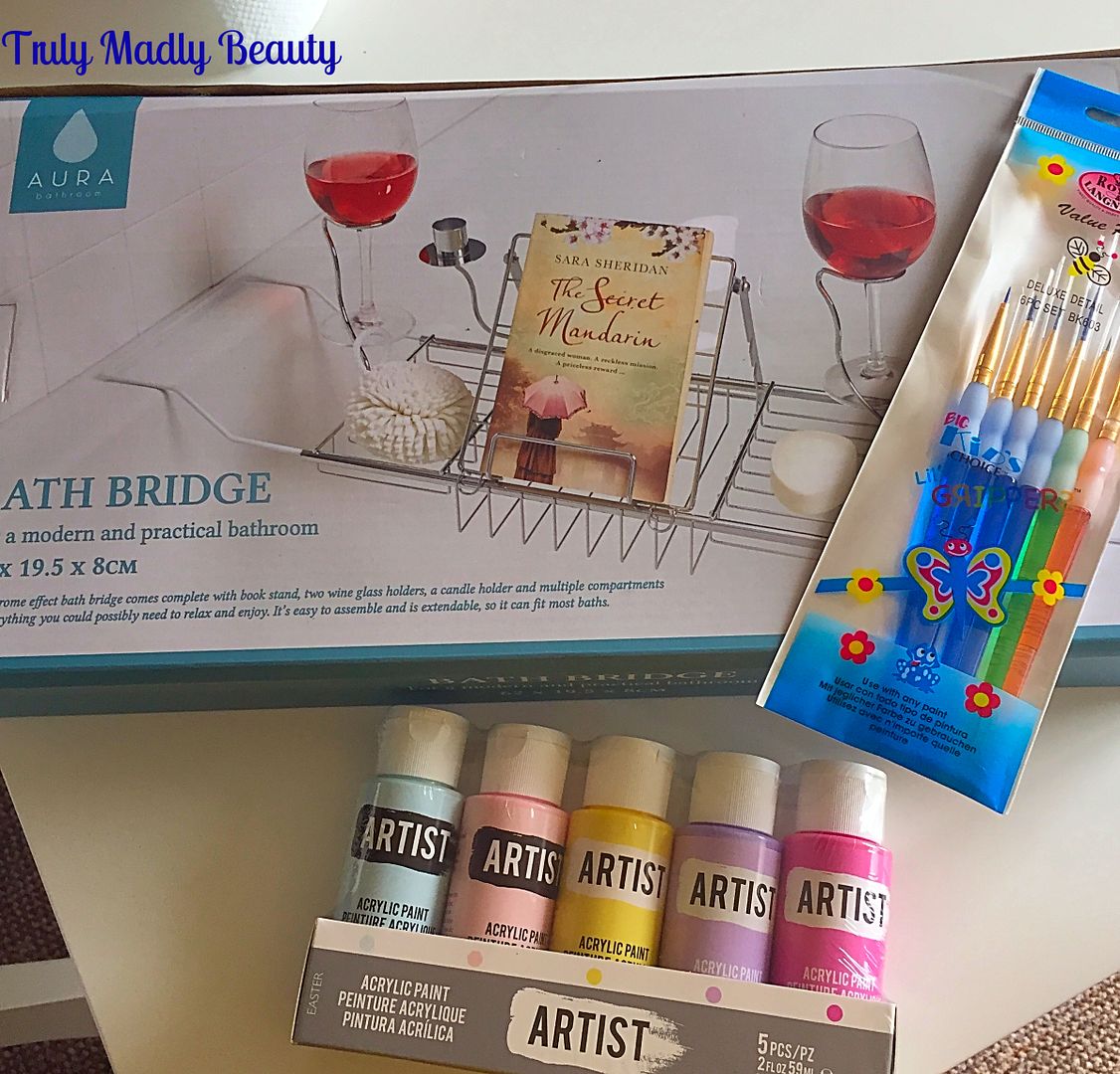 I recently discovered an amazing store in my town called The Range, how did I not know about this? Its sort of a DIY/Homebase/TK Maxx hybrid I'd say & stocks an array of everyday random bits & bobs. I initially went in to buy a bathroom rack so I can indulge in Netflix whilst soaking in the tub...I know....priorities right? Anyhoo I happened to get lost, which in this place is pretty darn easy as its humungous & ended up in the art aisle where I not only found these lovely pastel acrylic paints but a fab set of art brushes which I thought would be perfect for nail art...& for only £3?! So yup...these babies came home with mumma.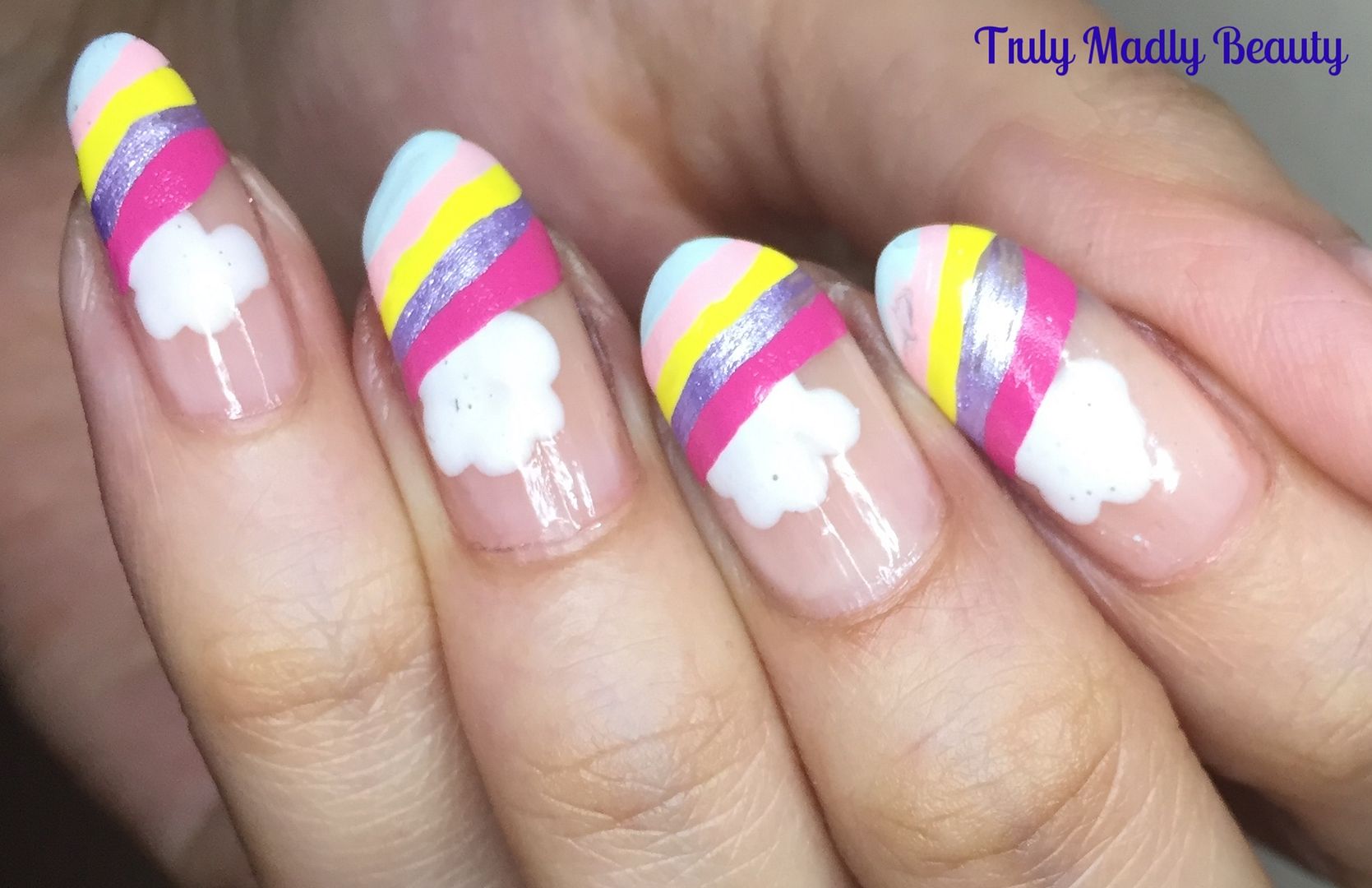 And both the paints & the brushes have exceeded my expectations above & beyond! Lets just say I'll be using acrylic paints a hella lot more & I'm so over the moon at having found great quality yet CHEAP brushes for nail art!
For this design I used one of the brushes from the set & got to creating my rainbows. I first applied a nude base using China Glaze Innocence, which is a very sheer, barely there nude but I just wanted a base to work on really. For the clouds I still used nail polish, just a random white, & using a dotting tool, applied a bunch of four to five dots overlapping each other to resemble a cloud.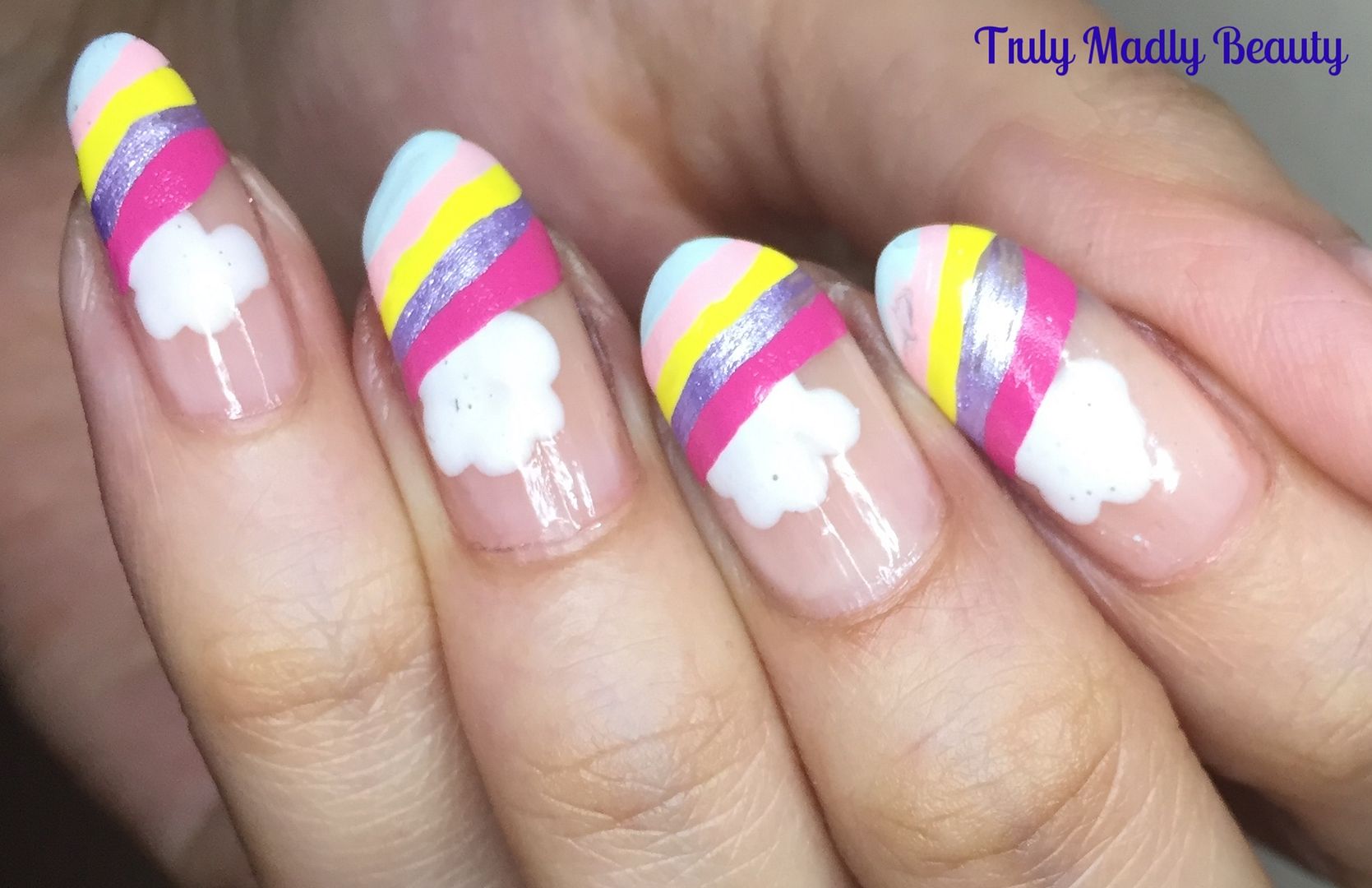 Now for the rainbows! Grabbing each shade in turn, I picked up my brush & simply applied a curved line starting halfway on the nail, slightly overlapping the cloud. So I began with bright pink first, then next to that added a line of the pretty lilac, which actually has a metallic finish, a pleasant surprise indeed. Then came the vibrant yellow & the pastel pink before finishing with the baby blue.
The brushes are as so soft yet sturdy making drawing fine lines so easy. Finish with a thick coat of topcoat to seal & add shine as the acrylic does dry matte and your done. And the acrylic paint can be easily removed using polish remover just like nail polish!
I hope you liked this cheerful mani, thanks for reading! Till next time!
Lotsa love to ya!