Hi there lovely readers!
Yes I know...Florals for Spring...groundbreaking ;) But nope not just Spring in my world, why I'm more than happy to rock florals all year round as I just adore them. I have a serious obsession for floral embroidered EVERYTHING at the moment, recently succumbing to the current blogger favourite EGO & picking me up a pair of the super pretty Cheska Floral Nude Mules. I never thought I would fall for this trend but the moment I saw them...I knew I needed such floral goodness in my life. And FYI they not only look fab, but are super comfy too...WIN.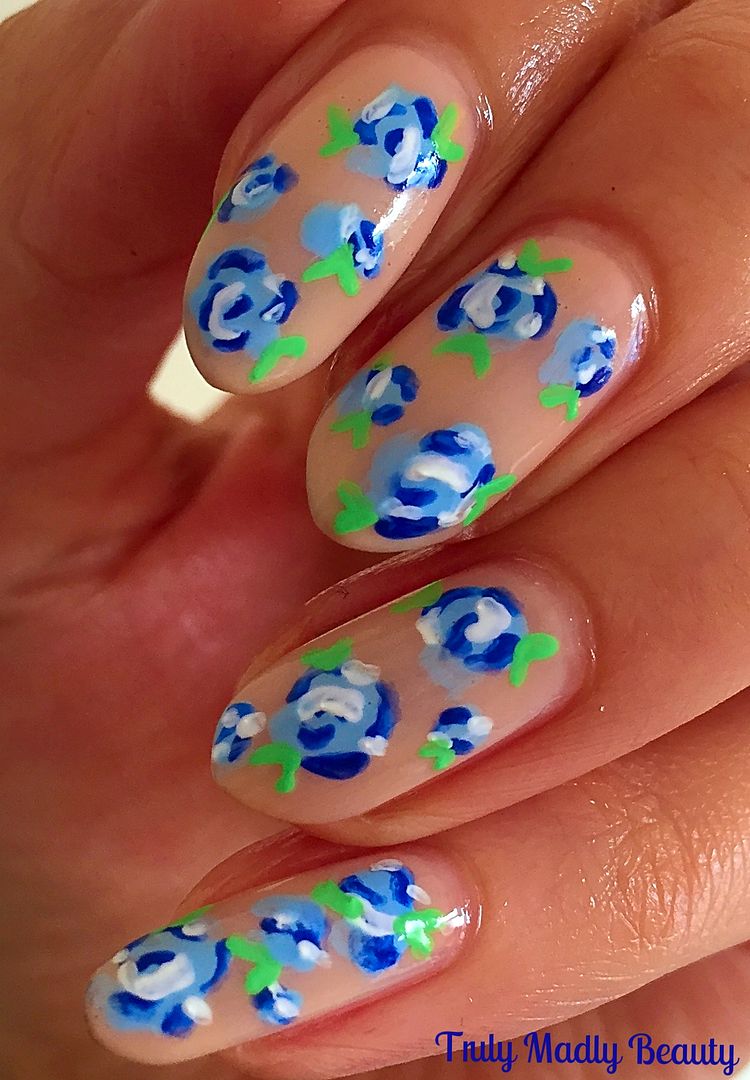 Anyway I digress, but basically yes, florals make me sigh in contentment...especially when they are on my nails. I do dig me a good floral design...err did I mention that? Wanting to venture down a slightly different path of my usual dotticure and dry marbling style that I love because heck its just so darn easy to do yet looks awesome, I wanted to play around with some of my acrylic paints.
I am really getting into using acrylic paints a lot more in my nail art, check out my Pastel Rainbow nails from a few posts back where I used mostly acrylics in that design. They are so great to work with as the paints don't go gloopy like polish can after a while giving you free reign and more time to get creative on your nails!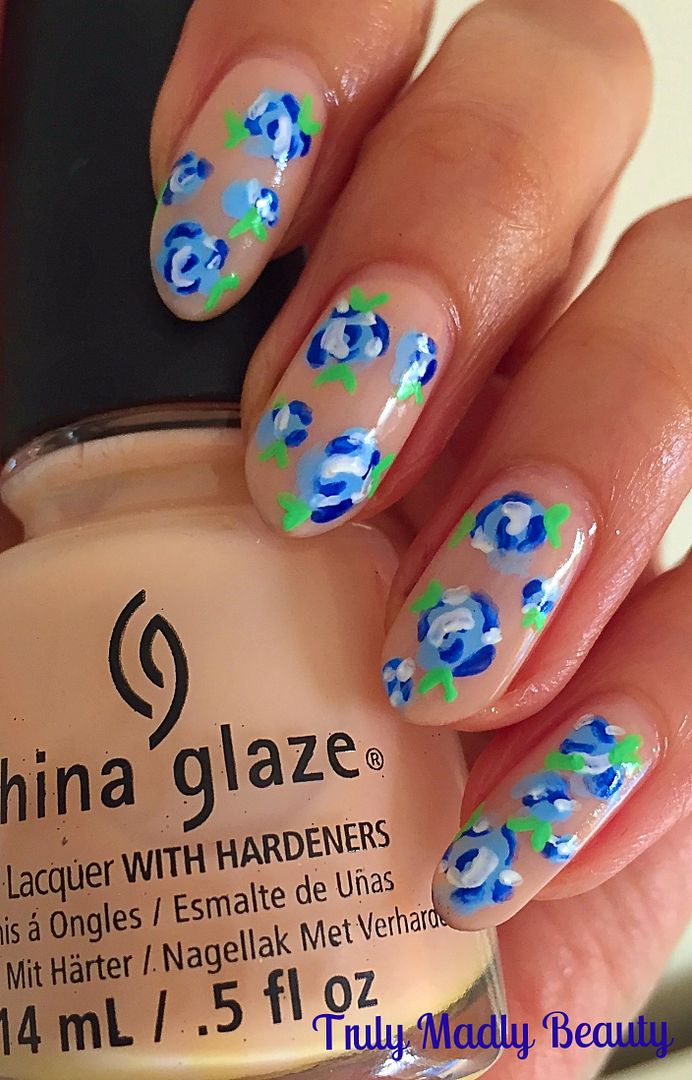 I was in the mood for a blue bloom look with a bit of nude thrown in & this is what I came up with using both nail polish & acrylics.
For my base I've applied two coats of China Glaze Innocence, a very light pale beige nude which makes it the perfect base as it gives such a lovely clean canvas to create a design on, I love it!
Now for the flowers! To create these couldn't be easier, what you'll need are three shades, a light blue, a dark blue & a white.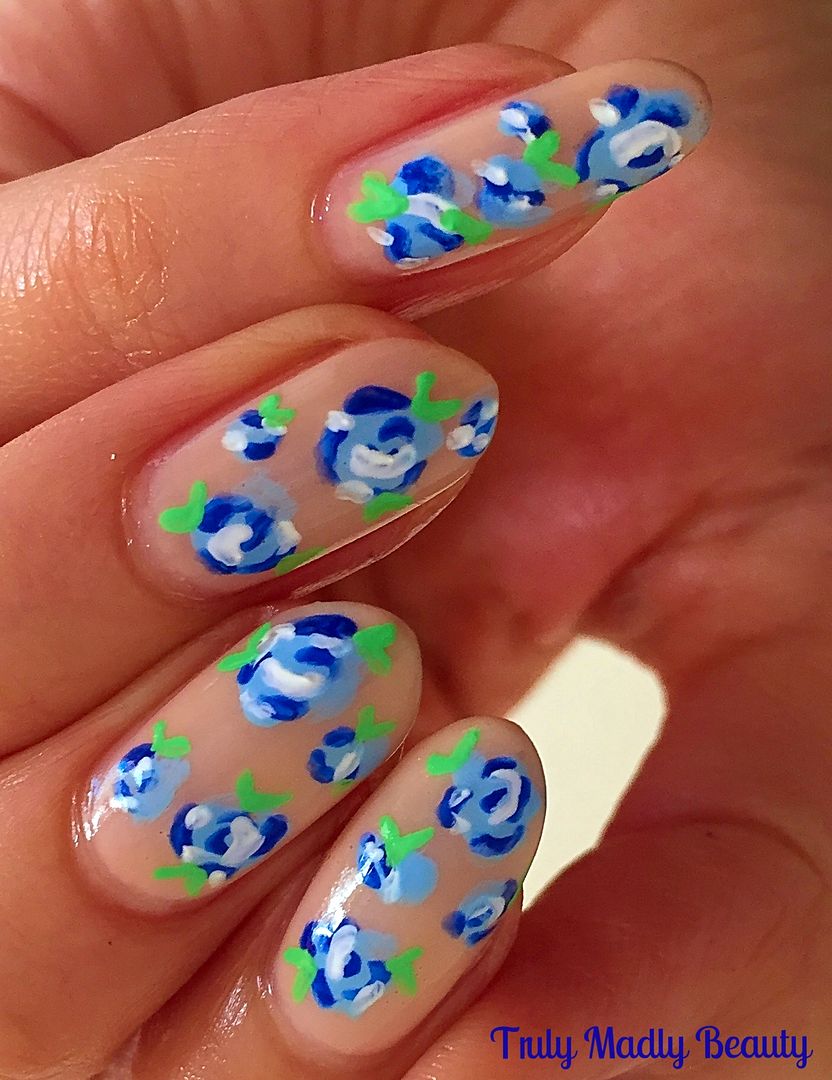 Start with your light blue, here I've opted to still use a polish by Loreal, Cloud Wow which is such a pretty perriwinkle blue creme. Using the brush from the polish apply 3-4 blobs of baby blue in various sizes on to your nails where you want your flowers to be.
Next is were I go in with the acrylic paint, so using a dark blue paint, & a fine nail art brush, simply applied 2-3 small swirls on top of the light blue to resemble petals.
Then using a white acrylic paint & another fine nail art brush, I did the same thing again, just adding on 2-3 smaller swirls on top of the other two shades to resemble a floral bloom. Don't worry about it looking neat, these blooms are ALL about the rustic aesthetic...thats what I'm telling myself anyway... O_o
For the final detail I grabbed some green acrylic paint & again using a fine nail art brush, just added on two little V's, like a triangle but without the bottom edge, for some leaf detail on to the blooms.
Finish with topcoat & that's it! Super easy yet super pretty floral nails for Spring, Summer, Autumn OR Winter! Thanks for reading beauts!
Lotsa love to ya!