Hello there lovely readers!
Halloween took precedence when it came to my nail art over the past few weeks but now that has passed *sobs* I can now embrace Autumn in all its glory with some Autumnal nails! There's still time non? Better late than never...I'm definitely an Autumn baby & adore this time of year with its abundance of burgundy tones, blankets, bubble baths, burning candles...ungh I LOVE IT!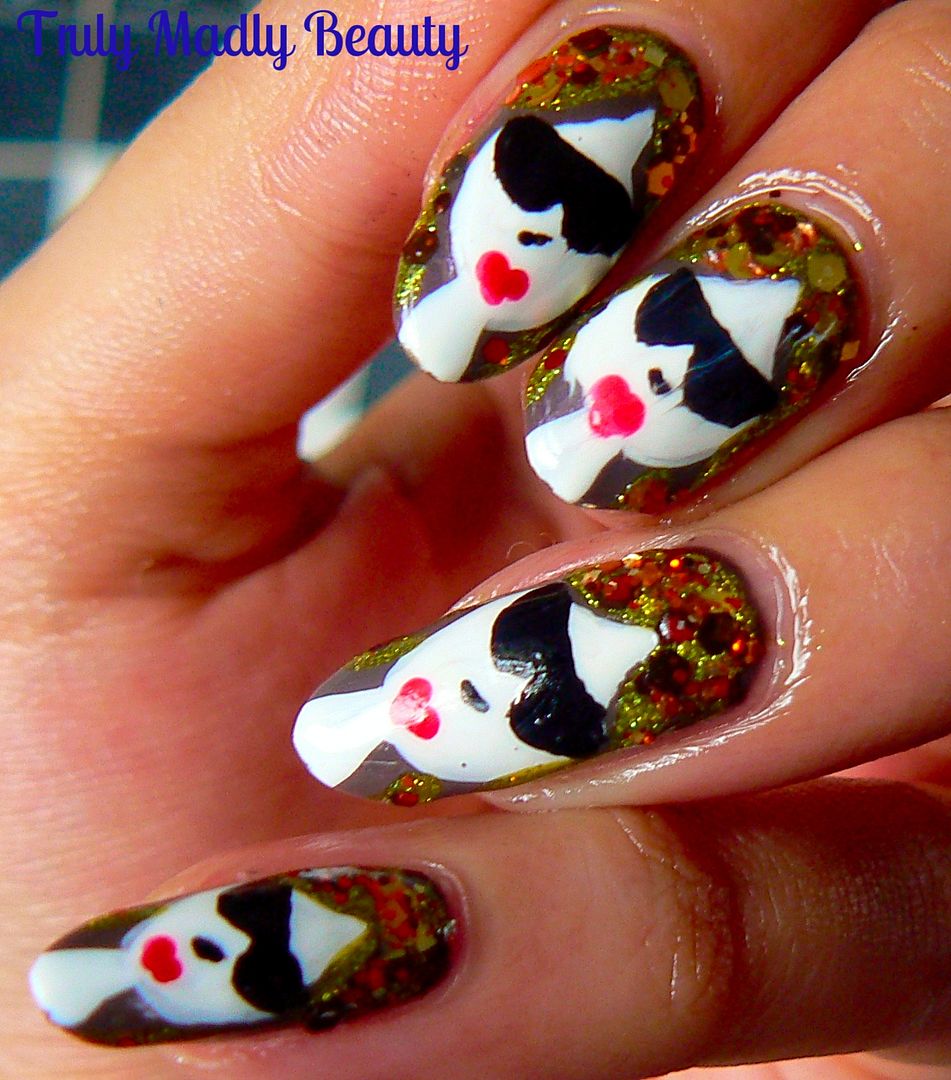 Naturally my favourite way of expressing myself is through my nails so I got to thinking & created this Autumn vibed design featuring a pouting painted diva with vibrant flowing hair reminiscent of burnt Autumnal leaves!
I was inspired by a Robin Moses Tutorial on YouTube, her nail art designs are wonderful, in her design she created the one lady accent nail & incorporated her flowing Autumn/Fall leaved hair over the remaining nails. I loved the look so much I decided to do an individual painted lady on every nail!
To re-create this design is easier than it seems & I've done a step by step pictorial for you to show how you I did mine...
Begin with your base colour, wanting to keep with the Autumn tones I reached for Barry M Dusky Mauve. Remember when everyone went doolally over this shade due to its high dupe level of Chanel's Paradoxal? Here I've applied 2 coats of this lovely purple griege shade.
Now to begin creating our shaded divas, start with applying her slender neck starting at the tip of the nail, using white polish & a nail art brush.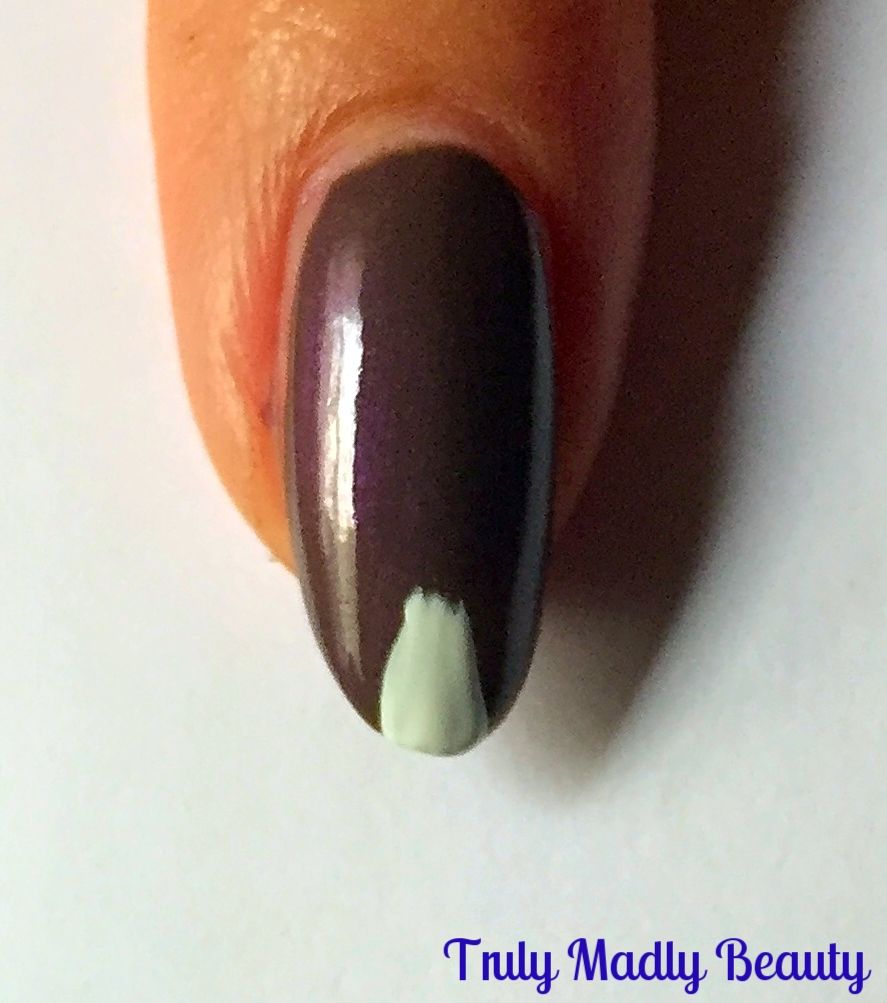 Now to create the face, using your thin nail art brush & white polish, start about 3/4 of the way up your nail where you want the forehead to be & draw a curved triangle with the top point angled slightly to the right, to give the appearance of bangs/fringe, then continuing on from the two bottom points of your triangle,curve a round oval like shape down to the neck before filling in.
Next step is to add on our ladies sophisticated sunnies! Because even though its Autumn, shades can be rocked ALL YEAR ROUND. To do these simply start by adding a thin horizontal black line just underneath the fringe/bangs.
Then with the same black, underneath your line add two semi circle-esque shapes to create lenses.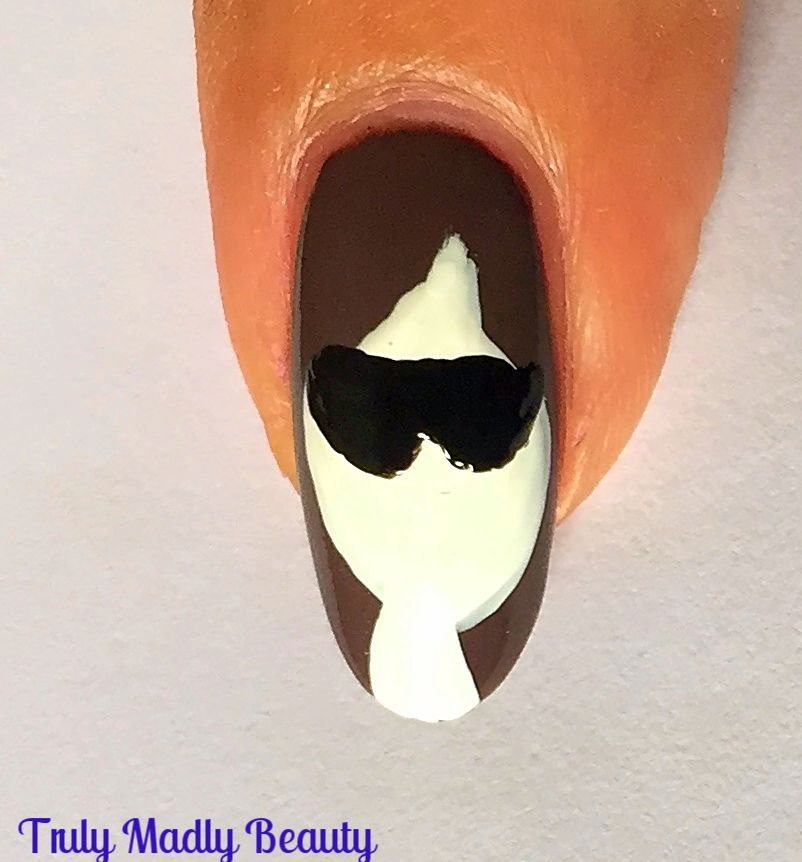 Now for our diva's pout, grab a pink or red polish & a dotting tool or a bobby pin & place two dots of red with one dot underneath, almost creating a heart like shape for the lips.
Final detail to the face is a tiny angled line for the nose before you can go to town with all the Autumn colours for her hair! I decided to use a shimmer yellow polish by Color Club to add on some strands in the brown, because its ALL about the balayage babes, before using the aptly named Autumn Leaves glitter polish by indie brand Coco Allure which I picked up from Etsy donkeys ago!
As the glitter in this polish is quite large I poured out a bit of the polish on to a piece of paper first & then used a toothpick to pick up the pieces of glitter which come in shades of burnt orange, reds, coppers & gold & just placed on to the hair.
Finish it all with a nice thick coat of topcoat & your done! Thank you Robin Moses as always for the inspo, a really fun & interesting way to wear Autumn/Fall nails! Hope you like them too!
Thanks as always for reading!
Lotsa love to ya!