Hi there lovely readers!
It's no secret that when it comes to makeup, I like to focus on the eyes. One of my favorite ways of mixing things up a tad is by wearing coloured contact lenses to really make the eyes stand out. In the past I've indulged in blues, greens, hazels from various brands including Acuvue & MesmerEyez, which have all worked well for me as daily & monthly disposables. I was offered the opportunity to try out some circle lenses by the brand Klenspop, an online Korean retailer of circle lenses, I've always been intrigued by them, having heard lots of things so I was looking forward to seeing how they would compare to ones I'd already tried.
I was sent a pair of the *Ruby Queen Grey Circle Lens, on first look I knew these would be interesting with their intriguing diamond like effect on the design. I was impressed with how fast they got to me, shipping was very quick & the lenses themselves came very well sealed in cardboard & bubble wrap. Now to be honest with you I have NO clue about all the various lens sizes, diameters, all that business, but in case it does interest you here's a wee breakdown: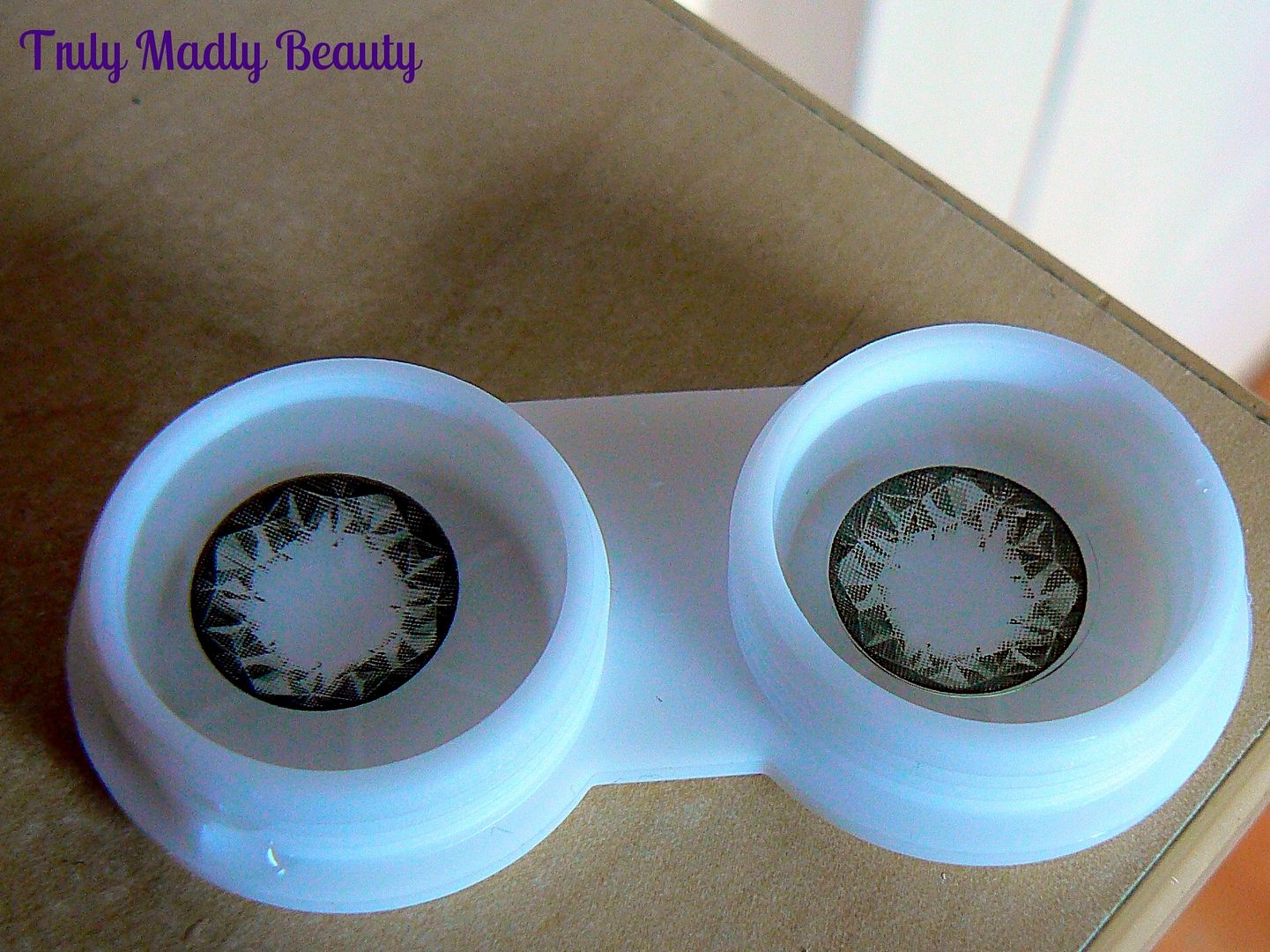 The lenses come stored within glass bottles in adorably illustrated box packaging, with instructions on the back that are pretty self explanatory to follow. You also receive a lens case to keep your lenses in as well as a wee pair of tweezers to remove the lenses safely.
Now I don't know if it was me being a complete dunce (probably) but I struggled with opening the glass bottles these lenses come in, they are sealed securely which is understandable & I managed to totally hash it up but with the help of a pair of scissors (safely!) I eventually pried the bottles open! O_o I used the tweezers to pick the lenses out of the bottles & placed into the lens case with some of the solution they came in.
Of course the truth is in the testing! To give you an idea of the difference here is a before mugshot of moi with my natural brown eyes...
And here we have with the Ruby Queen Grey Circle Lens in...
Verdict? LOVE. I especially love how the circle lens really gives the appearance of wider awake & noticeably larger eyes. The grey shade is absolutely lovely, the diamond effect gives a really interesting twist whilst still keeping the shade pretty natural looking which is great.

Of course the main test is easy wear-ability & these felt extremely comfortable whilst on. I suffer from dry eyes, so with contacts you can imagine this is an absolute nightmare! However regular application of eye drops will keep the dryness at bay & I find I can get maximum wear of about four to six hours from these.

I've only ever used daily disposable or monthly lenses, this particular brand as well as many other Korean brand lenses state that they last up to 6 months, some even a year! I'm not sure how I'd feel myself using the same lenses for such a long period of time so will most probably get 3 months usage before discarding.
Overall though I'm extremely impressed & will definitely be purchasing lenses from Klenspop in the future, I already have my eye on some violet ones! Not only are they comfortable & look great but they are also very reasonable with lenses starting at around $13. Shipping is quick & costs $5.50 so convert that & all together you're looking at just over a tenner. The fact that Paypal is a payment method option is another tick in the box for me, plus you can also enter in prescription details when ordering if you require them for your lenses.
Thanks as always for reading lovelies!
Lotsa love to ya!
Disclaimer - * products featured were sent to me for my consideration. I am not affiliated with the brand nor paid for this post, this review has been as always my 100% honest opinion! :)