Bonjour lovely readers! Having a good week?
Thought I'd roll out a post before I head off on my trip to the Big Apple on Thursday :) It's proving hard to contain the excitement, not only am I excited to see my friend, but also for all the shopping temptation! And I'm not even talking the big brands...Walmart...I'm coming for you.
Now as much as I adore my polish, I do like to mix it up & give the old nail wraps a turn on occasion. With a plethora of pretty designs to choose from & no polish drying time you're winning really! Thankfully the majority of nail wraps available on the market are pretty easy to use & whilst having a dig through a selection of nail wraps I'd accumulated over time, I found these bobby dazzlers from KISS
Eye catching for sure huh? I absolutely love the jewel design & twas even more happy at how straightforward they were to apply. In the past I've used nail wraps that have been so fiddly that I may have ended up having a rather unattractive banshee-like screeching fit & just ended up binning the things!
These however kept Aysh in a nice & calm state with their ease of application. After filing the nails to your desired shape & length, prep them as well by going over the nail with a spot of polish remover to ensure the nail bed is totally dry. This helps the nail wrap to adhere better to the nail.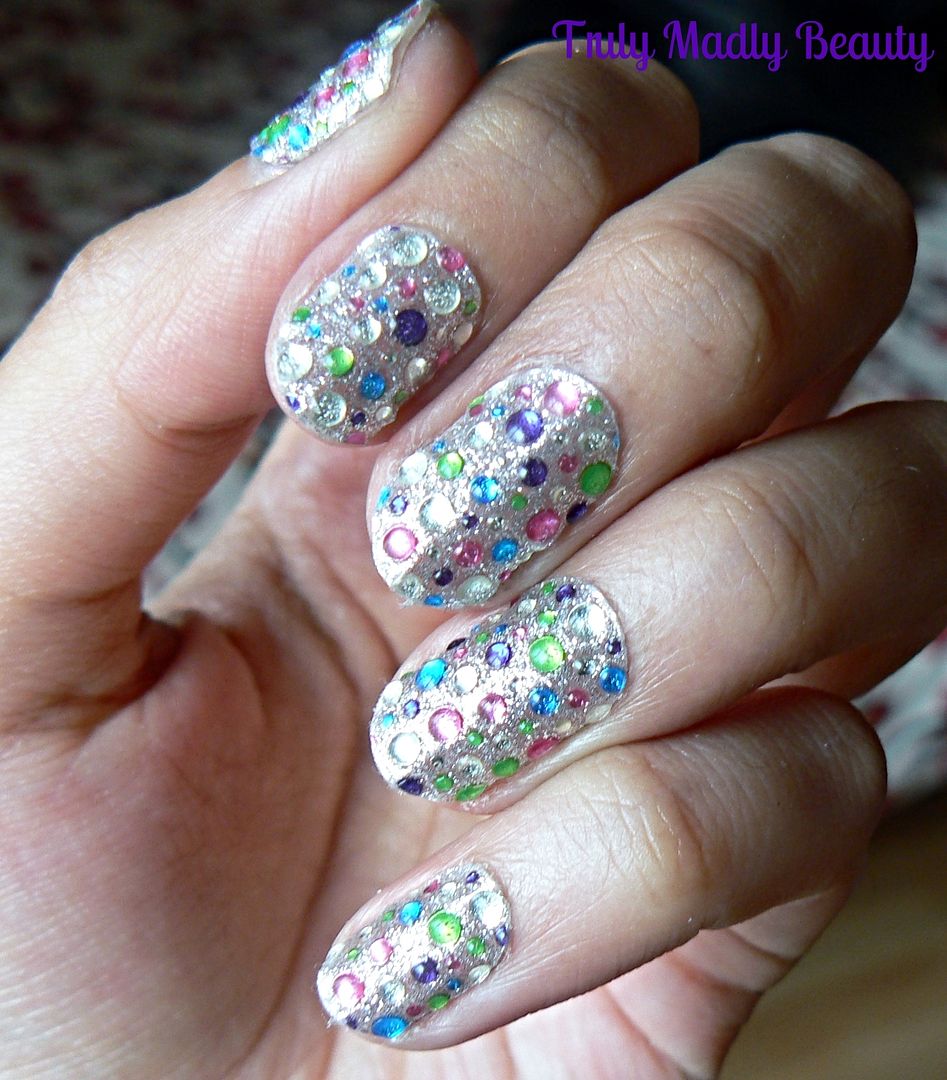 With these KISS nail wraps you simply select the wrap which best suits your nail size, peel off from the plastic backing & apply on to the nail. If your placement is a bit off, simply lift & position in place again until your happy. Then just trim & file off the edge. If you need to trim the wrap a little too beforehand you can do so to better fit on the nail bed.
And that's it, no topcoat required, just super jazzy nails ready to go! These promise 10 days of wear but I honestly can't comment on the longevity as me being me, I was already itching for a mani change the next day. And these peeled off super easily ;)
I'm sure that I've seen a variety of KISS nail products in Boots & Superdrug, I mean I've had these for quite a while, however I also found them on Amazon for a reasonable £5.99!
Thanks as always for reading lovelies! Have a good week & catch up soon!
Lotsa love to ya!