Greetings dearhearts!
I'm happy to come to you on this most dreary miserably wet Tuesday with some good bargainous tidings to perk you up a tad! Well it definitely made my entire week let me tell you!
Remember that glorious time when Nails Inc got together with one Glamour magazine & produced limited edition shades to accompany said magazine as a delightful free gifty? Well I'm happy to report that they've gone & done it again! Yup in this months issue of Glamour you can grab yourself a free Nails Inc polish & let me tell you dolls the colours on offer are BEAUT! Did I pick up all four? This is ME...of course I did!

I mean can you blame me? Its too good an offer to pass on seeing as these bad boys normally retail for £11, so when I saw a shelf full of Glamour magazines at the newsagent by my work (I knew I always liked them) I naturally dive bombed towards the shelf like a completely ordinary person I assure you. Bless the guy he even looked at me & said "You DO know these are all the same magazine miss?!"..."Oh YES sir...yes I assuredly do" Then I proceeded to explain my bulk purchase & his wife who didn't even realise about the free gift dashed straight to the shelf too! Always happy to spread the polish love.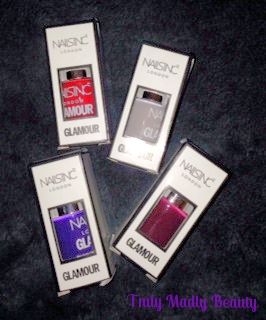 Please forgive the crummy phone pics! Tis all I had time for :( The four colours on offer this time are so fitting for the time of year & include a deep burgundy (Hanover Square), vibrant red (Tate), deep purple/blue (Wigmore Street) & a grey/beige (Marleybone Mews). If you want to see how they look then do check out Laurens fab swatches over on The Naily Mail.
And if that wasn't enough there's also a 20% off gift-card for H&M included in this months issue too! Glamour are truly spoiling us this month ;) Of course I then had the slight problem of having 3 extra magazines about my person but that was quickly resolved by my passing them on to eager workmates making me feel like a veritable Santy- Claus, I even let them have the gift cards cards...the polishes stayed with me though ;)
Go on & grab yourself a bargain my lovelies! For £2 a pop you can't go wrong! Thanks for reading lovelies!
Lotsa love to ya!