Happy Sunday lovely ones! So today's the day the clocks have changed bringing the inevitable question that is always asked forth...Is this the GOOD one?! Well an extra hour in bed tells me YES it is hurrah! Though it almost means darker work commutes *le sigh*
If you follow me on twitter you'll know I spent yesterday at the glorious event that is the MCM London Comic Con expo :) It was my 2nd time going & was just as epic as the last, such a fun day was had, the atmosphere there is always fantastic & I'm already planning next years!
So Halloween is just around the corner now which means a few more Halloween manis can be squeezed in I think! Today I have some Spooky Eyes staring at you from my nails...Boo!
To create my spooky eyes with their evil stares I started off with a beautiful dark base of black with flecks of gold glitter courtesy of this cute dinky bottle of Arezia polish that my sister in law brought back for me from HK. Such a lovely & unique shade & the quality is fab, I'll have to request some more of this brand when she next goes!
Then for those creepy stares I used the bright yellow that is Luis Lemon from Models Own Ice Neon collection & a nail art brush. To create the eye shape just start of with drawing two straight angled lines & then apply a curved tear drop like shape underneath.
I had to go over the yellow a few times, it only occurred to me afterwards that the smarter thing would have been to do the eye shapes with white polish & THEN go over with the yellow for an even brighter finish...plonker is me.
Finally I added some thin pupils to make my eyes look suitably spooky & finished with a coat of topcoat.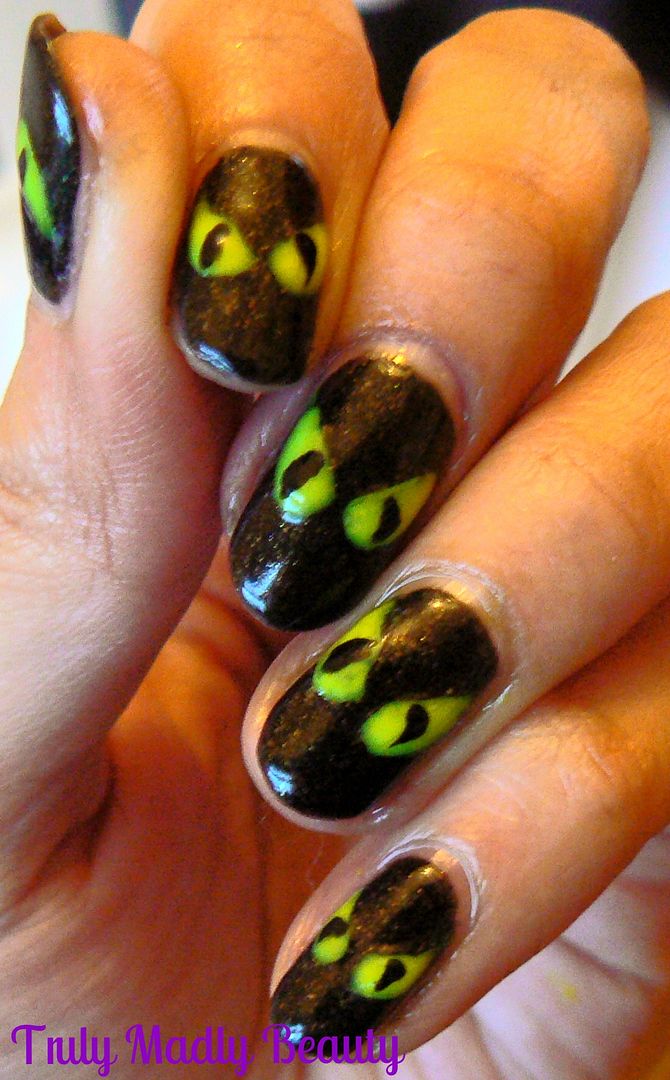 Hope you liked the mani dolls! Thanks for reading!
Lotsa love to ya!