Ello ello sweetpeas & a happy weekend to you!
Boy am I glad to see it too, this week has been all kinds of cray at work, yet I did manage to grab a wee break on Thursday by popping in to the big city for the Pegasus PR event in Mayfair which was lovely. A fab time was had getting my hair did as well as catching up & grabbing a delicious bubble tea with my blogger pal Jo. Also looking forward to next week which will be delightfully shortened as my chum Ram & I will be taking a wee road trip down to Brighton! Its my first time visiting & I cannot wait after hearing lots of great things!
A quick little outfit post on the ol' blogaroony today dears featuring two of my favourite prints all in one delightful dress ...posies & paisley!
Isn't the print simply swoon worthy? I found this little gem tucked away in the New Look sale rack for a most bargainous £7, the colours & design of the print drawing me to it like a moth to flame & because it was such a steal I didn't even feel a smidgen of guilt at adding yet another dress to my worryingly overflowing wardrobe!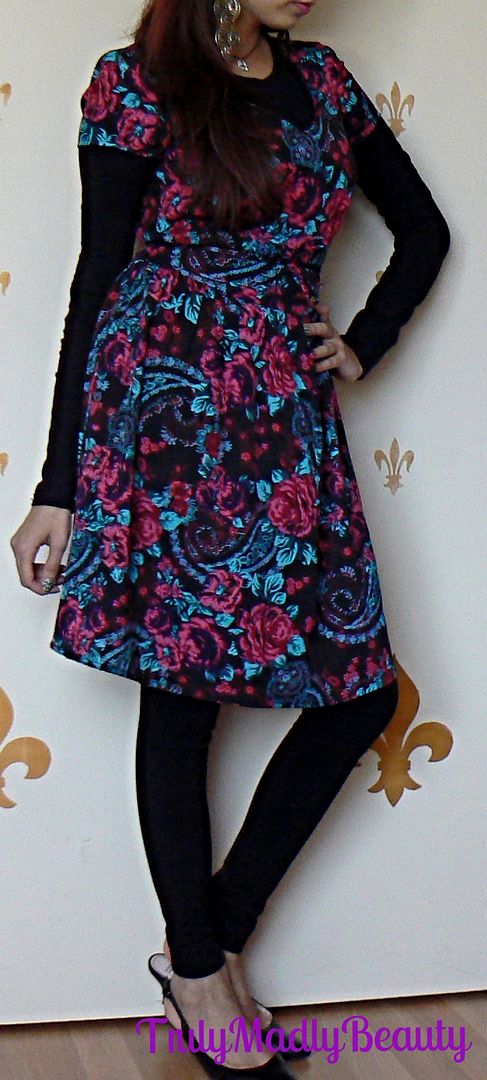 The kitten slingbacks were an M&S purchase donkeys ago, I always make sure whenever M&S have a sale on, to have a quick browsy at their shoes as I've found some lovely finds in the past!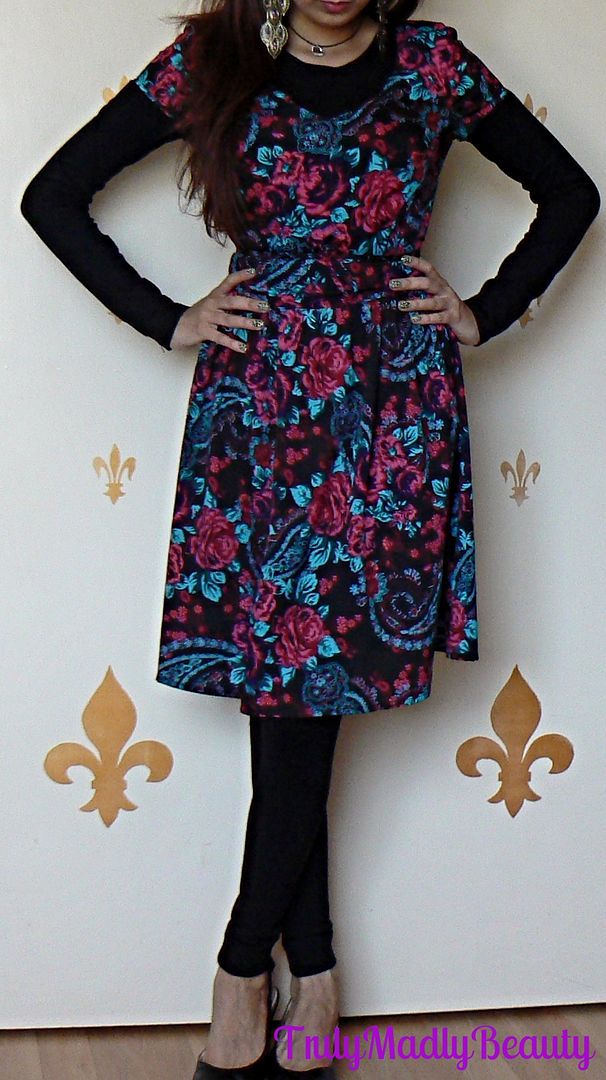 One thing I'm loving at the mo is hair accessorising. I'm extremely boring when it comes to my hair, usually just straightening the locks so I love looking for other ways to jazz it up. Now as much as I love those floral crown doodads, I fear they simply make me look a bit silly on account of my midge head! However I'm still able to get my floral fix thanks to this glorious headpiece designed by my super talented friend Jene Stefaniak...
I mean I'm not being biased at all ;) but damn is this girl talented! Jene is currently living the life & following her dream in NYC as a fashion designer & specializes in bespoke couture & detailed handmade garments like this beautiful headband she custom designed for me which not only features florals but a bit of lace for a gothic edge which is right up my street...J'ADORE!
Thank you my darling friend! I'm telling ya, this girl is going places. Thanks for stopping by lovelies, enjoy your Saturdays!
Lotsa love to ya!