Bonjour sweetpeas! Hows this week treating you all thus far?
Twas dreading the work commute this week, as for the past month there have been threatened roadworks leaving moi in a highly panicked state, especially at the thought of leaving home at the crack of dawn to avoid traffic! But...as luck would have it, the drive has been bliss! One of the fab things about school holidays...no traffic *sighs* And even with the roadworks I'm still arriving at work on time, hurrah!
Speaking of work, I thought I'd throw on ze blog a recent work outfit. I am nothing if not a major bargain hunter & take pride in the fact that pretty much every piece of clothing I own was bought on sale! I've even been known to tell mates to have a little patience...that dress they MUST have...those SHOES they will simply die without...just wait a wee while & hey presto, said items can be nabbed at a fraction of the price! Of course I know a lot of it is luck half the time but ya never know eh?
This here dress was one such sale purchase, its prettiness immediately caught my eye whilst browsing through H&M but I told myself to hold off for a bit & a few weeks later what do you suppose I found on the sale rack for a fiver? :D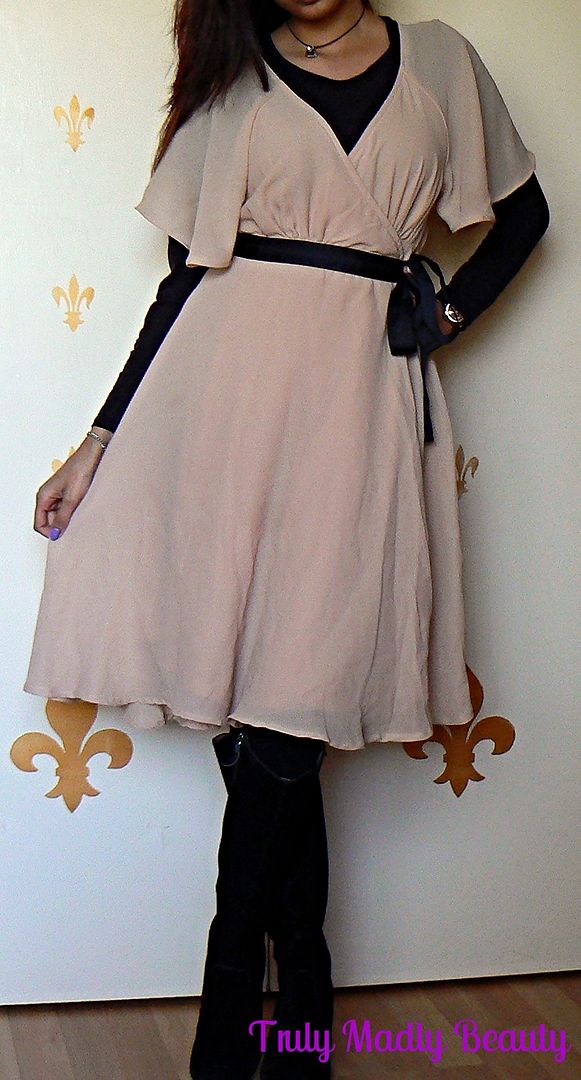 H&M truly do have the best sales, go have a hunt next time you're there & see what bargain treasures you can find! This beautiful mauve pink wrap dress with its dainty sleeves has a fabulously feminine 1940's vintage style vibe, it fits on like you would a jacket, slipping the arms through the sleeves before bringing the dress around & buttoning up on the side before tying the black belt. (Just in case you weren't sure how the whole 'putting on a jacket' business worked...)
The material is a gorgeous mauve/rose pink chiffon that flows around the knees so prettily making one perform most unnecessary swishy manoeuvres & twirls thus earning themselves one or two odd/concerned/frightened stares.
The knee high suede boots were a Clarks purchase a few Boxing Day sales back & without a doubt my favorite pair ever. These babies have got me through entire weekends in London with both feet still intact *high five*
Have you found any fab bargains of late? Thanks as always for reading my lovelies! Till next time!
Lotsa love to ya!