Hope you're all having a good week so far? Keeping things short & sweet today with an outfit post, a recent work ensemble featuring a dress from a store that's steadily becoming a favourite of mine, Bershka. Every time I pop to Westfields this little store lures me in & its impossible for me to leave with out a pretty item in my clutches, though in my defence its (usually) always on sale! This is both very good yet very bad ;)
I picked up this particular dress a while back, so simple yet so pretty with its crepe like black fabric that just flows & fits so nicely & of course the cute peter pan collar with jewel embellishment. I do love me a cute collar :)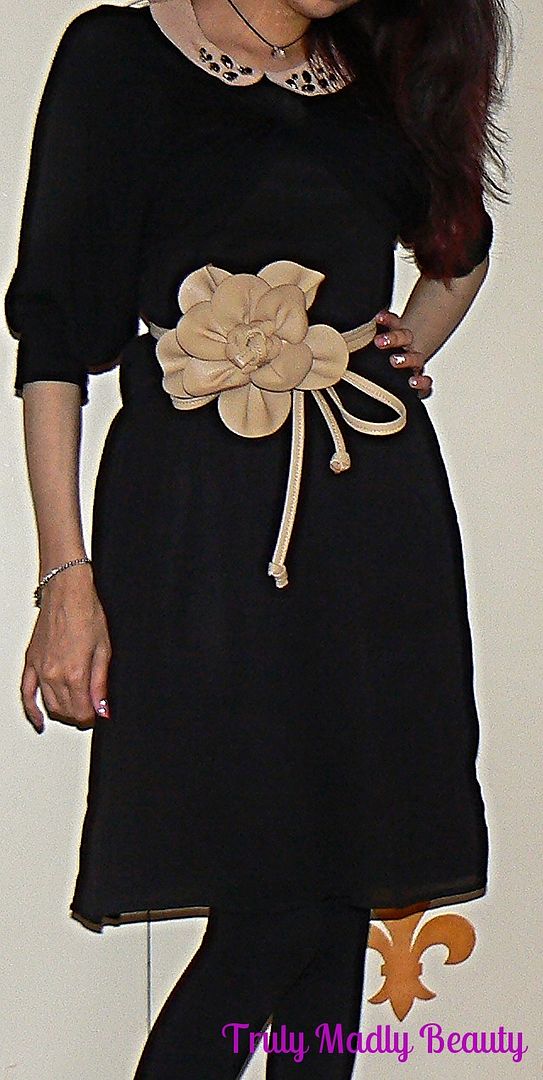 I threw on a light black cardi from Warehouse with winged sleeves, however the dress called for some extra pow wow & what better than a flower accessory roughly the size of ones face? The beige belt with the pretty bloom was gifted to me & from Forever 21 I believe.
Finally I have to talk about those shoes...it is love. These were a birthday present from mumma bear last year & she really does know her daughter well, in fact she surprised me with her spot on-ness (new word I may have totally made up) I love the whole Ted Baker/ Vivienne Westwood vibe these pumps have going on which have a wedge heel, peep toes & pretty bows on them...all of my favourite things in a shoe. She found these in a boutique in Windsor which brings in interesting pieces every now again...most definitely calling for a visit in the near future...
Are you a fan of Berska's wears? Thanks as always for stopping by dear ones! Till next time!

Lotsa love to ya!