Greetings to you lovely readers! Let us rejoice for a moment with the fact that its Fridaaaaaaaay!
The added factor of having today off work also has me in a happy state despite the longness of this week. I experienced a most spectacularly elegant fall in the gym, landing oh so gracefully on my backside & have since been limping around like an eighty year old...not my finest moment o_O Anyhoos I've popped to the docs this morn & am now armed with industrial strength painkillers & anit-inflammatory gel that will hopefully have me back to norm in no time!
Doing things a bit different today with an outfit post ooh errr! One of the things I've been over the moon about since my change of job is that fact that...wait for it...I get to wear my OWN clothes to the office. Now I know this wouldn't be a huge deal to most but trust me, when you have endured many years of wearing a god awful uniform that does absolutely nothing for your skintone, the fact that I no longer need to is a revelation :)
As well as a polish, one of my other weakness is pretty dresses. That is what makes up most of my wardrobe to be honest & thankfully a lot of them can be styled in such that they work for both casual & work attire, so slowly all those dresses are coming out for proper loving including this blue rose print & lace dress from Dorothy Perkins.
I just fell in love with this dress the moment I saw it, I knew it had to come home with me. I'm an absolute sucker for floral prints & the blue rose pattern on this dress is so pretty & different. The additional layer of delicate black lace on top of the dress gives it a gothic-y edge that is right up my street.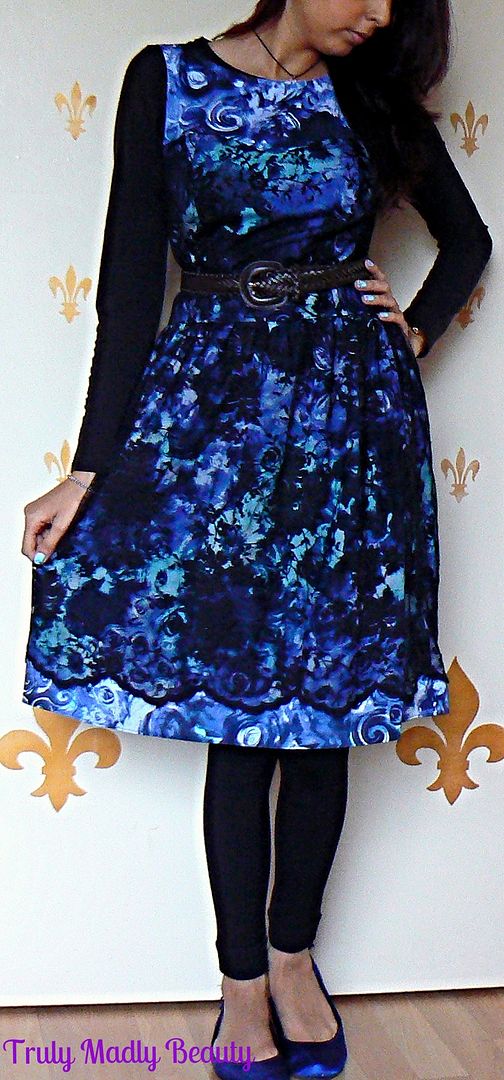 Blue dress called for blue shoes of course so I simply completed the outfit with these pretty blue satin pumps that I snapped up in a Debenhams sale donkeys ago as well as a bit o' cinching of the waist with a plait belt :)
Thanks for reading as always lovelies! Oh and did you know? I've guest blogged this week over on the lovely Safiyah's blog FrootiBeauty! So do pop on over for a read :) Till next time!
Lotysa love to ya!