Ello ello strangers!
Hope to find you all good & well? I've finally managed to catch some time & give the ol' blogaroony some attention as its been mighty neglected of late! The new job is keeping me busy & even though its all extremely overwhelming, new place, new people etc not to mention the fact that I've gone from a job that I could do with my eyes closed to something I've no clue of & will have to learn in time, its all going well so far!
Now there's one thing that I love more than getting nail mail...& that's getting nail mail from my beautiful friend Chelle! Cheeky lovely thing that she is, she really does spoil me so by sending me some wonderful care packages & this year for my birthday she sent these absolute beauts along with some yummy sweet treats!
Haha she really does know what a glitter fiend I am because look at all that divine glitter! *swoons* Thanks to Chelle I've been introduced to the Ulta3 range of polishes which are available in Oz & are amazing! I couldn't decide which one of these pretties to put on my nails so decided to do a rainbow glitter gradient that would give Joseph & his technicolor dream coat a run for its money & used them all!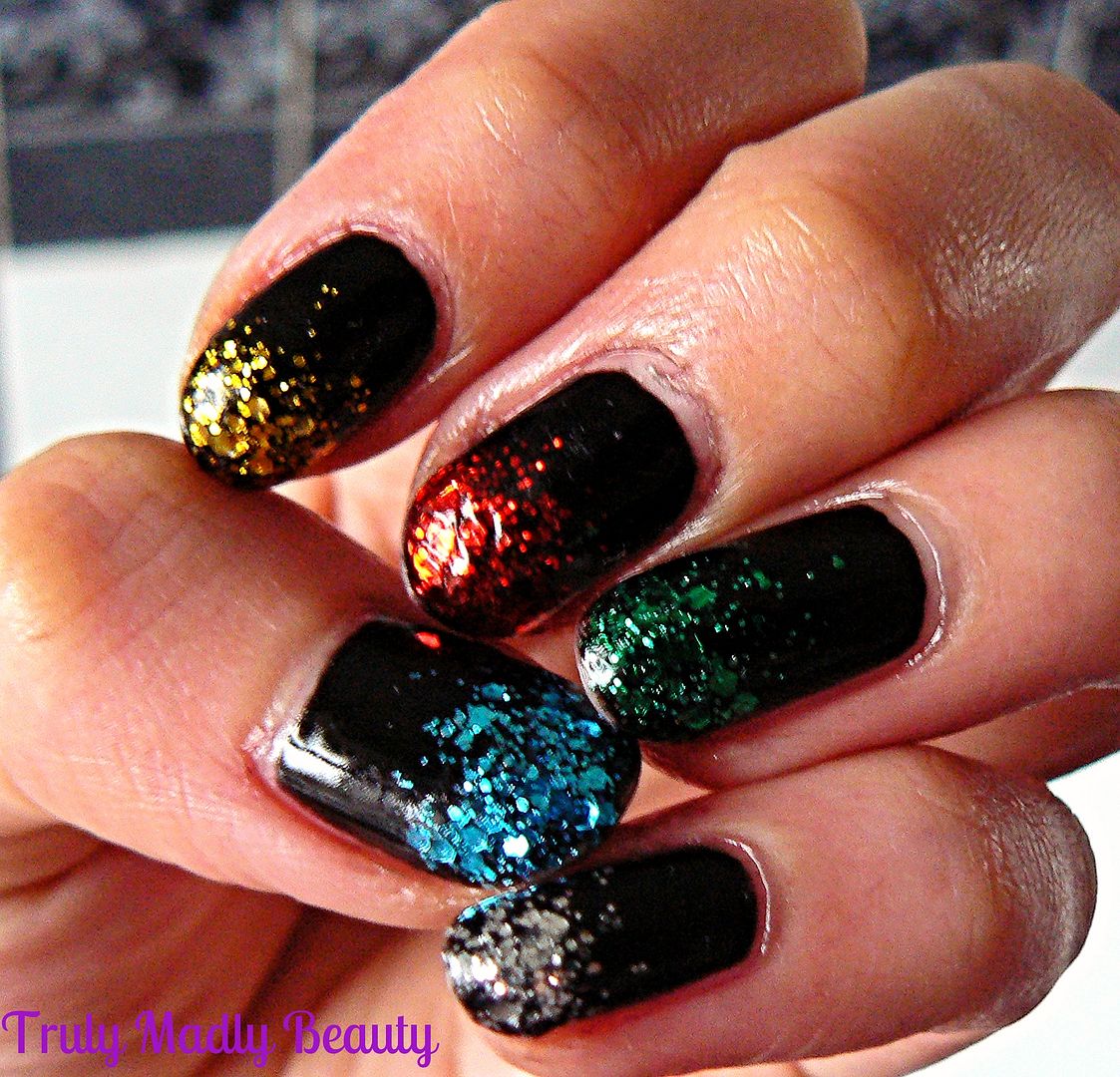 Hey its Xmas...sparkle is required & lots of it ;) After applying a black base using my favourite glossy W7 black, I started with Ulta3 New Years Eve which is a lovely blue on the thumb & Ulta3 Pot Of Gold on the index finger.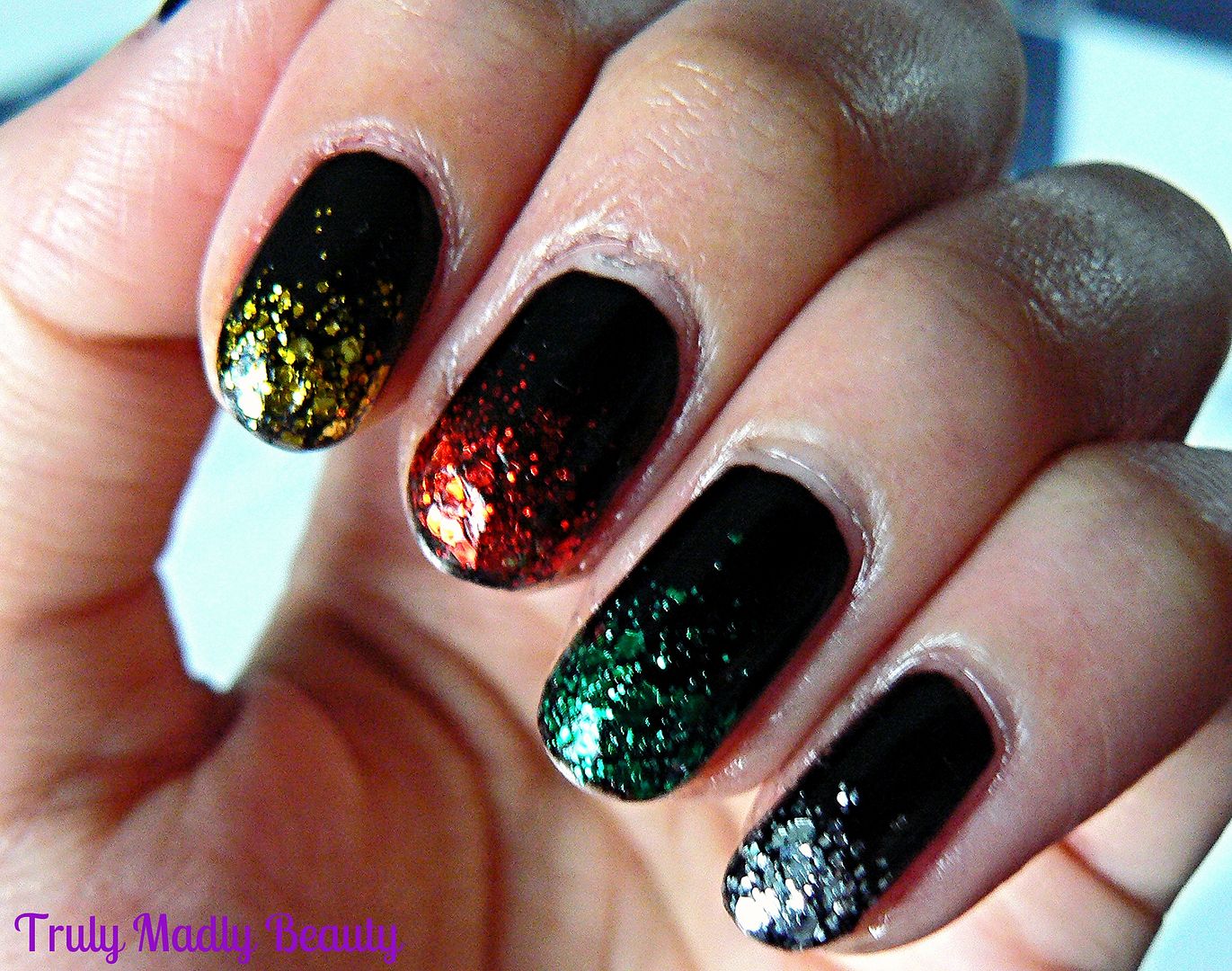 For the middle finger I used the red Ulta3 Disco Fever & my favourite of the bunch Luck Of The Irish on the ring finger because I just luuuuurve green ;)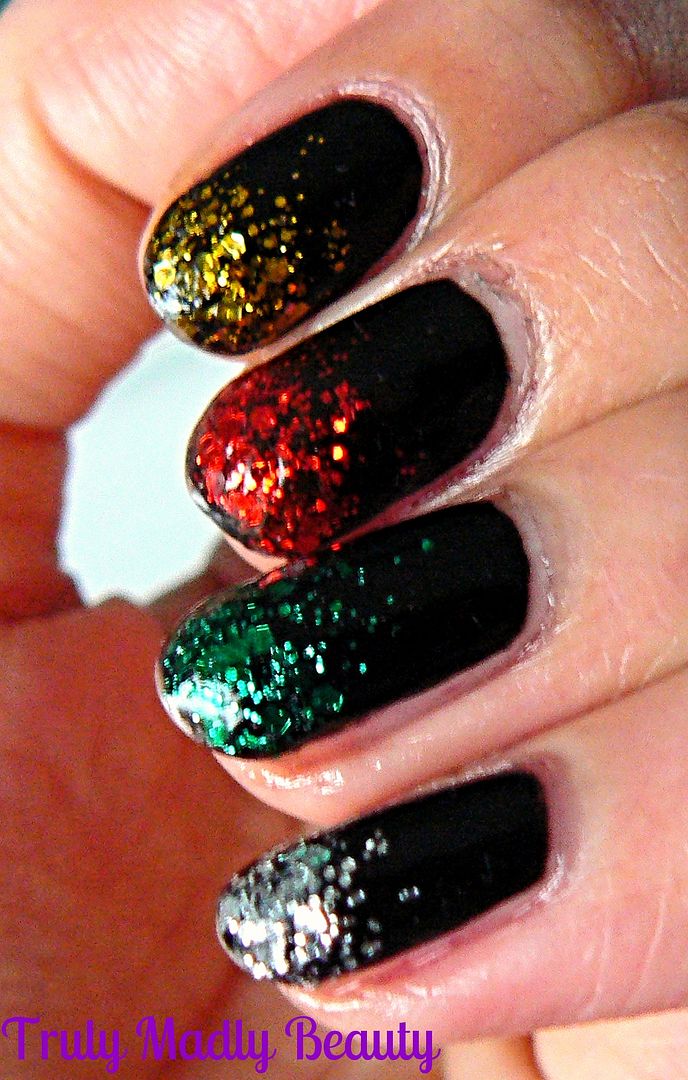 Finally on the little finger I used the silver glitter Ulta3 Twinkle Toes....sadly at this point I ran out of fingers & didn't get the chance to rock Ulta3 Over The Rainbow *sad face* All the Ulta3 glitters are absolutely rammed with both small round & larger hexagonal glitters giving a full on sparkle effect, I literally only needed two coats for the gradient.
Thank you my darling Chelle as always for the beautiful care package! Hope you liked the sparkly mani, are you digging out your favourite glitters this festive season? Thanks for reading!
By the way dolls I forgot to mention, I was recently featured on the fab Just Nice Things blog for 20Questions! :D Pop on over for a read!
Lotsa love to ya!