Bonjour mon petit choux! Are you all having a good week my dears? Feeling sickeningly cheerful for a Tuesday as I managed to nab me a couple of days off work huzzah! So I'm grateful I can at least experience & enjoy this delightful weather we've been blessed with instead of inflicting my stare of death on to patients coming in to my work expressing how gorgeous it is outside! ;)
Mixing things up on the ol' bloggy today with a wee little outfit of the day of what I wore on my weekend adventures. I'm determined now that we have a bit of sun to wear the hell out of all the summer clothes that I seem to have accumulated at an alarming rate...I honestly don't know where they all seem to have come from...honestly *tumbleweed*
This little gem of a dress is from Dorothy Perkins & I actually found hidden away in my car boot cold & forgotten poor thing! I know...I have a serious dress buying problem & am seeking help. But am so happy to have found it & give it the proper loving it deserves as I adore it! The flowy chiffon skirt in that divine mint shade combined with a cream lace vest & pleats make for such a pretty dress. This is actually a size 10 but I loved it so much, plus it WAS on sale that I nabbed it like a crazy lady & fixed the slight looseness with a gold plaid belt for some cinching action, finishing with a light white cardi.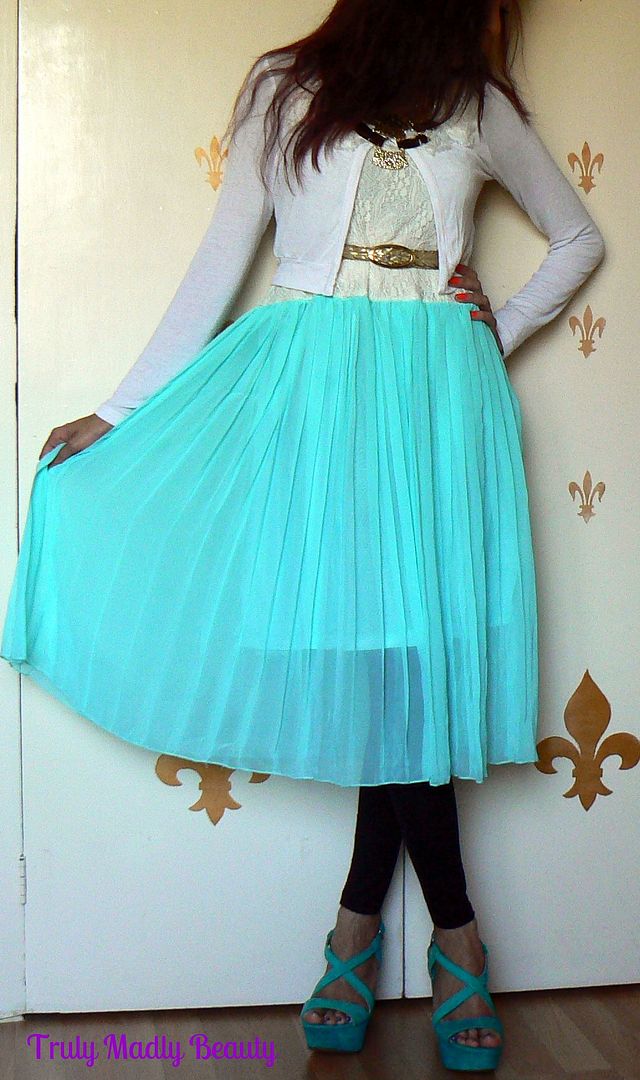 The shoes had their very first outing as well & were a Zara sale purchase. Even though the sale itself was pretty abysmal with only £10 off here & there, I somehow found myself within its clutches & was drawn to these absolutely beaut platforms like a moth to the flame. I'd actually been eyeing up the coral version of these all month but I much prefer the turquoise! They are also a wee bit high so I did feel a bit Bambi-like in them at first & was subjected to my mothers wonderful "Are you frickin kidding me?" face but I did it! They passed the Westfields test & after a whole day of prowling the mall my ankles were still intact! Go me.
Neck jewellery was this statement gold piece which has a bit of an Aztec or Egyptian vibe going on...can't really decide which...either way it was an awesome bargain buy from Wallis at just a fiver cut down from £20. Definitely keep a look out for Wallis jewellery sales dolls, they have some seriously gorgeous pieces at the most bargainous prices!
Thanks for reading as always my lovelies!