Ello ello lovely readers! Hope you're all having a fab weekend so far? Found myself up & at them with the birdies today…far too early to be awake on a Sunday. But no matter, I definitely plan on countering this with a nap later on in the day…oh yesh! God bless nap times…
With the weather steadily getting nippier, my lips definitely get affected & start screaming out for aid. I've always suffered from terribly dry lips, a fact that annoys me greatly as it means even wearing lippies is a task & a half & requires a long process of lip scrubbing, exfoliating & moisturising before I can even think about wearing any!
One product that has helped enormously is the illustrious Carmex. I love this stuff so much, not only does it come in one of my all-time favourite scents Cherry (look at last post ;p) as well as yummy strawberry, vanilla & a tingly mint, but it does a fab job of keeping my lips hydrated, moisturised & is the perfect base for whenever I use lipstick which just glides beautifully on top of it. I always have one on me, I keep a pot by my bedside, on my dresser, one at work, in my car & handbag…So yeah…I'm a fan ;)
Now I have a new favourite lip product that has not left my side these past few weeks & is another member of the Carmex family, the Carmex Moisture Plus Ultra Hydrating Lip Balm Pink Sheer Tint.

I have been using this balm religiously lately & it's knocked my MAC lip conditioner off its pedestal, I love it that much!
This really is such a beautiful little product, I love that it comes in a roll up stick form, much sleeker & easier to use, especially if you're not a fan of dipping fingers into pots etc.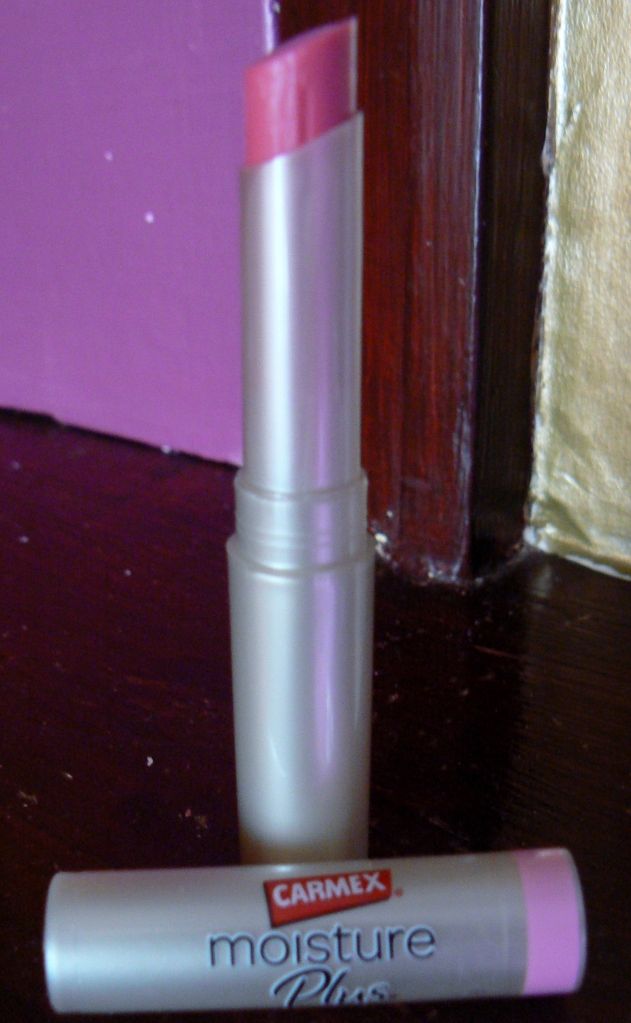 The balm itself is super moisturising & feels lovely on the lips, with the addition of aloe vera & vitamin E helping greatly & giving a refreshing but not uncomfortable tingly feeling too.
The deal breakers for me however are not only does it contain SPF 15, keeping me comfortable in the knowledge that my lips are protected, but it also comes in this beautiful Pink tint so gives the loveliest hint of colour to the lips, perfect if you're a lipstick-phobe like me but still want to feel like you have something on :D
I'm addicted to this stuff & have already almost used it up entirely, so a re-stock is definitely on the horizon. I've seen a Peach tinted one as well that is calling out to me, & if there are other shades available I may have to grab them too! The Carmex Moisture Plus Ultra Hydrating Lip Balm is available from most Boots, Superdrug's, chemists & supermarkets & retails for around £4.50.
Thanks as always for reading pumpkins! Have you tried the Moisture Plus Hydrating Lip Balm? Are you a fan of Carmex too?
Lotsa love to ya!
Disclaimer – some products featured were sent to me for my consideration. I am not affiliated with the brand nor paid for this post, this review has been as always my 100% honest opinion! :)