Evening my sweets! Hope everyone's having a good week so far. A quick happy dance for President Obama winning the elections yesterday! Absolutely fantabulous! :D
Now we all have days I'm sure where you're just feeling completely BLAH & cannot wait to see the end of! Whenever I have one of those days, other than doing the normal steps to make one feel better i.e. stuffing ones face with a great manner of sweet things, having a good ol' pamper sesh with lots of lovely bubbles & perhaps a face mask thrown in…I'm sure it comes as no surprise that another thing I love to do is whack a bright & colourfully cheerful mani on my nails! Works a treat! Think of it as a kind of de-stresser…but on the nails. So every time I find myself getting violent thoughts at work (this could happen quite a lot) I just look down at my bright nails, take a deep breath & I'm back to my smiling calm self again. I know…I am a freak.
So finding myself experiencing one such a day at work this week, one of the first things I did after shoving an entire Milkybar in my mouth, was put on a nice bright manicure in the form of Cherries!!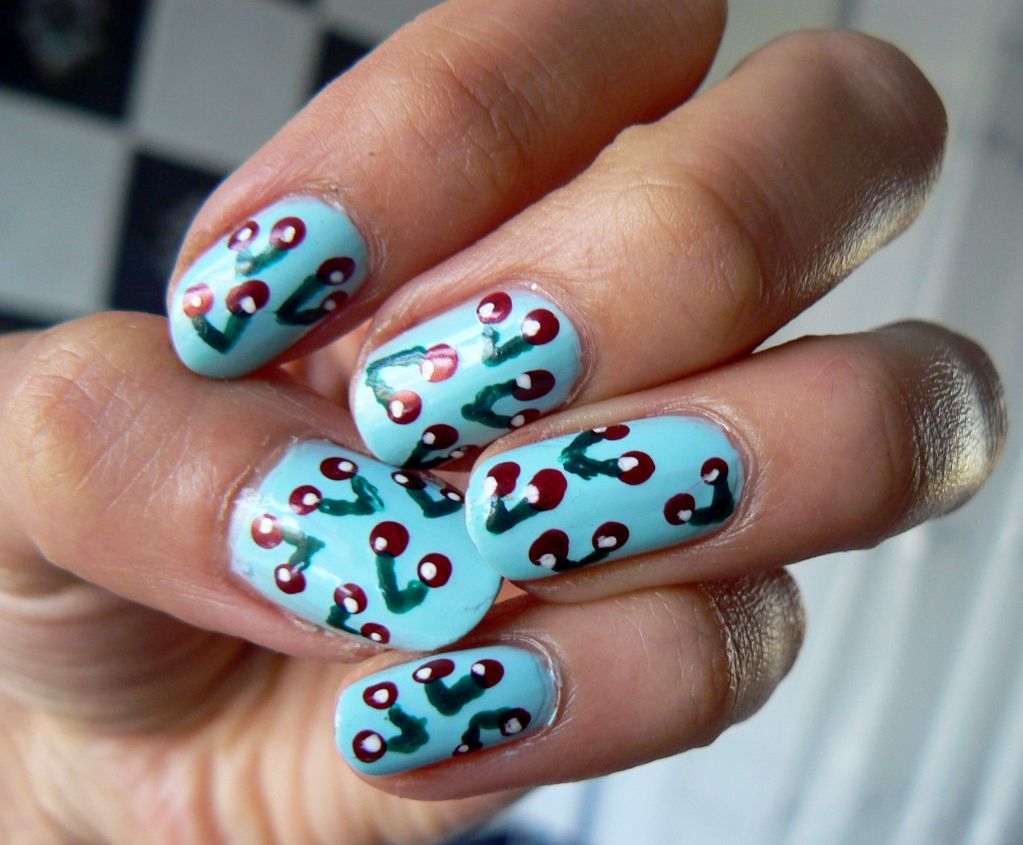 Another thing about me dolls…I LOVE cherries. Like seriously addicted to them. In any shape or form, the fruit itself, cherry flavored sweet things, beverages, you name it! And especially love cherry prints, I own a dress with an abundance of cherries printed on it which I heart. So of course I had to incorporate my favorite fruit in to a mani!
This was done in quite a rush, very evident in the wonky stems, but am really so happy with how they came out. Every time I look at them I just smile…& get a tad hungry.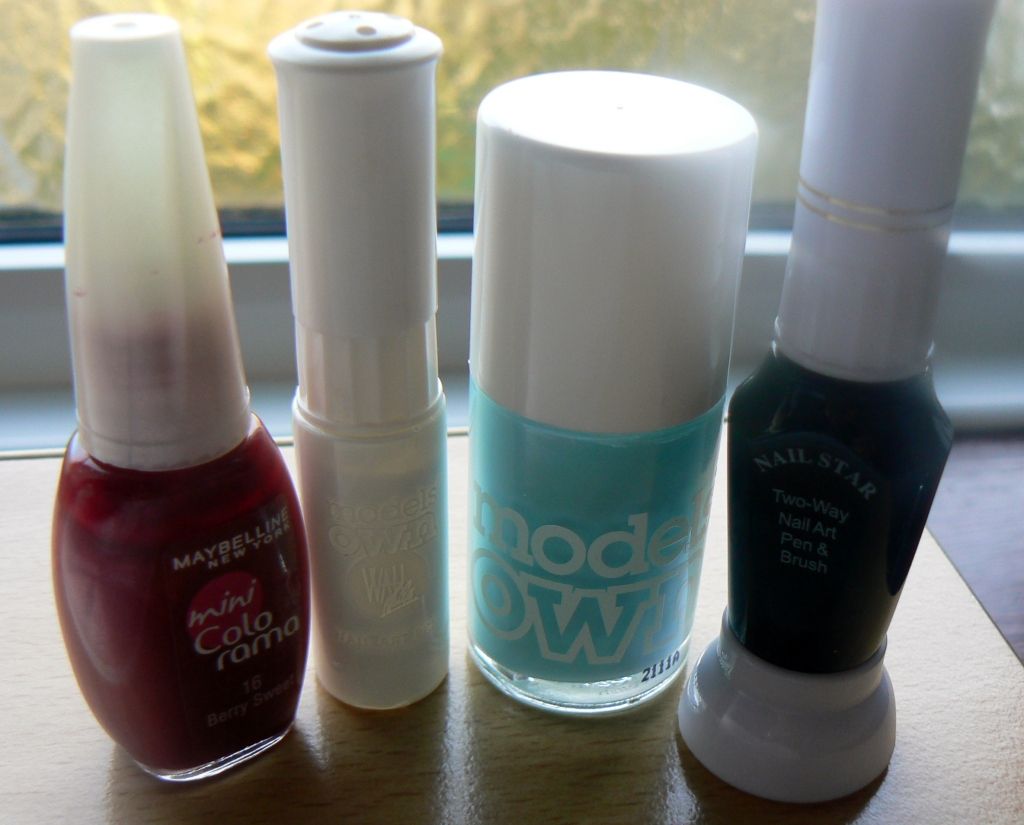 To start off my Cherry print mani I used the GORG Models Own Bloo Bloo as a base, which is the loveliest, creamiest baby blue, so lush! It applied wonderfully in two coats & had such a lovely glossy finish. Actually can't wait to wear it alone as well so pretty it is :D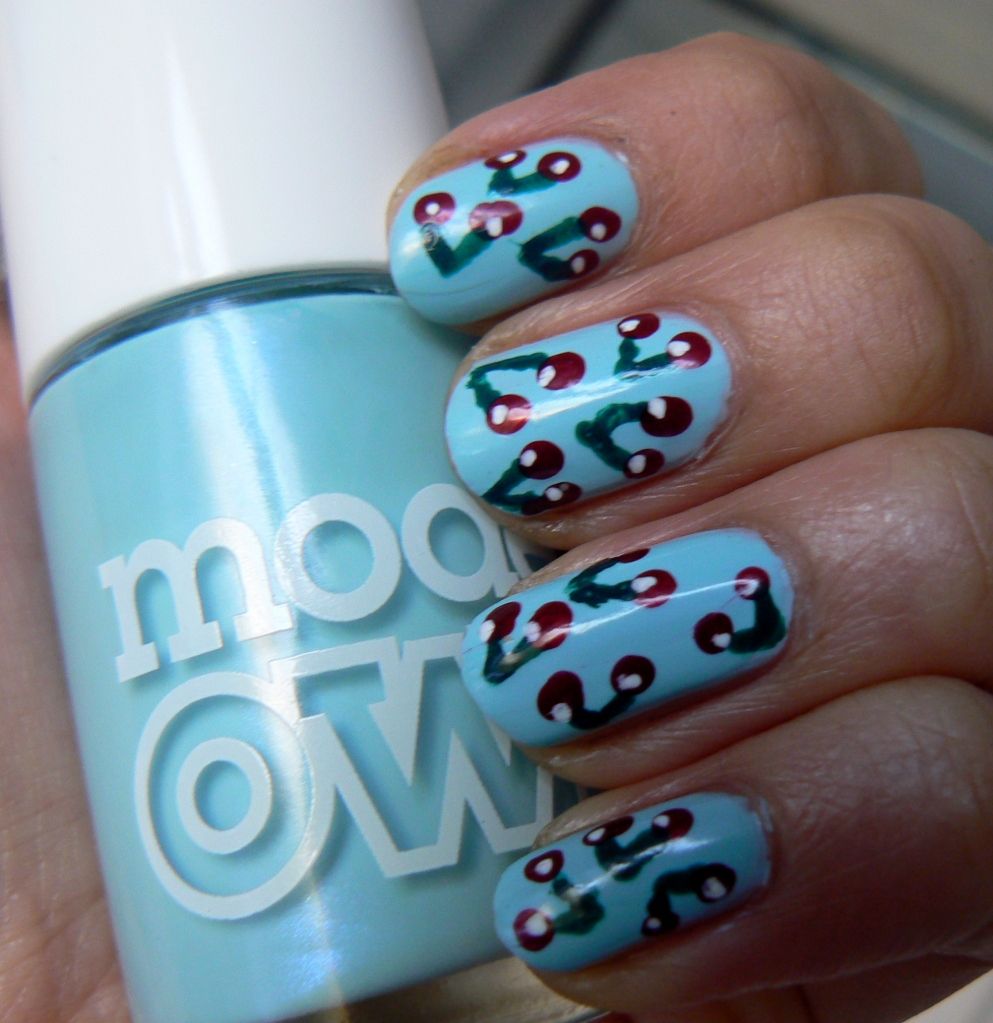 Next up for my juicy, plump cherries I used the suitably named Berry Sweet by Maybelline. Using a hair bobby pin, I just dipped the tip in to some polish & placed two cherries here & there all over the nail, fitting about four or five pairs on each nail.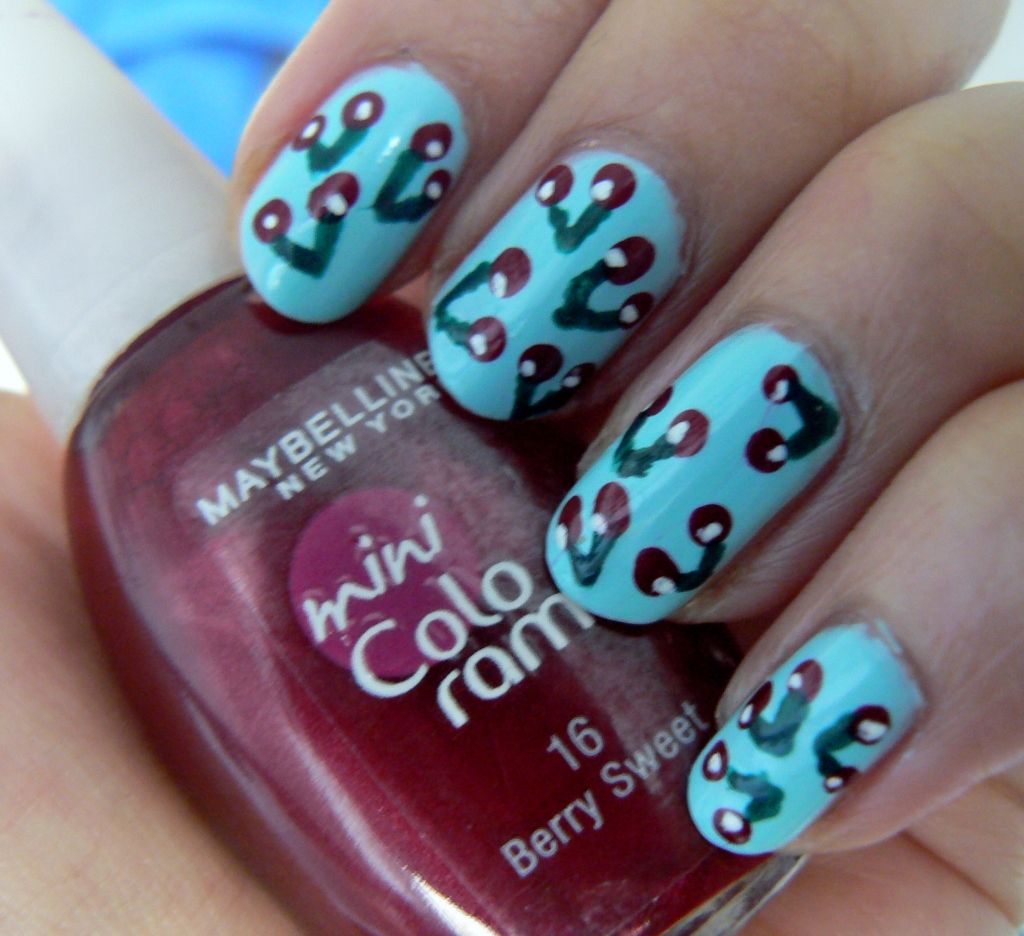 Then for the stems I used a cheap nail art pen in a vibrant green, that I picked up at a car booty, before finishing off with an added white dot on each cherry for some shine using my favourite Models Own nail art pen in White.
Final step of a slick of topcoat for added glossiness & you're done! Quick & easy nail art…my fav kind. And so eye catching too, the cherries definitely went down well with the work lot!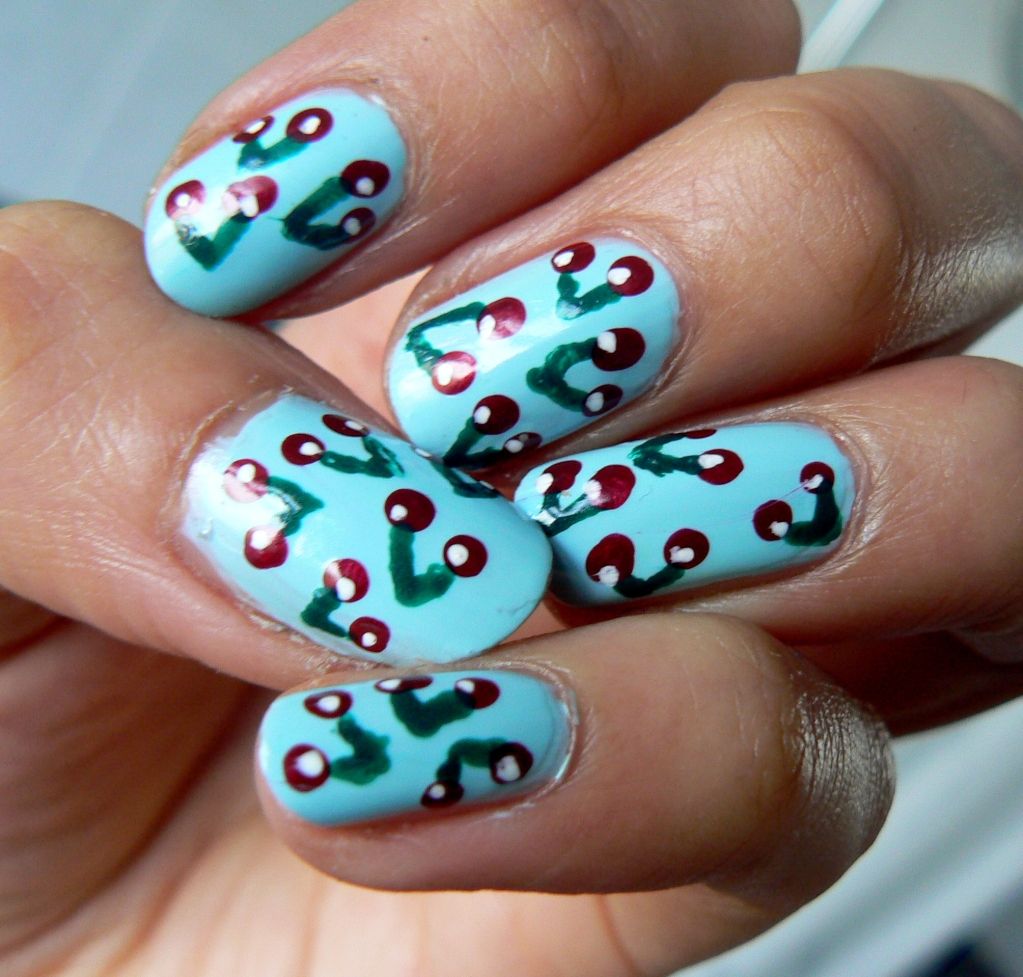 Thanks as always for stopping by sweetpeas! Hope you liked the cherry nails :D Now if you'll excuse me there's a pot of cherry frozen yoghurt with my name on it! Till next time!
Lotsa love to ya!