Greetings lovely readers! Sadly no…as the title may suggest, I will NOT be starring in the latest West End musical, busting out my signature moves & belting out tunes cabaret style with arms spread wide open. Sad sad times :( But the world clearly is not ready for that just yet…but keep your eyes peeled.
Broadway Nails is the sister company of Kiss, who are well known for their range of nail products, most notably artificial nails. Now I'll put my hand up & admit that I was once a victim of the acrylic/gel nail addiction! But after a while I realized just how damaging they were for my already weak nails, so eventually weaned myself off them ;) I think it was around that time that I discovered my new found love for nail polish!
Artificial nails are a great & temporary alternative to acrylics, definitely not as damaging & these days you can get some fab ones on the market. I was recently sent the latest addition to Broadway's range, the ImPRESS Press On manicure to try out, which also reminded me that I had another set from Broadway that I hadn't yet tried out! *slaps head* So before that I wanted to show you these ones quickly too as I loved the design.
These are from the Fashion Diva range, which have some gorg designs & I love the fact that they come in different sizes/lengths so they're not too long, making things like typing & using the phone a pain in the caboose :-/ These ones were medium length & were very easy to apply with a dab of nail glue that is purchased separately. As for wearabilty, I managed to get a good few days out of them, but then as usual, I got the urge to change, so soaked them in a bit of acetone nail polish remover & they peeled off relatively easily :)
The new ImPRESS nails are the latest addition from Broadway & are even more quick & easy to use as there is no need for glue with these ones, simply match up the nail size that best suits, peel back the plastic & stick on to the nail, simples!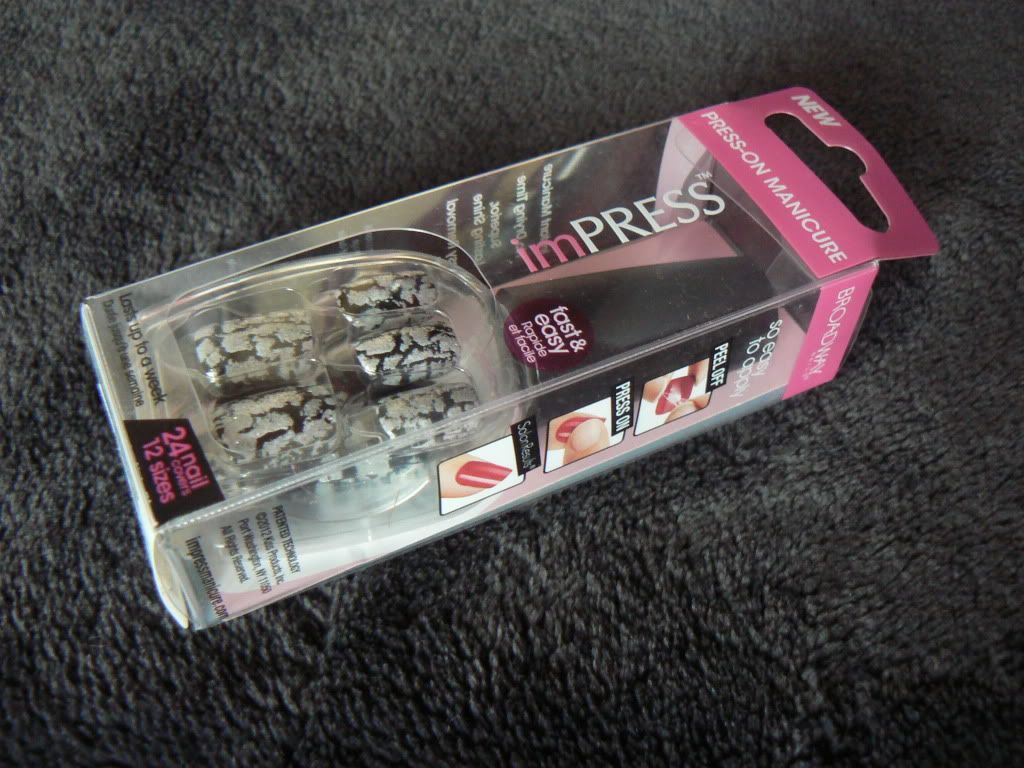 I love how these come packaged in the little bottles, so cute! The design I was sent was Working Girl (hehe!) which is a funky silver with black crackle like effect.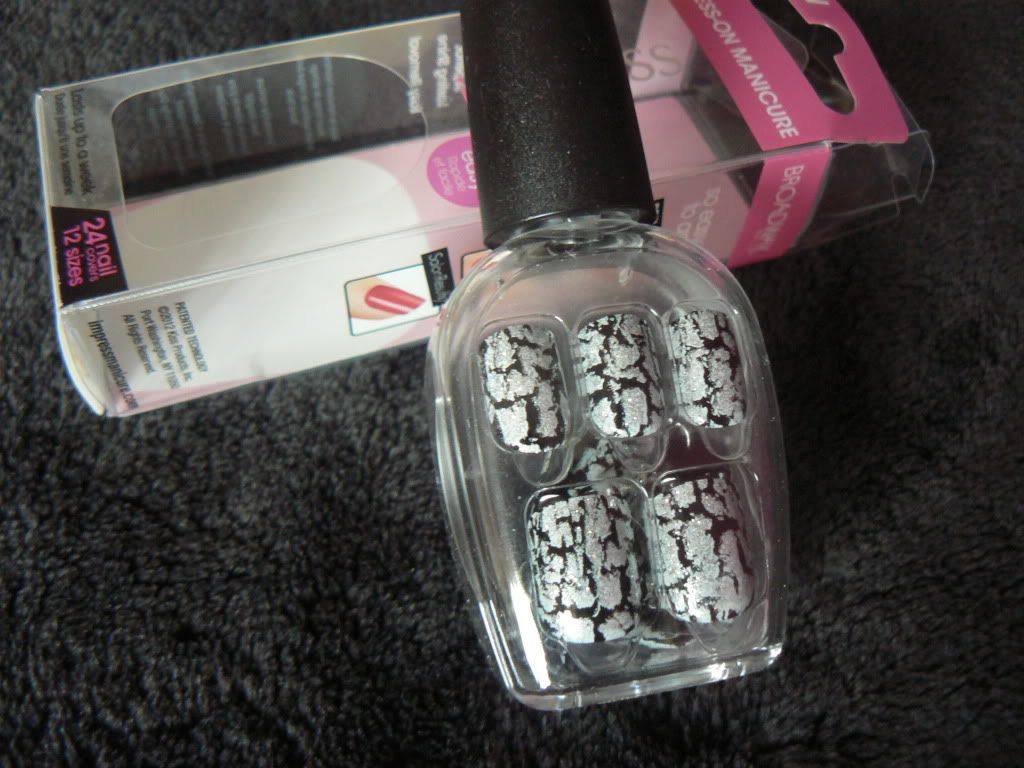 In the pack you also get a prep pad to clean the nails with thoroughly before applying, once the nails are completely dry just match up the correct size or nearest to for each nail & lay them out ready to use. Then all you do is simply peel back the plastic & stick onto the natural nail, pressing down firmly along the sides & down the middle, continuing to apply pressure until it feels secure.

And hey presto! Mani done :D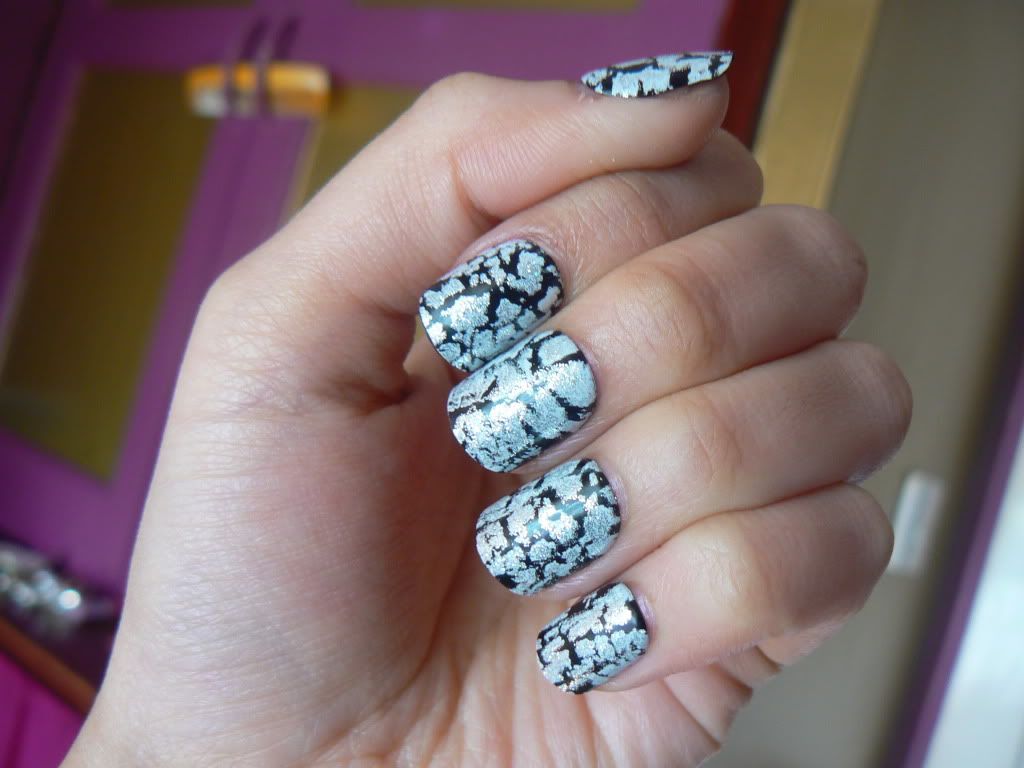 Watchya think? Overall, I'm liking the new ImPRESS nails by Broadway muchly, not only were they super quick & simple to use but there's a great range of fab colours & designs to try. One thing I will say is that they did seem a teensy bit wide for my nails, but that is because I have naturally quite thin & long nail beds. I'm willing to overlook that, they are straightforward to use, I love the design & the length is perfect, making it safe to carry on with your daily tasks without the risk of scratching one's eyes out…so yup, I is impressed! (I'm so sorry…I couldn't not do it right?)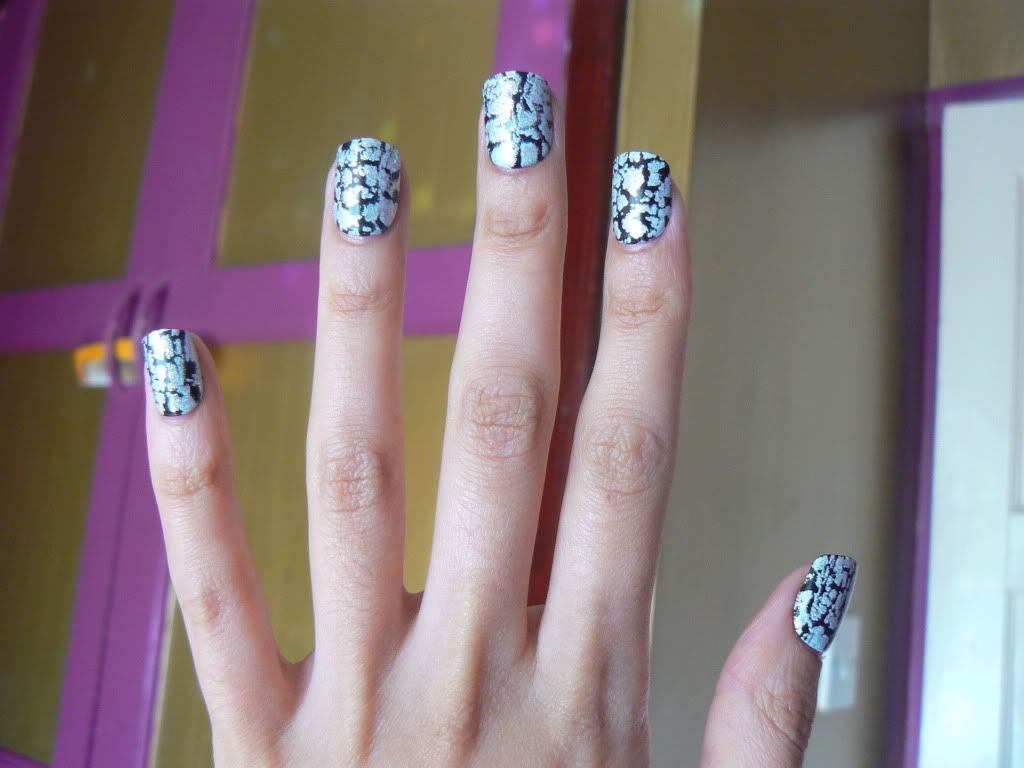 These are said to last a week but, you probably know me by now & are aware that I can't last that long with a mani, so by day 4 off they came, peeled off relatively easy with just some warm water.
Broadway ImPRESS nails are available from Boots & Superdrugs & retail for £7.99-£8.99 & the Fashion Diva range retails from £5-£8 depending on design/style :D
Have you tried any of the Broadway range? Are you a fan of artificial nails? Thanks for reading!
Lotsa love to ya!
Disclaimer - product was sent to me for my consideration. I am not affiliated with the brand nor paid for this post, this review has been as always my 100% honest opinion! :)